Posted Friday, March 19, 2010
Nearly coinciding with the opening of the new mega-Walmart on Red Bank Road was the opening of El Jinete Mexican Restaurant, located right next door. El Jinete, which translates to, "The Rider," makes no attempt at hiding the fact that it's all about the Tex-Mex: cowboys and steer heads dominate the design of their menu and logo.
We arrived on a late Sunday afternoon for dinner. Bright streamers adorned the exterior, running down adjacent lamp posts to draw attention to the restaurant's grand opening. The host quickly smiled and greeted us with the obligatory "Welcome, Amigos," as he led us to our booth.
The place seemed large but was sectioned off into cozy, private nooks; our section was semi-enclosed with wagon-wheel "portals" serving as windows to the neighboring dining area. A couple small TVs were nestled in strategic corners and the place still smelled faintly of new lumber, leather and plastic.
Within the first minute, a basket of crispy, warm tortilla chips, a carafe of salsa and two miniature bowls arrived at our table. The salsa tasted fresh with a nice spice and wasn't "ketchupy" like past restaurant salsas we've endured.
The menu is an awful lot like those one finds at other area Tex-Mex joints. There are three folds, each with items on the front and back. It seemed a little overwhelming at first, but we soon realized it's filled with most of the usual, Americanized, "safe" Mexican fare. You've got your burritos and enchiladas here, your fajitas and quesadillas there, and a large seafood section that is 90% shrimp and 10% imitation crab. Several items alluded to the use of liquid cheese. I was fully expecting the worst or, at most, a mediocre meal.
My girlfriend ordered the spinach enchiladas, which came with Mexican rice and sour cream, tomatoes, lettuce and guacamole on the side. I was interested in their "Enchiladas Yolandas," which were three chicken enchiladas with the same side dishes. One could choose between the standard enchilada sauce or a verde sauce, but I didn't see anything on the menu hinting at the possibility of Mole, the rich, mildly bitter, somewhat chocolatey sauce I enjoy. I asked the waiter about it and, to my delight, he said they could accommodate my request.
The food arrived inside of ten minutes and we were both quite pleased with the presentation. My girlfriend frequently orders vegetarian enchiladas when we visit a Mexican restaurant and all too often she suffers from an overabundance of cheese. She therefore appreciated the restraint shown with her enchiladas, enjoying the rich spinach and onion flavor.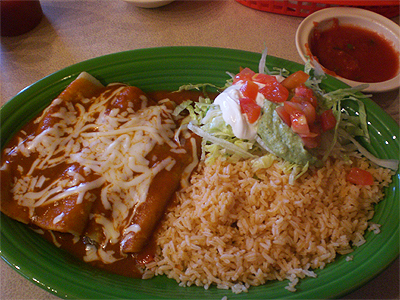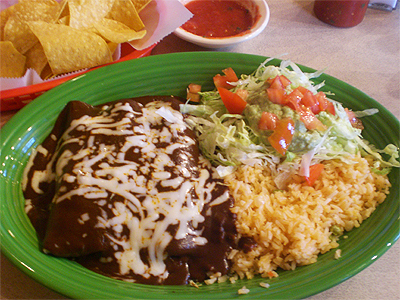 My chicken mole enchiladas were tasty, as was the refreshing guacamole and fluffy Mexican rice. Given that it wasn't listed on the menu, I wondered whether my mole was homemade or of the jarred variety. It was good, in any case.
Service was prompt and courteous, but the waiter's heavy-handed splash of cologne served as a makeshift detection device. I could smell his presence long before I caught sight of him. It wasn't so much revolting as it was distracting. It was like having the power to see into the future. I knew, seconds before it would happen, that he was about to arrive and ask us if we'd like more salsa. I was amazing my girlfriend with my transient gift of foreknowledge.
El Jinete Mexican Restaurant seems to be off to a good start, offering familiar, well-prepared Tex-Mex. Eat a large Mexican platter, then walk off your meal strolling through the new Walmart behemoth or the nearby Master Pieces Antiques shop.
UPDATE 11/2011:
El Jinete seems to have become quite successful since we first reviewed them; the restaurant is now frequently jammed-packed full of families, screaming kids and is generally an unpleasantly loud atmosphere. You can't really fault the restaurant per se; it's just too bad that we likely won't be visiting again due to the excessive noise.
El Jinete Mexican Restaurant
Price: Cheap (under $11 per person)
Service: Good
Rating: 3.0 out of 4

Cincinnati Bites