Posted Sunday, November 19, 2017
The owners behind Dope! Noodle and Dumpling Shop on Court St. are an eccentric trio of restaurateurs. They first opened a restaurant in this same space back in 2014. It was called Huit ("eight" in French), which featured an Indonesian and Asian-inspired barbecue rub on ribs and other meats, along with a number of other Asian dishes.
Though a success, the restaurant didn't stick around for very long. The owners had decided to rename and relocate Huit. It moved to Main St. and was re-branded as "Neuf" (the French word for "nine"). Then a second, better restaurant with an entirely different menu was opened on Court Street. It was called, "Lalo." Lalo was (and still is) a fusion restaurant focused on Latin-American dishes with an Asian twist. But that restaurant, too, moved to Main St., replacing Neuf, where it remains open as of this writing.
Now they've opened Dope! Noodle and Dumpling Shop in the same Court St. space that launched Huit and Lalo. To say the least, the owners behind all these restaurants have a dizzying methodology: don't let their eateries last long enough to build up a loyal following, keep re-inventing, moving and re-branding themselves as something new, and hope nobody notices.
Guess what? I noticed. And frankly, this bizarre strategy is getting old.
Don't get me wrong: I've been a true fan of the people behind Dope!(.) Their restaurants --in all of their incarnations-- have put out some really good food, particularly Lalo, which I would urge you to try. But I think their latest restaurant, while good, needs some work.
The menu is made up primarily of a five-piece dumpling plate that can be either pork, chicken veggie or shrimp. They don't allow patrons to mix-and-match the proteins, unfortunately. The rest of the menu consists of five noodle bowls and three rice bowls. A couple salads round out the menu.
Open from 11am to 3pm, Dope! is strictly a lunch-only establishment (at least for now). And yet despite the fact that they are targeting a lunch crowd who mostly eat on a limited budget, they have made Dope! a restaurant with table service. I simply don't understand why. Adding table service just tacks on an extra $2-$4 dollars for lunch. It costs the owners more to hire wait staff. Those staff don't get paid much and have to work for tips. They're not going to get a lot of tips from lunch-goers ordering $7-$10 rice/soup bowls, so it seems like an all-around lose-lose-lose for customer, waiter and owner.
I stopped in a couple times to scope out their small space on 29 E. Court St., which I'd already become intimately familiar with after experiencing Huit and Lalo here. The place remains about the same, with tables for two lining the east and west walls, a bar area in back, and a set of stools lining one front window. They've got a single, large photo of owner Tobias Harris slurping down a bowl of broth as the center focal point.
The vibe inside Dope!, given the soundtrack and menu item names, is apparently the 1990s. Music loudly blares some of that unfortunate decade's worst tracks from the likes of Chumbawamba, Britney Spears and Smash Mouth, among others. If you're going to pick songs from the 90s, why not the earlier, less fluffy side of the decade? Anything from the Grunge movement would have been infinitely better. Instead, I have to put up with Seal. And that's just, well...crazy.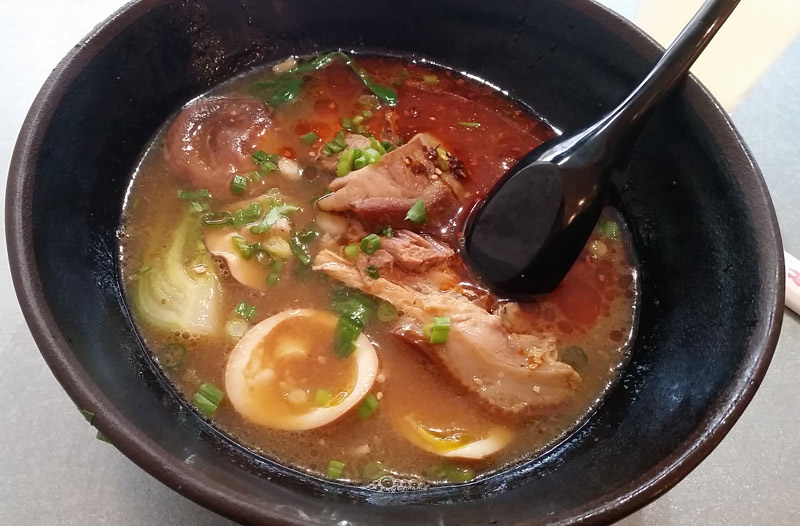 Hella Spicy Miso Ramen
On my first visit, I ordered a bowl of "Hella Spicy Miso Ramen" ($8.50). This spicy miso broth features those tongue and lip-numbing Asian chili peppers one finds in mostly Sichuan cooking. BBQ pork, blanched kale, green onion and two halves of soft-boiled egg also accompany the ramen noodles.
I'd asked if Dope! offered a smaller portion of dumplings to compliment the noodle bowl, but they didn't. You have to order five of them for six bucks, which was just too much for one person. And why did they decide on an odd number of dumplings, anyway? The order is too big for one person, yet uneven to share with two or even three people. Why?
When the bowl arrived, I was confused that maybe my order had been mixed up. It first appeared to be just a large, half-filled bowl of broth, a yolk-less egg and some pork. Only after I swished around did I find a little bit of ramen. For $8.50 (plus tip), I expected more.
Overall, the flavors were good, as is always the case with every one of the items I've tried at their three (four?) restaurants. But the portion size and extra few bucks I have to shell out for needless wait staff left me a bit disappointed.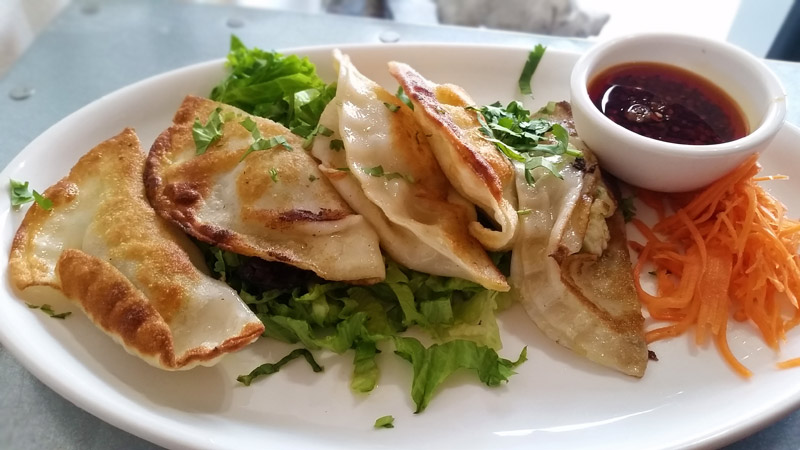 Pan Seared Shrimp Dumplings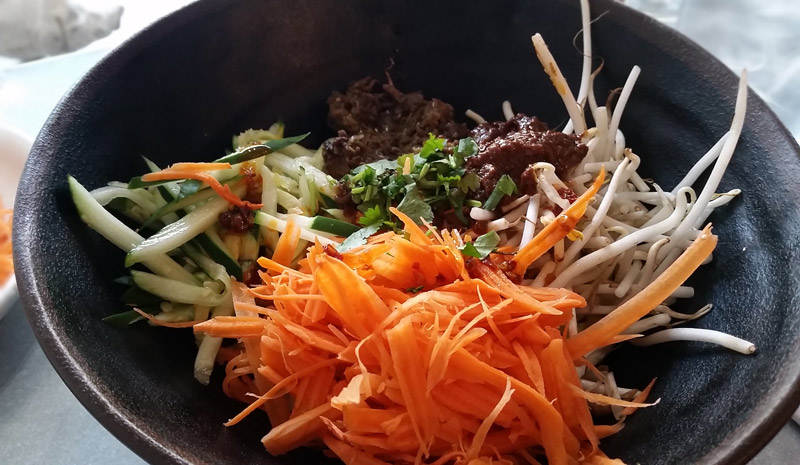 Notorius 'Veg' Dan Dan Noodle
On my second visit, I sprang for an order of pan seared shrimp dumplings ($6) and an order of the "Notorious 'Veg' Dan Dan Noodle" ($7). The dumplings were quite large and pleasingly crispy (you can also get them steamed). They come with a choice of five different dipping sauces to suit a variety of palates --I chose the hot chili oil with green onion. They tasted fine, not notable. I appreciated their size, which made them easier to pick up with chopsticks, but they also tended to break apart.
The Dan Dan noodles are served cold and it was easily my favorite dish of the two visits: lots of crisp carrots, cucumber and bean sprouts with a pleasingly spicy bean paste sauce coating long, thick noodles.
Dope! Noodle and Dumpling Shop is a place I want to love, given my past very positive experiences with Huit and Lalo. But compared to its predecessors, it needs some TLC, and not the CrazySexyCool kind.
Dope! Noodle and Dumpling Shop
Price: Moderately Expensive ($11 - $16 per person)
Service: Good
Rating: 3.0 out of 4

Cincinnati Bites