Posted Wednesday, April 9, 2014
Finally. That was our reaction when we passed the new sign posted outside the building west of Silverton Cafe. An Indian restaurant was now available to the Kenwood/Silverton/Deer Park masses. The spot along Montgomery Road had long been the site of a Chinese restaurant, followed by a two-year stint as El Establo, followed by the very short-lived Cincy Burger, with its awful, unreadable stenciled sign. Now there would be something with the potential for true staying power.
Finally.
Delhi Palace is the name of the new Indian restaurant, which will give some Cincinnatians pause to consider its correct pronunciation (hint: it ain't "DELL-high"). The Palace opened on April 1st, with a solid menu, obligatory lunch buffet and a surprisingly, refreshingly simple and easy to navigate website. I mean, holy chutney, here's a restaurant website that actually contains a menu, address, phone number and hours of operation! Who would have thought it possible?
We arrived one recent weekend evening, eagerly greeted by the host. The configuration of the place hadn't changed much, but all the booths were new and the purple tablecloths were securely protected under a top layer of opaque Plexiglass. After all, Indian food can get a little messy, what with all the saucy dishes and heaping mounds of Basmati rice tumbling about.
The usual Northern Indian suspects can be found here, including nearly a dozen varieties of Naan cooked in a true tandoor oven that they've barely broken in. There are an abundance of ricey biryani dishes; lamb, chicken and goat curries; cheesy paneer; spinachy saag; spicy vindaloo; and sizzling chicken tikka.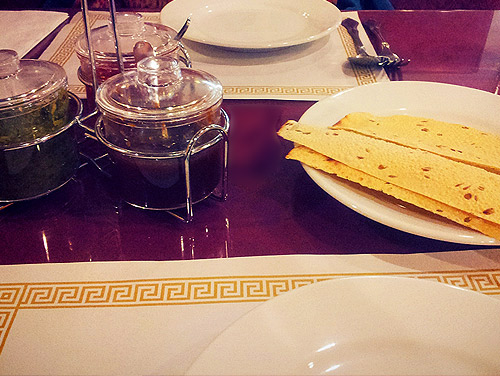 Complimentary Papardam
Our host presented us with a complimentary side of papardam: flat, cumin-spiced lentil wafers along with a sampling of mint, hot pepper and tamarind sauce. Free items are a popular attraction at new restaurants and the practice usually disappears as they become more established. Still, it was a pleasant surprise.
My girlfriend ordered the Malai Kofta: mini vegetable balls simmered in a creamy onion and tomato sauce. I opted for my usual: lamb vindaloo. Spice levels at Delhi Palace are on a scale of 1-6, and we each chose a level four.
The Palace began to fill up with patrons, at least partially, and given the fact that they'd only been open a few days, we expected a long wait for our food. However, it wasn't unusually so --perhaps 15 minutes. Our host apologized for the wait, though there was no reason to.
The food arrived in the familiar metal, elliptical serving dishes. The larger platter of Basmati rice was simply decorated with a single, prominent clove.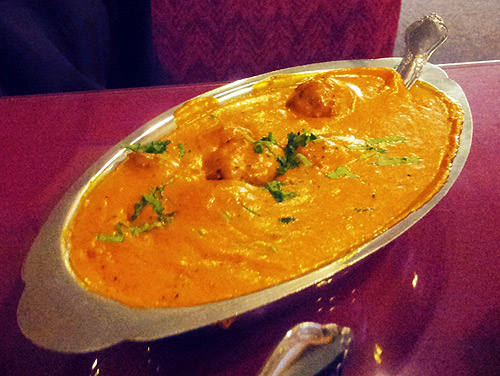 Malai Kofta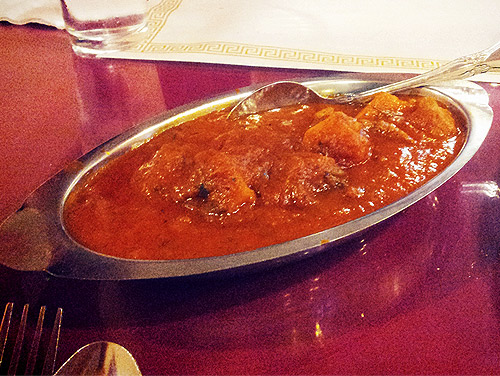 Lamb Vindaloo
I find it interesting that every single Indian restaurant in town seems to offer a slightly different take on vindaloo. Delhi Palace's version is rich, complex and tomatoey, with delicate notes of cinnamon and cumin. The four spice level was still plenty spicy, more so than my girlfriend's dish, leaving a lingering tingle on the lips. The hunks of lamb and potato were pleasingly tender atop the small bed of fluffy rice I'd doled out for myself.
My girlfriend enjoyed the sheer number of diminutive vegetable balls in her dish; other Indian restaurants seem more conservative in their ball volume, offering just a couple larger balls floating in a whole lot of sauce. And, of course, she especially liked how her balls smelled (how can you not get immature about ball descriptions?).
Overall, Delhi Palace seems off to a promising start. They offer all the hits most Indian food fans love at competitive prices and requisite heaps of deliciousness.
Delhi Palace
Price: Moderately Expensive ($11 - $16 per person)
Service: Good
Rating: 3.0 out of 4

Cincinnati Bites