Posted Sunday, August 9, 2009
Note: the following review is for a restaurant that has since closed.
Cuba Cafe is a new restaurant located on 630 Madison Road, in Covington, Kentucky, a block south of Riverside Korean.
It's a small nook of a restaurant, an L-shaped configuration large enough to accommodate seven or eight tables inside and a couple more just outside the entrance.
The menu is simple: one can order a combo meal, consisting of white rice; a choice of either black beans; red or pinto beans; a choice of steak, pork or chicken; and two sweet plantains. Alternatively, you can order one of two types of sandwiches: the Cuban sandwich, made with pork, swiss cheese, mayonnaise, mustard and pickle on toasted Cuban bread; or the Cardenas, filled with ham, swiss cheese and lettuce on the the same toasted bread.
There didn't appear to be a true kitchen area; rather, the owners appeared to have prepared their meats, plantains and other ingredients somewhere offsite and warmed there. A press was available for giving the Cuban and Cardenas sandwiches an authentic touch.
The owner, Willie Rodriguez, offered us another combo of a half Cuban sandwich and a side of beans and rice. My girlfriend chose the black beans while I went with the pinto beans. A few unique beverages were available including "Materva," a creamy tea soda made from Yerba Mate. I grabbed myself a can and added a side of sweet plantains to our order.
We sat in the very front of the building in a dining area with one exposed brick wall facing large glass windows offering unobstructed views of Madison Avenue. When Willie set the disposable plates in front of us, we were presented sandwiches pressed thin in the traditional Cuban style.
Our black and pinto beans on rice looked very plain, so I fully expected them to taste bland. Nothing could have been further from the truth. They were so surprisingly flavorful that we were dumbfounded by what spices could have been used that would leave no visible trace. Was it the sheer magic of bacon fat or something else? They were some of the best pinto beans I'd ever tasted.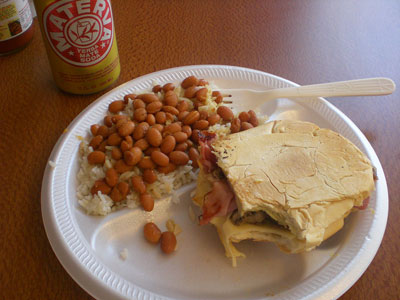 The sandwiches were also a delight. Generous chunks of roast pork perfectly matched the crunchy bite of the pickle and swiss cheese on our Cubans. A hint of mustard nestled between the two crispy pieces of bread rounded out the sandwich.
Our sweet plantains arrived later. Willie had completely forgetten about them, apologizing profusely. "I knew I had forgotten something," he said, shaking his head. He smiled as he retrieved four pieces from his pre-made batch. The plump slices of plantain were coated in a delectably sweet, carmalized coating, bursting with a thick, familiar starchy taste.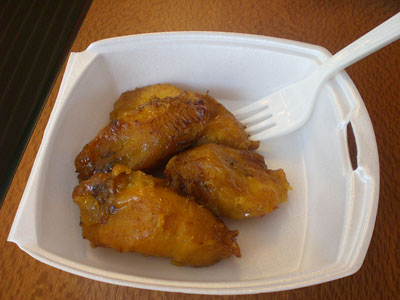 I had never tasted Materva soda before and had no idea what to expect from an Yerba Mate drink. The flavor was very loosely similar to cream soda, but with a very unique herbal kick whose flavor doesn't quite hit you until several moments after swallowing. While we each wore confused looks on our faces upon sipping the soda for the first time, we decided it was a refreshing compliment to our lunch.
Cuba Cafe is open six days a week, offering a small menu of classic, authentic Cuban fare. It's a perfect, affordable stop for the hungry lunch crowd.
Cuba Cafe
Price: Cheap (under $11 per person)
Service: Good
Rating: 4.0 out of 4

Cincinnati Bites