Posted Saturday, April 24, 2010
Note: the following review is for a restaurant that has since closed.
My throat was sore this week. The remedy? Why, hot and spicy broth, my friend. So off we went to investigate an oft-suggested Vietnamese restaurant in Clifton called Cilantro Vietnamese Bistro.
Visiting any restaurant in Clifton usually means an adventure in parking, but this time wasn't too bad. Cilantro is located at 2516 Clifton Avenue, near the corner of Clifton and McMillan. We saw a small parking lot on McMillan next to Thai Express, but the meters charged 25 cents for every 10 minutes parked and only took quarters. No thanks. Instead, we parked on Wheeler St. and walked to the restaurant.
Once we stepped inside, I immediately felt a pleasingly casual, college-like vibe --not surprising, given the location. There were several couples and groups in their twenties, with a few older folks and even a couple families peppered in for good measure. Bar stools ran along a 20-foot length of countertop parallel to four or five tables hugging the north wall. Additional bar stool seating abutted the front window.
We seated ourselves at a table and a waitress quickly took our drink orders. We retrieved our one-page, lamininated menus from their resting place, tucked between a bottle of Sriracha hot chili sauce and a squeeze bottle of Hoisin sauce.
My eyeballs nearly leapt from their sockets, cartoon-style, as I saw the prices. So cheap! $6.30 for a big bowl of Pho or a noodle bowl meal? A buck-seventy for any of the appetizers? Sold!
There were several soup bowls that piqued my interest. The traditional Vietnamese Pho is a tried and true staple I've experienced at a few other places, but I don't recall ever having either the Hu Tieu, a noodly, brothy dish with Cambodian and Chinese origins; or the Sate, a spicy broth and noodle soup that, like Pho, comes with a side of fresh bean sprouts, jalapenos, and slices of lime to mix in.
I chose the Sate with rice noodles. Chicken, shrimp, pork, tofu and rare slices of beef are available (the hot broth slowly cooks the beef), but the most intriguing option was the beef meatballs. I'd never heard of such a thing in a Vietnamese noodle soup, and though I assumed it was an Americanized twist, I had to try it.
My girlfriend picked the Vermicelli Noodle Bowl, otherwise known to the Vietnamese as "Bun." Thin, warm noodles are served over romaine lettuce, topped with bean sprouts, onions, cilantro, crushed peanuts and a choice of meat (in her case, chicken). A sweet, yellowish translucent sauce called Nuoc Man is served as a dressing.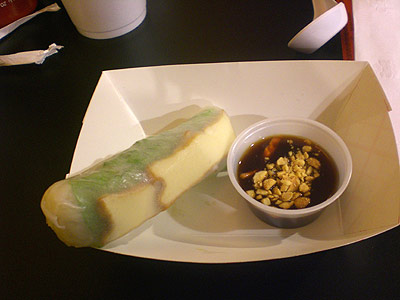 Our dining experience started off with an appetizer of Goi Cuon Chay, a soft roll of tofu, vermicelli noodles and lettuce wrapped in rice paper and accompanied by a small container of a sweet dipping sauce. The rolls were a bit bland and we thought the sauce was a little too cloyingly sweet. While the sauce was topped with crushed peanuts, we thought it would have been better if it had instead been a true peanut sauce.
The unequivocal stars of the evening were our noodle and soup bowls, which were simply stellar. I enjoyed the spicy bite of the broth even as the stinging in the back of my throat left me coughing for more. The meatballs were not as I'd imagined: I had envisioned small, Chef Boyardee-style meatballs floating whole in my broth, but instead these were larger meatballs that had been cut into slices. I suppose that made more sense, given that the soup is eaten with a combination of a soup spoon for the broth and chopsticks for the rice noodles and bulkier ingredients.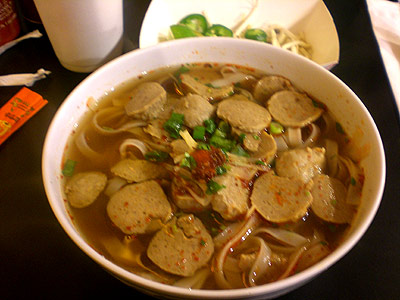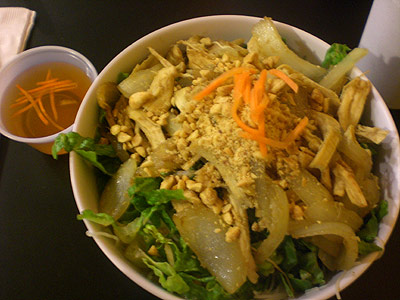 My girlfriend enjoyed the fact that her Vermicelli Noodle bowl seemed light like a salad (even though it was more than filling as a meal) and that it wasn't spicy to start, but she was free to layer on her preferred level of spiciness using the available table-side accoutrements of chili sauce and Hoisin sauce.
Cilantro Vietnamese Bistro is a Clifton gem, offering tasty noodle and soup bowls at a fraction of the cost of other Asian restaurants. And that sore throat? Gone.
Cilantro Vietnamese Bistro
Price: Cheap (under $11 per person)
Service: Good
Rating: 3.0 out of 4

Cincinnati Bites