Posted Thursday, March 17, 2016
Ché is owned by Alfio Gulisano, the same man who brought us Alfio's Buon Cibio in Hyde Park. Located deep in Over-the-Rhine on Walnut Street, the restaurant and bar is a little off the beaten path, surrounded mostly by residential buildings.
Just like its Hyde Park counterpart, Ché highlights a little bit of Argentina's two dominate cultural influences: Spanish and Italian. The menu offers a choice of both authentic and newer, American-style empanadas, as well as eight varieties of pizza. Ché also features a grilled meat plate (La Parilla) as well as soups and salads (sopas y ensaladas). Desserts include the classic caramel Dulce de Leche crepes with caramelized sugar and house-made gelato.
Ché's layout is the familiar shotgun-style common in OTR buildings. A few tables up front share space with a bustling open kitchen, where heat and delicious, meaty aromas fill the air. Further back is a quiet, intimate bar and several high-top tables lining a wall.
We sat near the bar while perusing the menu. I chose two classic-style empanadas: the "De carne" filled with spiced beef, hard boiled egg and olives ($2); the "Jamon y queso" (firewood ham and cheese) ($2); and the spicy smoked pork belly empanada from the new-style list ($3). I also chose a cup of Locro, a traditional Argentine sausage, corn and beef stew ($6). My girlfriend ordered a bowl of Sopa de Zapallo (an $8 butternut squash soup) as well as another De carne empanada and one "De espinaca" empanada filled with baby spinach, mozzarella and provolone ($2).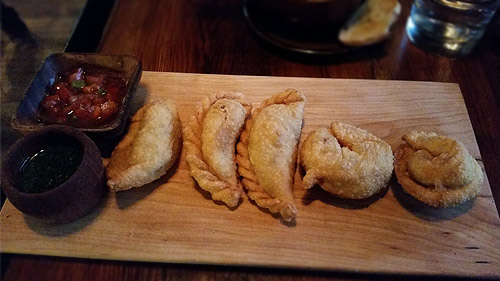 Empanadas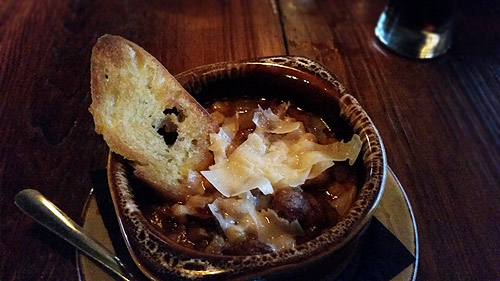 Locro
The empanadas all arrived together, served on a wood cutting board with a side of the herby Argentine chimichurri sauce and a chunky, tomato salsa. While the breading seemed uniformly similar, the empanada shapes and crimping styles seemed varied based on filling, aiding in their identification. The shells were thick and flaky, which I enjoyed, but my girlfriend thought they would have benefited from more of a 70/30 ratio of filling to breading. Our favorites were the spicy pork belly empanada and the classic carne, with spiced beef, egg and olives offering savory, piquant bites of yumminess.
My cup of Locro was hearty, rich and surprisingly filling; I had labored over ordering a cup vs. a bowl, but the cup size was more than enough, a piece of toasted bread serving as a crunchy crouton. My girlfriend's butternut squash was velvety smooth with strong chicken notes.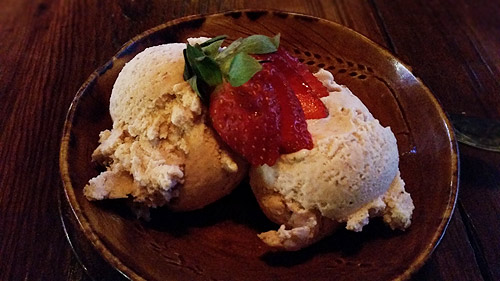 Strawberry gelato
For dessert, we split a couple scoops of house-made strawberry gelato, which was equal parts creamy, buttery and fruity. This was the caliber of gelato I remembered from our trips to Italy, and it's the kind of authenticity that inspires us to visit Argentina one day.
Ché offers a window into Argentina's unique Spanish and Italian influences using empanadas and pizza as its primary vehicles. Don't let the abbreviated menu and location deter you from visiting this cozy OTR eatery serving food that perfectly pairs with its lineup of beer, wine and mixed drinks.
Che
Price: Moderately Expensive ($11 - $16 per person)
Service: Good
Rating: 3.0 out of 4

Cincinnati Bites