Posted Sunday, July 31, 2016
Chandler's Burger Bistro is a handcrafted burger joint in Delhi. The restaurant was launched in 2015 by business partners Gary Brock and Phil Marston. It's named after Marston's son, Chandler.
Bridgetown Finer Meats supplies the restaurant, which is curious, because Meiners Fine Meats is two doors down from their location. Maybe Meiners' operation isn't large enough to sustain Chandler's volume.
My co-worker and I stopped by for lunch during Cincinnati Burger Week. More than 50 area restaurants had participated in the weeklong event, in which they each offered a special $5 burger. Chandler's was offering what they coined the "All-American Burger," made from fresh ground chuck and topped with American cheese, applewood bacon, lettuce, mayo and pickles. A sturdy Servatii bun held everything in place. The $5 meal came with a choice of either chips or fresh-cut fries.
As we stepped out of the car, we noted that Chandler's is adjacent to a daycare center with the unfortunately unappetizing name of "Droopy Drawers." Such is not the greatest mental image one wants to ponder en route to a restaurant. Clasping our growling stomachs, we persevered.
Chandler's interior is ample, dark, sleek and masculine, with a fresh new sports-bar feel, illuminated by dozens of TV screens anchored in nearly every possible vantage point. For 1pm on a work day, the place was jam-packed, with beer readily flowing from its taps, families happily engaged with their children and an overall energetic, welcoming vibe.
On Chandler's regular menu are a dozen starter items, including smoked wings with a choice of nine different sauces; boneless wings, cheese fries, deep-fried shrimp "wraps" and fried pickles, to name a few. More than a dozen signature burgers are all between $9 and $10, including one veggie and one turkey variant. A few featured unusual toppings like goetta and ghost pepper cheese, but most everything seemed intriguing rather than intimidating. The exception, perhaps, was the outlandish Who-Dey Burger, which is topped with ghost pepper cheese, Cajun-Sriracha mayo, lettuce, applewood smoked bacon and deep-fried Gouda cheese bites.
Those not in the mood for burgers can opt for any one of Chandler's 14 sandwiches, wraps or a Cuban, as well as fish-n-chips, tenders, fried shrimp and eight different salad varieties.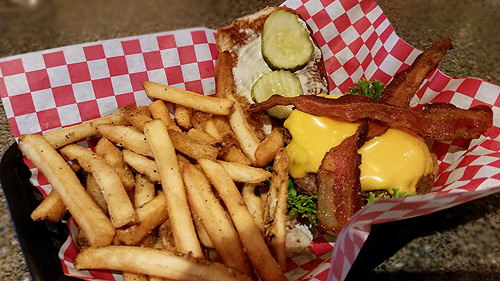 The $5 All-American Burger (Cincinnati Burger Week)
Our $5 All American burgers arrived promptly, the toasted top bun removed to showcase the meaty wonders within and two slices of molten cheese and bacon. A heaping pile of piping-hot fries added to the wondrous spectacle. It was a lot of food, and so out of guilt we also ordered a couple rounds of iced tea.
Our burgers were cooked through, juicy and well seasoned, with slight salty garlic notes. The fries were also dusted with a spiced seasoning that lent them an addictive ketchup-dunking profile.
Chandler's hits all the right notes you'd expect from a specialty burger joint. It's simple food, elevated.
Chandler\'s Burger Bistro
Price: Moderately Expensive ($11 - $16 per person)
Service: Good
Rating: 3.0 out of 4

Cincinnati Bites