Posted Saturday, March 12, 2016
After a failed attempt at getting a seat at the ever-crowded Quatman's, my girlfriend and I needed a back-up plan, pronto. What nearby restaurant would satiate our lunchtime needs? C&M BBQ Grill to the rescue. I'd recently stumbled upon an article about the Jamaican and Southern-style joint near Pleasant Ridge. When Yelp reviewers had posted photos of a Jamaican patty, a type of beef turnover-style pastry filled with beef, curry, Scotch Bonnet peppers and other spices, I made a mental note to stop by.
We parked in a lot behind C&M's building near the very outdoor grill churning out their special brand of meaty magic. The place is not much to look at inside, primarily focusing on take-out orders. But there are about three tables in the tiny dive, with a sign that beckons diners to, "sit long, talk much" and a Cincinnati Magazine review hanging like a badge of honor near the kitchen opening.
On the same wall hangs a strange juxtaposition of U.S. president photos, with Ronald Reagan sharing space with Barack Obama. It reminded me that many Americans, like owners Cecil and Mary, see the world through a filter not nearly as polarizing as my own and that, if we put our minds to it, we can all come together, if only long enough to share a pulled pork sandwich.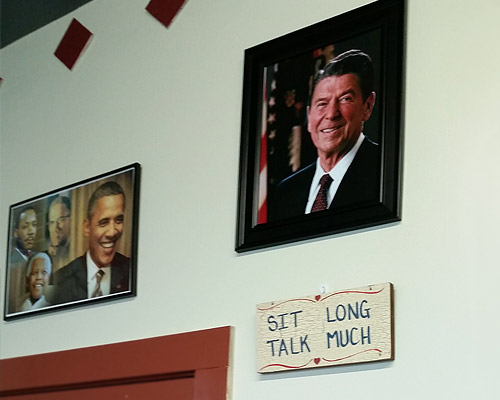 The Presidents
C&M's menu includes dinner combos that come with a choice of two of their 14 side items. Virtually every popular meat is available, including chicken, beef, beef ribs, pork chops, pulled pork, curried goat, turkey and oxtail. Metts, brats, hamburgers and even vegetarian burgers and metts are listed for those so inclined. Seafood lovers can enjoy classic southern fried catfish, tilapia, perch and whiting.
Ordering at the counter, my girlfriend chose the Curried Chicken Dinner ($9) with a side of mac & cheese and collard greens. I opted for the Brown Stew Chicken Dinner ($9) with sides of fried plantains and rice & beans. There are also Jamaican sodas and a litany of homemade desserts available in two coolers near the cashier, but after witnessing the portion sizes, we abstained from their lineup of pies and cakes.
Within minutes our lunch was ready, served in large Styrofoam containers. We visibly gasped in wonder as we opened the lids to reveal their beauty. Both dishes offered handsome, sizable and extremely tender hunks of boneless chicken swimming in either a richly vibrant curry sauce or a traditional Jamaican Brown Stew, which gets its name and color from the brown sugar and browning sauces used in the moderately spicy recipe.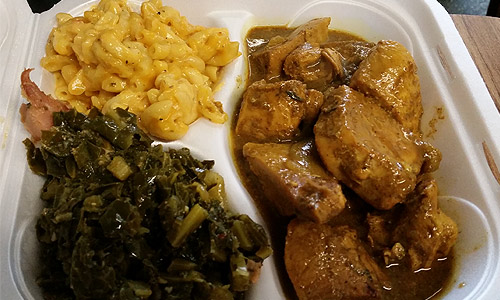 Curry Chicken w/mac & cheese and greens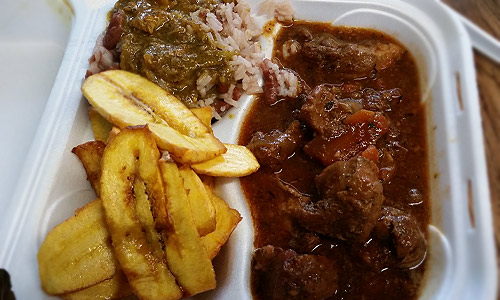 Brown Stew Chicken w/plantains and rice & beans
My girlfriend's mac & cheese was a creamy variety with a pleasant, surprising kick of heat. Her collard greens were smoky, with bits of shredded pork lending the side a rich, meaty profile. My girlfriend appreciated the lack of thick coconut milk in this particular type of curry sauce, as it is the sweet milk and not the curry itself that she typically avoids in these dishes.
The Brown Stew chicken was intensely seasoned, perhaps a little too salty for my tastes, but I enjoyed its heartiness and flavor especially when coupled with the more neutral, starchy side items. My plantains were piping hot and thinly sliced, a perfect vehicle for dipping into the rich, brown stew. The rice and beans topped with the optional curry sauce were substantial and satisfying. Next time I'll avoid the curry topping so as not to clash with the brown stew seasoning.
C&M BBQ Grill was a pleasant surprise hit that has earned two new fans. I look forward to trying their Jamaican patty on our next visit.
C&M BBQ Grill
Price: Cheap (under $11 per person)
Service: Good
Rating: 3.5 out of 4
Cincinnati Bites