Posted Sunday, December 17, 2017
Bourbon Smokehouse, a new barbecue restaurant in Hyde Park, was years in the making. For nearly two of them, the place looked to passers by as though it were on the brink of opening at any moment. In November, finally, at long last, it did.
Those of us familiar with the building Bourbon Smokehouse occupies on Erie Avenue can recall at least a few past restaurants here, the longest-lasting of which was the Italian eatery called, "Pasta al Dente." Later it became "Sake Bomb" and, most recently, "Saigon Cafe." Now the same owner who brought us that Vietnamese restaurant are betting on the area's never-ending hunger for bourbon and barbecue.
The product of 19 months' worth of remodeling can easily be seen. The restaurant now sports the original tin ceilings, exposed brick walls, wagon-wheel chandeliers and, distressed, reclaimed wood recovered from Tennessee to give the familiar space an upscale, rustic ambiance.
My girlfriend and I stopped by one Sunday evening to try a couple items off their short menu. There's a small, one-way parking area for about five or six cars running along the north face of the building, but it's far easier to park on Saybrook Ave. We were greeted by a hostess, which I immediately found odd, as I'd anticipated Bourbon Smokehouse to be an order-at-the-counter affair. Instead, she led us to a table in the dining room, where a waiter presented us with water and menus.
Bourbon Smokehouse offers a variety of smoked and dry-rubbed meats, including baby back ribs, Texas-style brisket, Memphis-style pulled pork and a "Smokehouse" burger made of ground short rib and brisket. They've apparently removed their chicken options, so if you don't like red meat, you're out of luck. Starters and side items include several salad variants, chili, fries, cole slaw, mac and cheese, corn on the cobb, potato salad, BBQ beans, green beans, masted potatoes and corn bread. Cocktails featuring various brands of bourbon befit the restaurant's name.
Meats can be ordered by the half or full pound ($9-12, $16-22), and half-rack or full-rack for ribs ($15, $28). No side items come with the meat; they cost $4 apiece. I ordered a half pound of pulled pork and a side of BBQ baked beans and potato salad ($17 total). My girlfriend chose a half pound of Texas brisket with a side of mac and cheese ($16 total). $33 for a barbecue meal for two, without factoring drinks and tip, definitely raised an eyebrow, so we were prepared to be dazzled. After all, Bourbon Smokehouse's tagline is "Superior BBQ & Cocktails." Alas, what we were served was a far cry from the best barbecue in town. Passable, to be sure, but certainly not "superior."
For a place that's trying to be both trendy and upscale, Bourbon Smokehouse sure seems to be sending mixed messages. We were served entrees in cheap plastic baskets lined with that awful, flimsy white paper that breaks apart when it encounters moisture, causing it to stick to the meat. Stingy sides were served in small Styrofoam cups. The restaurant needs to figure out what it wants to be: a classy barbecue restaurant or a down-home, casual barbecue joint. If this weren't an expensive, upscale place with table service, I wouldn't mind. But it is, and I did.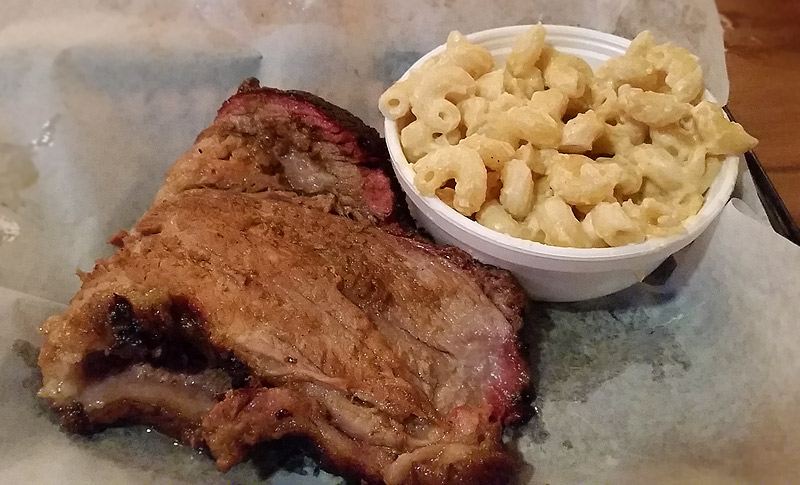 Brisket with mac and cheese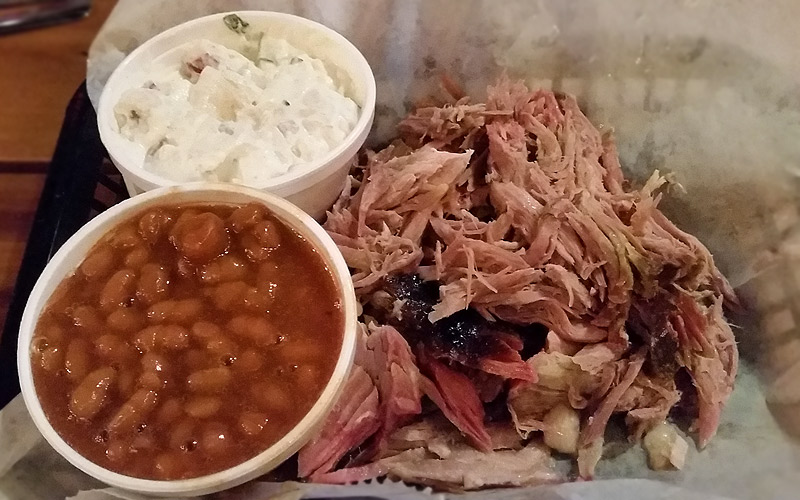 Pulled pork with potato salad, BBQ beans
My girlfriend's brisket visibly looked unappetizing in the subdued light. Instead of multiple, manageable slices of brisket, she was served one large slab that looked mostly fatty and greasy. I was sad for her. Yet she ended up liking the flavor and consistency of the brisket overall, so there's something to be said for improving one's presentation. We both disliked the mac and cheese: it featured twisty, cavatappi pasta that lacked creaminess and cheesiness.
The pulled pork was pretty good, aided by the four or five barbecue sauces available on every table. Some of the sauces were odd but compelling, like a Sriracha-barbecue mixture. But I stuck with the mildly spicy "original" and their mustard-based option. The BBQ baked beans were decent, with a tangy, smoky sauce. The potato salad offered large chunks of potato, but it was too mayonaissey, lacked seasoning and tasted bland overall.
Bourbon Smokehouse needs to get past its identity crisis and hone its recipes if the restaurant hopes to compete in a saturated barbecue scene dominated by heavy hitters like Eli's, Just Q'n, SmoQ, Pontiac and the City Barbecue regional chain. We look forward to giving them another try once that happens.
Bourbon Smokehouse
Price: Expensive ($17 - $30 per person)
Service: Good
Rating: 2.5 out of 4

Cincinnati Bites