Posted Monday, September 6, 2010
It doesn't look like much from the outside (or the inside, for that matter), but Bonnie Lynn Bakery and Restaurant has got some staying power.
There are three locations, but the one we're most familiar with is in Blue Ash, across the street from McAlister's Deli. There are a higher than normal ratio of senior citizens inside its doors. Typically that's a promising sign: after all, those gnarly old folks know a good deal when they see one.
Nearly every time we make it out there, Bonnie Lynn Bakery is just minutes from closing for the day and we're the only car in the parking lot. That's because they're only open for breakfast and lunch (and we're not morning people). The building is divided into two halves: the restaurant on the left and the bakery on the right. On the bakery side is a long glass case capable of accommodating far more trays of doughnuts than we ever seem to see there; it's usually more than half empty.
We've had their doughnuts a couple times, and they're ok but, frankly, there's only one place in my heart for doughnuts. Today was our first try of their restaurant. I'm always excited when I find a place nearby with a breakfast menu. There never seems to be enough of them open past noon. Aside from the packet of oatmeal I sometimes force down my throat at work, I generally only like to eat breakfast food well after the morning has worn away.
Bonnie Lynn's menu consists of typical diner fare: burgers, salads, sandwiches, chili, open-face beef with mashed potatoes and gravy, and country fried steak. When we were ready to order, my girlfriend wanted the grits, but our waitress immediately raised an eyebrow and nearly talked her out of it. "I need to warn you that they're instant grits," the waitress said somewhat nervously. My girlfriend was a bit taken aback...as if the waitress had just told her, "Yo, our food here sucks, so please don't order it, ok?" But then the waitress elaborated with, "I recently got chewed out by a customer for serving instant grits, so I just wanted to tell you ahead of time."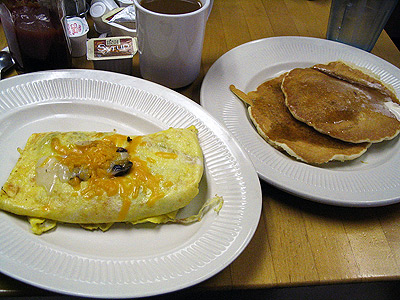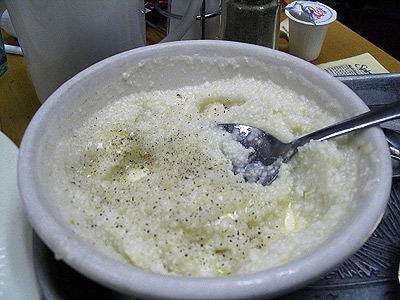 I doubt most people north of the Mason Dixon Line could accurately identify instant grits, anyway. The only reason why a previous customer had complained is because grits and oatmeal are prepared by the waitress in a microwave mounted on the other side of the kitchen, facing the dining room, visible for all to see. If they'd stick it back in the kitchen and let its preparation be part of the cook's job, I suspect none would be the wiser.
I ordered an omelette with cheddar and Swiss cheese, onions and mushrooms. I elected a side of two pancakes instead of the home fries and toast option. Along with her microwaved grits, the girlfriend ordered a couple pancakes. My omelette was fluffy, cheesy and cooked perfectly. I thought the pancakes were good and had a nice, Bisquick-like buttermilk flavor, but my girlfriend thought hers were too dense, as though they'd been undercooked. But she liked her grits, despite the foreknowledge of their instant-ness.
Bonnie Lynn Bakery and Restaurant is satisfying for what it is: a simple, down-home diner and bakery catering to those looking for a filling breakfast, hearty comfort food or a box of fresh, homemade doughnuts. There's nothing outstanding or memorable here, but there's nothing particularly offensive, either. And pay no attention to the woman in front of the microwave: she'll cook your grits up just fine.
Bonnie Lynn Bakery and Restaurant
Price: Cheap (under $11 per person)
Service: Good
Rating: 2.5 out of 4

Cincinnati Bites