Posted Thursday, July 11, 2013
Note: the following review is for a restaurant that has since closed.
When I'd posted my review of Tacocracy last fall, still scratching my head over the fact that two taquerias had opened on the same street only feet from each another, I never would have predicted Northside would see it's third taqueria less than a year later. Oh, well, excuse me. That's, Tequileria. Barrio Tequileria, Mr. Bond.
The latest in Northside's now officially bizarre penchant for trendified street tacos seems to combine Django Western Taco's grittiness with Tacocracy's macabre hippie-gothica ambiance, adding in moody Day of the Dead and Lucha Libre wrestling cultural twists for good measure.
Housed in the former location of The Painted Fish on Spring Grove, Barrio is the brick-and-mortar home for the folks who brought us the Taco Azul food truck. They've painted the multi-room interior in gruesome blood reds and blacks, lending the place a warm, perpetual darkness even in the blazing sun. A velvet Elvis painting adds needed levity, his profile showcasing a grinning skull that had long ago lost its skin but left hair, sideburns and sequins intact.
We sat down to a table as black as coal topped with streaming wisps of red paint adorning its edges. Young, pale, beautiful, servers dressed in black dutifully roamed about, some exiting/emerging from the "El Patio" out back, the sole seasonal respite from the inky interior.
Barrio's menu is a compelling list of tacos, burritos, appetizers and, of course, the best damn list of tequila this side of...North. What struck me was that this marked the first time I'd seen the word, "cactus" on a Cincinnati food menu in a decade. The last time was at a long-gone restaurant called, Amigo's, near the Tri-County Mall. There you could order an entree of shrimp with strips of tender cactus in a garlic and arbol pepper sauce. It was an amazing dish. Barrio's cactus offerings come in either the Hongos taco or burritos, each including chopped portobello mushrooms, cactus and cherry tomatoes.
The Hongos are our hands-down favorite taco at La Mexicana in Newport, so my girlfriend eagerly ordered the De Hongos Burrito ($8) while I chose the carnitas, hongos and pescado (fish) tacos ($3-$4). We also ordered a side of chips and guacamole.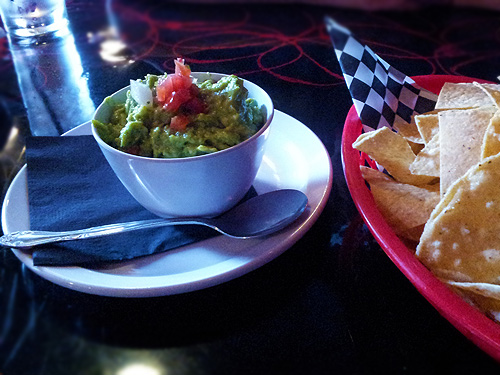 The guacamole arrived quickly, accompanied by a warm basket of nicely-salted tortilla chips. The guac was fresh and vibrant and a well-balanced mix of onions, lime, tomato, spices and semi-smooth avocado.
The entrees arrived with all the pomp and circumstance one would expect from trendy taquerias like Bakersfield OTR. My three tacos were served on the now familiar gleaming metal platter arranged like a John Bonham "Borromean" ring, each connected to the other via adjacent lime wedges. My girlfriend's burrito was impressive in size, roughly equal to a typical Chipotle burrito.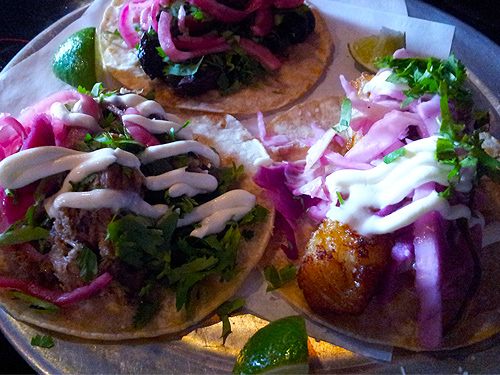 We dove into our respective hongos taco and burrito, hoping to be overwhelmed with lusty, fungal visions of cactus. While good, the meaty nature of the portobello seemed to overwhelm the other more subtle flavors, leaving little room for the cactus to shine through. La Mexicana, even under new management, still owns the hongos.
The pescado taco was easily the brightest point at our table. The generous fish plank was deep fried a perfect golden brown, imparting surprisingly little greasiness while radiating an old English Pub, fish-and-chips aura that married delightfully with the slaw, cilantro and pickled onions.
The carnitas taco was also a hit, not unlike the version I enjoy at Taco Azul. The pork flavor was punchy against the accompanying pickled onion and crema fresca toppings.
Barrio Tequileria may be serving an area already saturated with street tacos, but it works its wares well. Long live the Dead.
Barrio Tequileria
Price: Cheap (under $11 per person)
Service: Good
Rating: 3.0 out of 4

Cincinnati Bites