Posted Sunday, October 24, 2010
Note: the following review is for a restaurant that has since closed.
Aunt Flora's House of Soul is a soul food restaurant now open next to Silverton Cafe, occupying the space formerly known as Szechwan Wok. Katrina "Aunt Flora" Mincy is a bit of a celebrity, having had her cobblers featured on Martha Stewart's TV show. Mincy and members of her family have explored several area restaurant ventures, including the much-missed Flo's Plate Full of Soul.
I am fascinated by soul food. For me, it conjures pleasant memories of many summers spent deep in South Carolina's lowcountry. The very juxtaposition of the two words evokes visions of hearty meals made from "throwaway" ingredients centered mostly around pig offal. As a matter of course, I generally steer clear of such things, but fortunately there are so many items falling under the "soul food" category offering plenty for even the pickiest eaters. Mac & cheese, collard greens, fried okra, black-eyed peas, candied yams, red beans and rice, catfish, fried chicken, BBQ and much more abound.
We stepped inside Aunt Flora's on a recent Friday evening. An older gentleman I presumed to be Mrs. Mincy's husband greeted us, standing near what seemed like a five-foot-tall chalkboard filled with a dizzying array of daily specials. He walked us through the board, deftly abbreviating its contents in a way we could easily understand. Many of the specials like the BBQ ribs had been sold out, and Aunt Flora's cobblers were unavailable because she was "out of town," implying that no one else could be trusted to make them.
Our host seated us in a raised section of the restaurant, overlooking the rows of booths and tables below. A nearby boom box loudly blared cheesy Warm 98 songs and commercials. The ambiance, such as it was, seemed disjointed. The place was previously a Chinese restaurant and, as far as we could tell, little had been changed or upgraded in terms of furniture and decor. It was as if Szechwan Wok had asked Aunt Flora's to house sit for a while, with the full intent of returning.
The menus were as difficult to decipher as the rambling chalkboard. Many sections seemed out of order and seemingly conflicting. There was a "lunch and dinner" section followed by a cobbler section, followed by an "After Church" dinner section followed by another dinner special section; something called "Chicken on the Run"; and another area of the menu called "family daily meals."
Whiting, catfish and chicken wings were the only proteins available the night of our visit. I ordered the Whiting special, two cornmeal-breaded fish fillets with a side of collard greens mixed with cabbage, a side of mac & cheese and a thick, Texas-style toast. Not being a seafood fan, my girlfriend's only choice was the chicken wing dinner, eight lightly-seasoned wings with the collard green/cabbage mix, mac & cheese and toast.
To drink, I chose their sweet tea, another Southern favorite of mine. When it arrived, I enthusiastically inhaled a large swig, only to nearly choke on it in surprise. My girlfriend, who is adamantly not a tea drinker, was particularly indignant when I coerced her into trying it.
"If I take a sip, the horrible taste of tea will just linger throughout the rest of my meal," she protested. I assured her that would not be the case. When she tentatively took a sip, her eyes widened and she burst out laughing. "It tastes like fruit punch!" she guffawed. And it did.
Still marveling at the bizarre, syrupy sweet non-tea, we were presented with our entrees.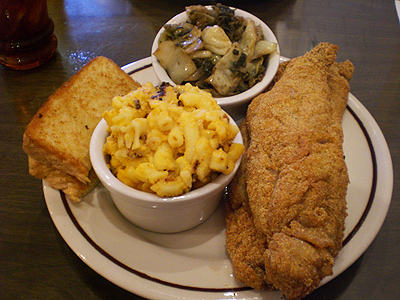 The whiting fish was excellent, one of the better fried fishes I've had. The fillets were tender, not at all greasy. A wonderful blend of spices in the corn meal batter ensured my fork would not leave my hand until both the fillets were gone.
The mac & cheese was very good, creamy, with a few crunchy burnt parts from the pan that signaled home-cookin'. The greens & cabbage combo was also very flavorful...neither meaty nor spicy like many collard greens I've had, but with a hearty flavor and only the most minute hint of bitterness.
Unfortunately, my girlfriend enjoyed her meal far less than I had. Her wings required liberal doses of salt and pepper; she didn't like the side of Texas toast that came with the entree. I, however, liked the toast, whose texture and butteriness was akin to a thick grilled cheese sandwich, minus the cheese.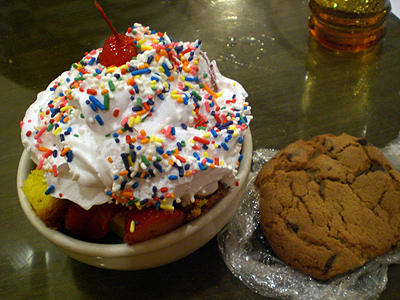 Denied the cobbler, we instead ordered the strawberry shortcake and a homemade chocolate chip cookie for dessert. The whipped cream on the shortcake had been topped with texturally jarring candied sprinkles; and the lemony-ness of the lemon pound cake, which served as the "shortcake," overpowered the strawberries. The chocolate chip cookie was good --not too crunchy, not too soft, with liberal doses of chocolate chips.
Aunt Flora's House of Soul has definitely got its heart in the right place. We enjoyed much of the food, but there were clear missteps we hope get ironed out as they get situated at their new location.
Aunt Flora\'s House of Soul
Price: Moderately Expensive ($11 - $16 per person)
Service: Good
Rating: 2.5 out of 4

Cincinnati Bites