Posted Tuesday, January 17, 2017
"This is it," I thought as I opened the last Christmas present from my mom several years ago. "Now I have tangible proof that she always wanted a daughter."
Mom had given me an entire set of highly effeminate, tacky country stoneware adorned with apples. There were large coffee mugs, bowls, plates, soap dispensers, gravy boats and more. I never thought I'd see that stoneware again, until I had breakfast at Apple Tree Cafe in Deer Park.
The cafe is located on the west end of the Dillonvale Shopping Center strip mall on Galbraith Road, near the PNC Bank. We'd first visited the restaurant in 2010 and were surprised to find it still going strong more than six years later.
Apple Tree Cafe feels like a small town diner. It's got that old country kitsch decor that would make any grandmother swoon. There are red checkered table cloths and a refrigerated display case full of pies and cakes. There are barn paintings. There are little wooden roosters. There are bird house decorations. And yes, there are apples. Lots and lots of apples.
We stopped in recently to reacquaint ourselves with the place. The menu includes a line of soups, sandwiches, burgers, chicken and shrimp baskets, pasta dishes and quiche. But make no mistake: Apple Tree Cafe's specialty is its breakfast menu, served all day.
The cafe's breakfast offerings include various egg platter combinations, as well as pancakes, waffles, French toast (including their signature caramel-apple version), sausage, omelets, breakfast sandwiches, biscuits and gravy and grits, all washed down with some coffee served in a large mug.
The biggest difference we noticed was that the cafe has nearly doubled in size over the last year, as they'd purchased, gutted and remodeled an adjoining space. They needed it, because when we stepped inside, the original dining room was packed.
For our latest visit, I ordered the "country breakfast:" two eggs cooked to order with a choice of grits, home fries or hash browns, along with sausage or bacon and a small portion of biscuits and gravy ($8.25). My girlfriend opted for a biscuit sandwich topped with an over-easy egg, sausage and cheese, along with a small side of grits and hash browns ($8.25).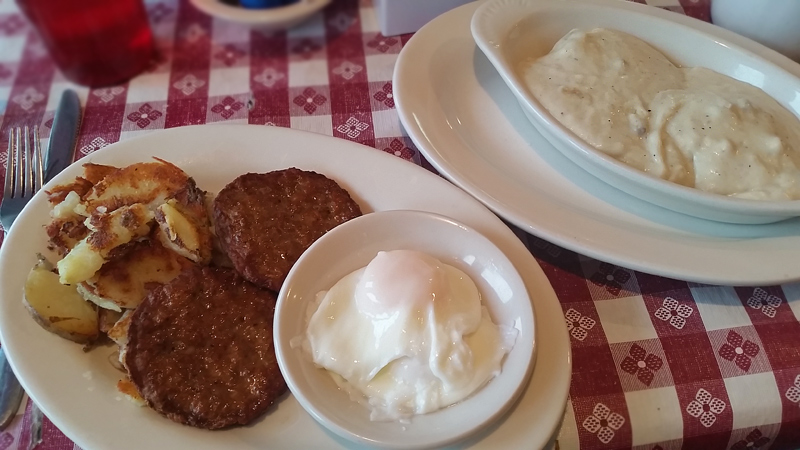 Country Breakfast
My favorite kind of egg has been of the poached variety of late, and when I make them at home, the results are hit or miss. I was pleased to find that Apple Tree's poached eggs were perfectly formed, with the hot, liquid gold yolk core I yearn for. The fried potatoes were brown, crispy and delicious with the two large slices of sausage. My "small" biscuits and gravy was a meal in itself: one large biscuit halved and submerged in a pool of mildly peppery gravy, which instantly whisked me back to my childhood.
My girlfriend's biscuit was flaky, hot and a bit messy with yolk running unbidden between the layers of cheese and sausage, but she managed happily well. Her grits were thick and buttery. So were the ones she was eating.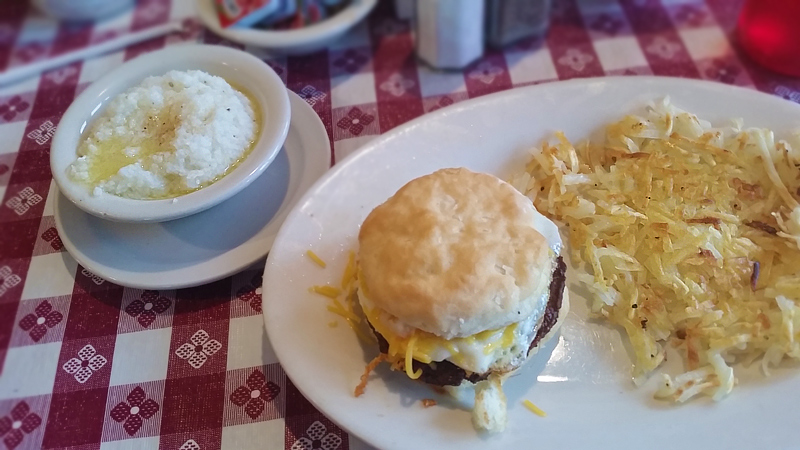 Breakfast sandwich w/grits and hash browns
Given all the fancier breakfast spots in town, we often forget about these hidden, unassuming gems for the simple fact that they don't exude a trendy or youthful vibe. Yet most of the time, all you need is a place that serves consistently good food. We'll be back to visit Apple Tree Cafe, kitschy effeminate stoneware and all.
Apple Tree Cafe
Price: Cheap (under $11 per person)
Service: Good
Rating: 3.0 out of 4

Cincinnati Bites