Posted Tuesday, July 6, 2010
Note: the following review is for a restaurant that has since closed.
Anna Ree's Andouille, a Cajun/Creole restaurant in New Richmond, came highly recommended, so when Restaurants.com recently offered $25 gift certificates for just $2, the girlfriend bought one to use over the Independence Day holiday weekend.
Andouille's is located off US Route 52, a 30-minute drive from downtown Cincinnati. As we trekked along the mostly unremarkable highway running parallel to the Ohio River, we began to see signs ticking off the number of remaining miles until we reached, of all things, boiled peanuts. The first sign read, "9 1/2 MILES TO BOILED PEANUTS," then it was seven miles, then five, until we finally passed a place called, Dee's Dairy Bar & Drive In. Boiled peanuts are a Southern favorite of mine, so I made a mental note to give Dee's a shot the next time we were in the neighborhood.
Andouille's is easy to pass: the small, black and white sign isn't large enough to make out until you're right on top of it. If it weren't for the considerably larger, flashing arrow marquee sign also resting out front, we would have continued on for who knows how many miles. The dark mauve, shanty-like building, coupled with the gravel parking lot along the river, makes Andouille's look more like a boating dock than a restaurant. And, I think, that's probably the point.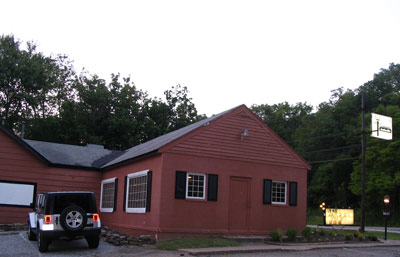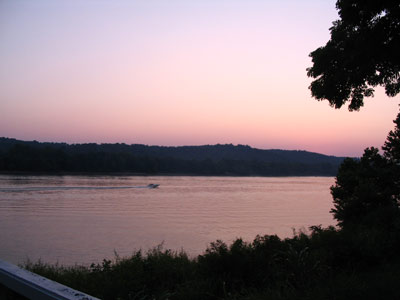 Reservations were strongly encouraged via Andouille's website, and it's a good thing we'd made ours: the parking lot was packed. Peering over the wood fence from our car, we could see a large, very busy outdoor seating area behind the building, nearly abutting the coast of the Ohio river.
It's pretty spacious inside: yellow walls with faux antique gas lamps and Gulf Coast-inspired artwork define the New Orleans-style motif, disrupted by the large plasma TV hanging near the front bar. The front booths were large; dark-lacquered, wooden backings slanted at 15-degree angles and long seats meant six people could theoretically sit in one. The ambiance seemed primed for large groups and families but easily accommodated twosomes.
As the crowds began to thin out through the course of the meal, the atmosphere felt more laid back, much like you'd expect from a restaurant mimicking something you'd find in New Orleans' French Quarter. There was a pleasing, eclectic mix of music piped through the place: everything from blues music, to 50's, 60's and early 70's oldies filled the air. It all worked well together.
Service was a bit off, but we'd expected some issues given the holiday weekend. While the hostess greeted and seated us promptly, our waitress took nearly 10 minutes before acknowledging us. It took her another 5-10 minutes before returning to take our drink orders, then another 5-10 minutes to arrive with our drinks and take our dinner order. Salads arrived late, a couple minutes before our entrees arrived, which forced us to scarf them down quickly lest our entrees got cold.
Given the spotty service, we had an abundance of time to decide what we wanted to order. The menu is filled with the usual suspects when one thinks of Cajun or Creole cuisine: crab cakes, alligator, red beans and rice, crawfish, shrimp, gumbo and Jambalaya abound. There are also Po'Boys, Muffulettas, steaks, chops and, on certain occasions upon request, Bananas Foster served table-side. Many of the seafood items are still being sourced from Gulf Coast waters; and despite the current BP-induced environmental crisis, Andouille's owners have indicated a confidence in their suppliers by stating, "so far, so good." Whether that changes in the near future is anyone's guess, but there are a number of "Top Chefs," including restaurateur Tom Colicchio, who are staking their reputations on the safety of Gulf Coast seafood.
I had my eye on the frog legs appetizer, a delicacy I had only experienced once before at a place called, Toot's, in Mason. The menu described a corn flour coating and green onion dipping sauce, which sounded great. I also ordered the Crawfish Etouffee, a hearty stew of crawfish, a rich, spicy sauce and veggies served over a bed of rice. My girlfriend ordered the Jambalaya, promising to be chock full of sausage, chicken, peppers, onions, tomatoes and Creole spices.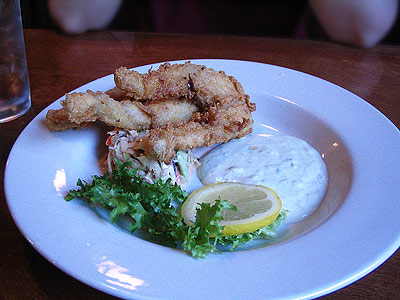 The frog legs were the first to arrive. They were cooked well, juicy, with good corn breading like you'd find on a fried catfish; unfortunately it was a bit bland. Whoever claimed frog legs tasted like chicken was wrong: frog leg meat is significantly moister --almost watery. It doesn't have a fishy flavor but there's something about it that very subtly and pleasantly hints of the waters from which it was raised. I believe frog leg meat would lend itself well to a bolder dipping sauce, not the neutral-tasting "green onion dipping sauce" it came with. It was mayonnaisey in consistency, but lacked any flavor. However, the frog legs did rest on a bed of pleasantly spicy, addictive cole slaw. If only they'd made the dipping sauce out of the slaw sauce, or at least provided us a bottle of Crystal's Louisiana Hot Sauce to inject flavor into the meat, the appetizer would have been more successful.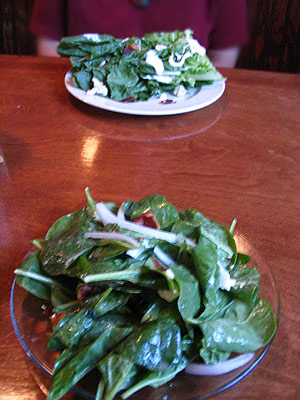 The salads that came with our meal were tasty: I chose the spinach salad with crispy bacon, sliced egg and onion mixed with a light vinaigrette, while my girlfriend chose the "seasonal" Andouille Wedge Salad, a large wedge of Romaine lettuce with fresh bacon bits, bleu cheese and bleu cheese dressing that she requested be served on the side.
Each of our entrees were absolutely delicious, served with a side of cornbread. My crawfish etouffee was both light-tasting and filling, with hearty chunks of curled, red crawfish meat. My girlfriend's Jambalaya tasted exceptionally hearty and smoky. People are very opinionated when it comes to cornbread: some like the drier, denser variety, while others prefer the sweeter, cakier versions. Andouille's cornbread definitely fits the latter category, much to my enjoyment.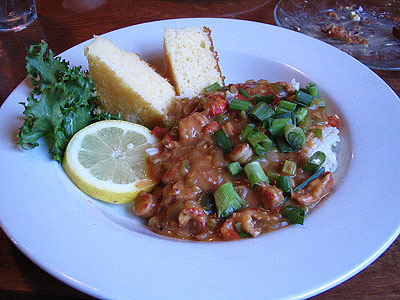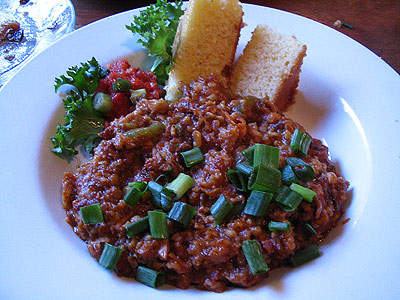 The two of us split an order of Praline Bread Pudding for dessert. What bewildered us was that, instead of serving it on one plate and providing two forks, we each got a half of the dessert served on separate plates. It seemed strange but was a good idea in retrospect, given how far we would have had to reach had one plate rested in the center of the ample table. The bread pudding was moist, with a sweet, rum-spiked sauce that left a strong urge to lick our plates clean.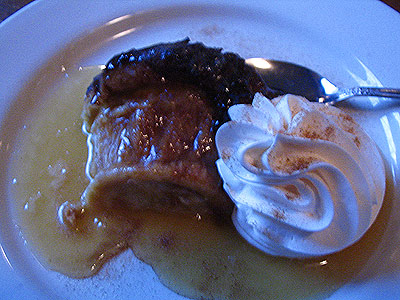 I'll go so far as to say Anna Ree's Andouille offers entrees that are nearly as good as those you'd find along the Gulf Coast. In fact, after two recent visits to New Orleans, we were both hard pressed to think of similar entrees in Louisiana that tasted better. We look forward to our next visit along the Ohio River.
Anna Ree\'s Andouille
Price: Moderately Expensive ($11 - $16 per person)
Service: Fair
Rating: 3.0 out of 4

Cincinnati Bites