Posted Tuesday, February 9, 2016
Americano Burger Bar claims its burgers are made up of a "proprietary blend" of "steak-cut beef." What exactly does that mean? It sounded like a lot of hooey to me. So, I prodded a co-worker for a visit to find out for ourselves.
The restaurant is located on the ground floor of the new 84.51° building, accessible via its Race St. side. It's the brainchild of Via Vite chef Cristian Pietoso, an Italian immigrant who has gone out of his way to avoid screwing too much with an American classic (although he offers ten burger variations that differ only from their blankets of myriad toppings). The most Italian-like item on his menu, in fact, is the veggie burger, made up of at least two major ingredients ending in vowels: farro and cannellini beans.
No side items accompany the somewhat pricey burgers, so if you want an appropriately American combo of burger and fries, expect to pay between $12 - $17 for your meal. Add a drink and you'll be throwing down an Andrew Jackson. The bar offers a number of bottled and canned beers to wash away your buyer's remorse, along with a handful of signature cocktails and wine. If you're feeling particularly gluttonous, $6 milk shakes are available, which can be spiked with bourbon cream, coffee liqueur or ameretto for an extra $3.
The restaurant's initial press releases indicated "the meat will be made fresh from the trimmings of dry-aged steaks, meaning the burgers will literally be steak burgers." But now their menu simply offers the more cryptic "steak-cut" line. Maybe saying otherwise would get them into trouble with A.1. steak sauce, which claims to make "hamburgers taste like steak burgers." And what is hamburger, after all? Chopped ham? No, says A.1. It's chopped steak."
My co-worker ordered The Americano burger and a side of hand-cut fries ($13). The signature burger comes topped with American cheese, grilled onions, lettuce, tomato, pickles, mayo and ketchup. I selected the Argentinian burger and a Southwest grilled corn-on-the-cob ($14). The Argentinian is topped with grilled onions, provolone cheese, mayo and chimichurri (a very potent, herby sauce made from chopped parsley, oregano, garlic and vinegar). Burgers can be ordered "pink" (medium) or "no pink" (well-done). We chose "pink."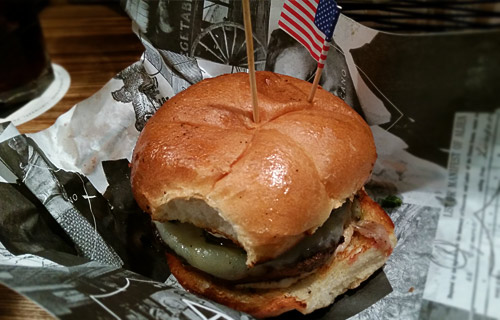 The Argentinian Burger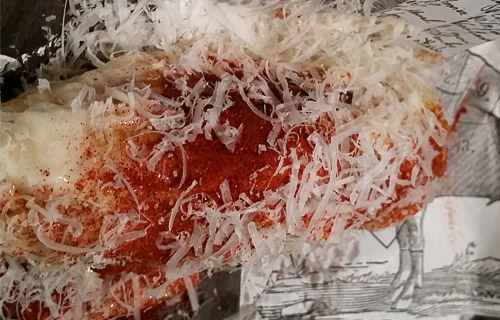 Unrecognizable corn-on-the-cob
When the burgers arrived, I was taken aback by how small they were compared to the ridiculous-sized burgers at similar trendy establishments. Their size, however, was a plus in my book: I didn't have to spend half my lunch break making tedious mathematical calculations on how best to fit said burger into my tiny little mouth. Still, a part of me was a little irritated about the price-to-size ratio. "But it's steak-cut beef," I hear the marketing voices coo in my ear. "Can't you taste the proprietariness of Chef Pietoso's blend?" Well, no, I couldn't. What I could conclude was that it was a decent burger. It had an attractive, toasted bun. It was a nicely-formed patty, cooked a perfect medium. It was a burger. And as comedian Louis C.K. might say: the burger didn't offend me. It didn't solve all my problems, but it was fine.
What wasn't fine was my side of grilled corn-on-the-cob. The three-dollar miniature cob was absolutely covered beyond recognition with heaps of mayo, Parmesan cheese and dustings of paprika. It's messiness made it impossible to pick up and eat without looking like a fool. Honestly, if they would have sold the grilled corn for $1, I would have paid them $2 just to keep the rest of the crap off the cob. Grilled corn doesn't need anything to dress it up. The extra toppings only serve to mask something that's naturally tasty. Stop that.
Americano Burger Bar is just one more hyped-up burger joint to add to the din. They offer good burgers and some decent sides. Steer clear of the hokey, over-dressed items on their menu and you might find yourself becoming a regular.
Americano Burger Bar
Price: Moderately Expensive ($11 - $16 per person)
Service: Good
Rating: 3.0 out of 4

Cincinnati Bites