Posted Sunday, November 22, 2015
Aladdin's Eatery is a Lebanese restaurant chain based in Lakewood, Ohio, near Cleveland. Though the company's been around since 1994, its franchise expansion has heated up only recently, introducing two newish locations in both West Chester and Hyde Park.
I usually avoid chain restaurants, but reluctantly checked out the Hyde Park location, which is tucked away in a strip mall off Edwards Rd. The renovated space had once been an Aveda Fredric's hair salon school and, long before that, a Pizza Hut.
The space sports floor-to-ceiling windows and an open feel amid a warm, Mediterranean-inspired color scheme. We were surprised to find it filled with a fairly good amount of patrons despite it being somewhat hidden from the road, as though locals were privy to a little-known secret.
The menu is large, spiral bound and a bit intimidating at first -so much so that the wait staff are trained to acknowledge its size and help walk diners through the many sections. Although it offers plenty of items for carnivores, Aladdin's cuisine is also quite vegan, vegetarian and gluten-free friendly, with a number of items labeled to accommodate specific diets.
Soups, pita-bread pizzas, rolled pitas (essentially Lebanese burritos), salads, raw smoothies and a host of specialty beef kafta, lamb, kabob and chicken shawarma plates are among Aladdin's featured items. Behind the glass front counter is an impressive line-up of cheesecakes, cookies, cakes, baklava and other desserts.
Aladdin manages to offer an abundance of what I consider very expensive ingredients --pine nuts and hummus, for example-- infusing them into a great many of their relatively inexpensive, large-portioned dishes. How they do this while keeping the prices so low is a mystery.
For our most recent visit, my girlfriend opted for a specialty pita "pitza" ($8), a large, crispy pita topped with curry chicken, honey Dijon dressing, peas, banana peppers and crunchy toasted onions. I chose a bowl of lentil soup ($3.75) and a lightly toasted "Arayiss" rolled pita ($6.25) filled with sauteed beef, pine nuts, onions, tomatoes, pickles, turnips and cheddar cheese.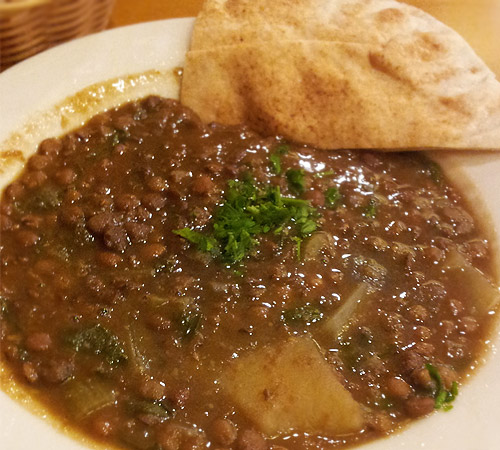 Lentil Soup
The large bowl of lentil soup was a hearty and delicious mix of organic lentils, Swiss chard, celery, onions and hunks of potato. In past visits I've also tried their chicken-lentil soup variant, which is tasty in its own right, but the original version remains my favorite.
The intense curry and mustard flavor of my girlfriend's pita pitza proved a bit overbearing for her palate, but was still a solid choice. The toasted onions tasted nearly identical to French's fried onions (the kind you'd find in a green bean casserole), a welcome addition.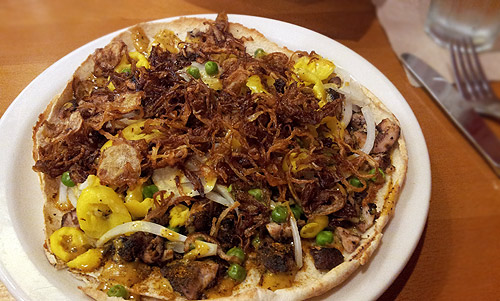 Curry Chicken Pitza
My Arayiss rolled pita was a satisfying textural marriage of ingredients, from the crispy, toasted pita shell, to the crunchy bite of pickled turnips and pine nuts. The mixture of melted cheddar cheese and seasoned beef was reminiscent of a taco.
The one disappointment is easily Aladdin's pita bread served in baskets on the side. The bread is far too thin and flavorless in its untoasted state. But when this same bread is used as the toasted base of Aladdin's wraps and pita rolls, it transforms into something crispy and delicious.
Aladdin's Eatery is one of the few chain restaurants we actually enjoy. Having been there now a half a dozen times, it's become one of our favorite and most affordable Mediterranean restaurants in Cincinnati.
Aladdin\'s Eatery
Price: Cheap (under $11 per person)
Service: Good
Rating: 3.5 out of 4
Cincinnati Bites