Posted Monday, May 31, 2010
Tired from a walk on a steamy Saturday afternoon, we retreated to the cool, air conditioned comforts of Aglamesis Brothers, an ice cream parlor with locations in both Oakley Square and in Montgomery.
When it comes to ice cream, I'm almost exclusively a chocolate milkshake kind of guy. You can argue all you want about what's the best in Cincinnati but, truth be told, I've never met an ice cream I didn't like.
The three best-known parlor chains in Cincinnati are Graeter's, Aglamesis Brothers and United Dairy Farmers (UDF). Around these parts, ice cream is serious business: if you don't think so, simply look around town for Carl Lindner Jr.'s gleaming vanilla Rolls Royce Phantom. The Lindner family fortune --ranked 582nd in the world-- rests securely upon a foundation of Rocky Road.
While Graeter's seems to enjoy most of the press and accolades from newspapers, magazines and even Oprah Winfrey, Aglamesis Brothers continues to churn out great ice cream as they have for more than a century. Walking into their Oakley Square location is like grabbing an antique photo from the infancy of Americana and colorizing it. Marble counters, original tile floors and soda fountain equipment transport patrons to a time largely forgotten.
We sat down at a table and were quickly greeted by a teenager starting us off with glasses of water. A pink menu was thrust before us, listing a number of ice cream flavors; Italian ice; sundaes; milkshakes; floats; and phosphates. Aglamesis also makes an assortment of candy, most notably its impressive variety of chocolates, all displayed behind glass cases.
At the time of our visit, Aglamesis Brothers featured a "taste of summer" menu item, changed weekly. This week was the Buckeye Sundae, peanut butter chocolate chip ice cream and hot fudge accompanied by a buckeye candy. My girlfriend enthusiastically ordered the featured item while I chose my usual chocolate milkshake. The waiter asked if I'd like whipped cream but, as is my custom, I declined. Nothing gets between me and my ice cream!
Drinking a milkshake at Aglamesis instead of ordering it to go is the key to ensuring one gets the most shake for the money. That's the perception, anyway. When the shake arrives, it comes with a glass full of shake, plus the large stainless steel mixing cup with its remaining contents. The degree to which this cup is filled varies from visit to visit: it seems I get more shake at the Oakley location than I do at the Montgomery Road branch. The shake also comes with a plate of vanilla wafer cookies.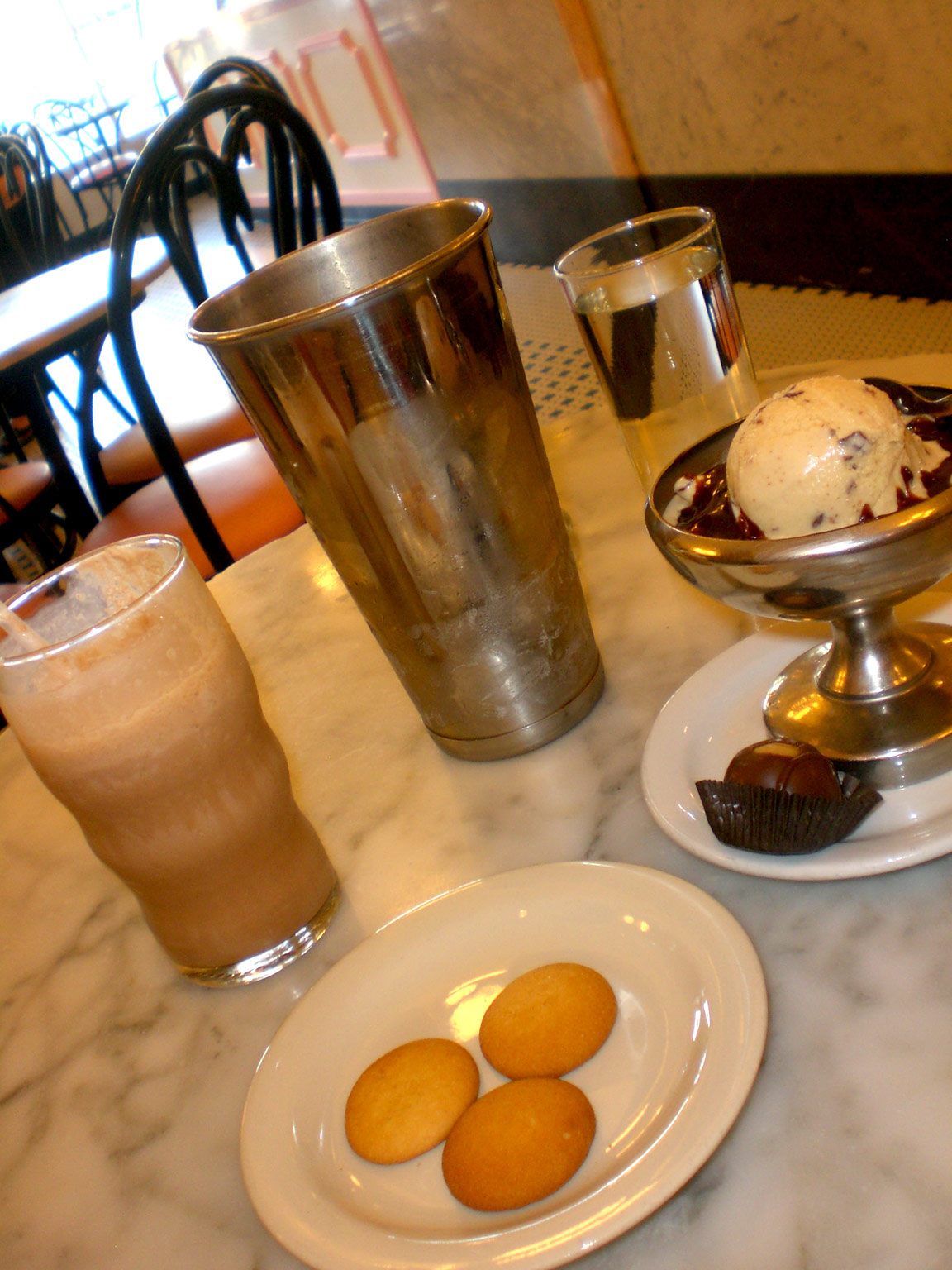 Chocolate milkshake and Buckeye sundae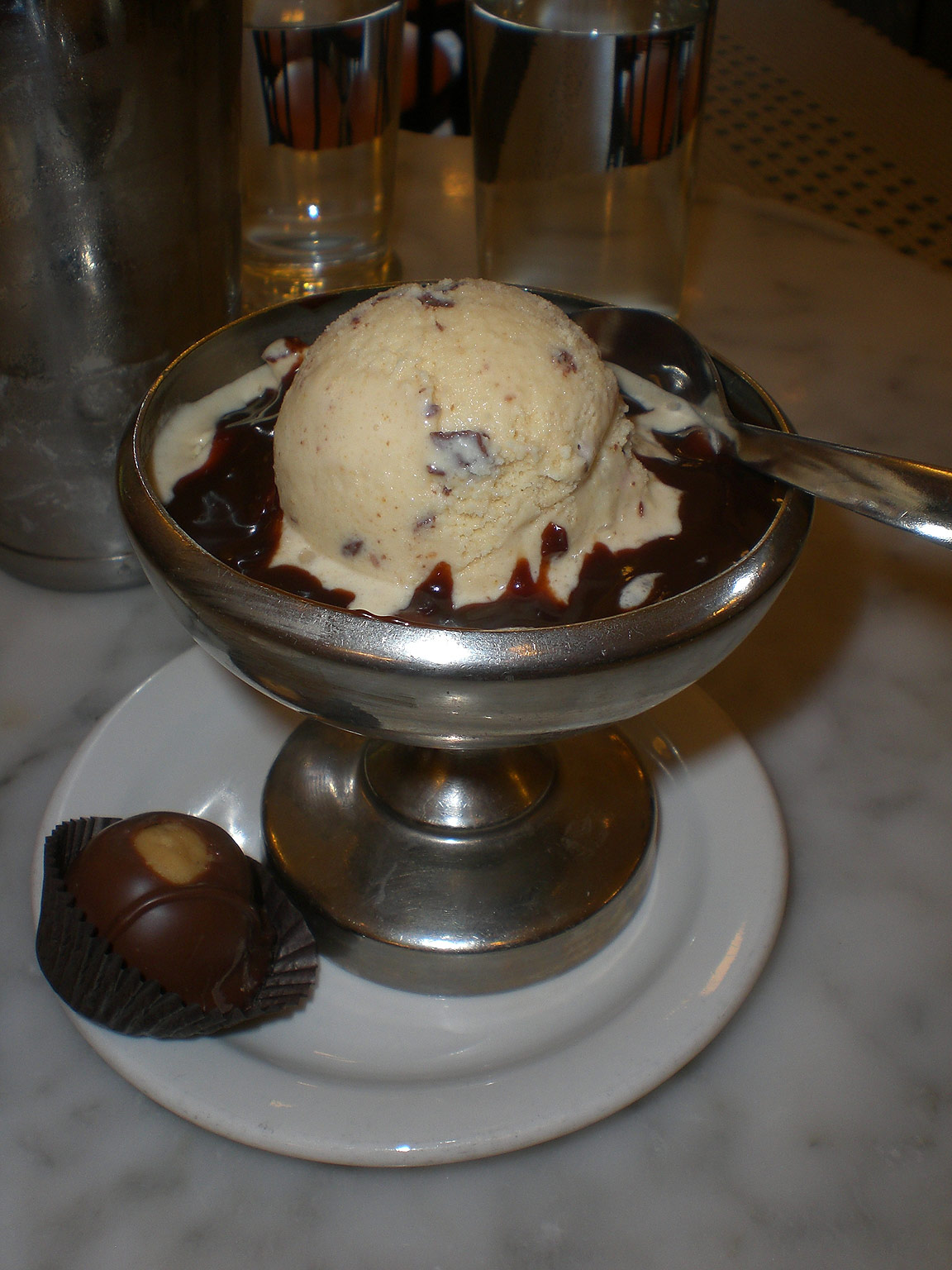 Buckeye Sundae
My girlfriend's Buckeye sundae arrived in a gleaming, silver ice cream bowl. The peanut butter flavor, mixed with the hot fudge, was both rich and decadent. Between bites of that and the large buckeye, we were thankful for the accompanying glasses of water to wash it all down.
Aglamesis' ice cream is notably different from Graeter's in both flavor and texture. We find that Graeter's ice cream leaves a lingering film on the tongue. Some find this distinctive sensation pleasing, but we don't particularly care for it.
If I had to choose a favorite ice cream in Cincinnati, I'd probably oscillate between Aglamesis and UDF, depending on how the mood struck me. While we visit UDF far more often than the other ice cream parlors, Aglamesis is our choice for a great dessert wrapped in vintage, nostalgic ambiance.
Aglamesis Brothers
Price: Cheap (under $11 per person)
Service: Good
Rating: 3.5 out of 4
Cincinnati Bites