Posted Sunday, May 17, 2009
Note: the following review is for a restaurant that has since closed.
Yes, we followed the boobs. The controversy spurred by a busty mannequin outside a Cincinnati barbecue joint prompted us to make our first visit there.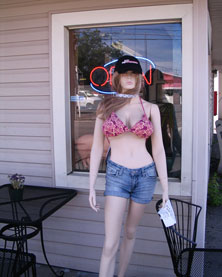 KT's Barbecue is located in Reading, a smoking beacon of culinary hope amid the run-down, 70's-era buildings that dot the landscape. Owner Kenny Tessel, a self-proclaimed "celebrity chef to the stars," returned to Cincinnati after many years of "putting up with" the rich and famous, signed photos of whom now line the small waiting area of his restaurant.
Tessel has been enjoying some notoriety of late: resident complaints have forced him to a zoning board hearing to defend the use of the scantily-clad mannequin he had placed outside his restaurant to attract customers. Apparently the marketing gimmick worked: Tessel estimates that his sales have risen 40% thanks to the mannequin he named, "BarBe Q." Get it?
Zone officials called the mannequin an eyesore and have forced Tessel to dress it in more modest attire. Have these officials actually driven down Reading Road? The whole strip is an eyesore, full of derelict, boarded up storefronts and restaurants...a virtual shopping ghost town. So who exactly is this mannequin offending?
When we arrived at KT's, we circled for a place to park, but found nothing. Next to the small building is a car wash. A sign read, "parking in rear" but all we saw were two spaces that were taken, presumably by the owner himself and one employee. We finally parked along a side street and made the short walk to the entrance, noting the large barbecue smoker directly behind the building.
As we entered the small room, the woman at the counter greeting us warmly as we began to study the menu. A printed menu was on display, followed by a marker board to the right, which I only briefly scanned.
I immediately opted for the pulled pork sandwich, minus the bread, along with a side of macaroni and cheese and collard greens. I was suddenly startled as Kenney raised his voice at me, clearly annoyed that I hadn't figured out that what was on the marker board was all that was available today, and collard greens clearly weren't on the board.
As if to smooth over Kenny's outburst, the woman behind the counter cooly explained that the news stories about the mannequin had made the past couple days a virtual mad house, so they were out of several items normally on the usual menu. I laughed off Kenney's annoyed tone, regrouped, and ordered the green beans with ham instead. I was disappointed that they offered only a small selection of canned and bottled soft drinks; it would have been wonderful if sweet tea were available.
My girlfriend ordered the brisket sandwich with a side of green beans and a side of baked beans. She was more annoyed by Kenney's outburst than I, confiding later that she'd been "this close" from snapping back at our fellow Ohio University alum. We waited only a few minutes for our order, which gave us some time to scan the celebrity photos on the wall. Some notables included Quentin Tarantino, Geena Davis and a couple local television news anchors. A small bookshelf contained an interesting collection of R.A. Salvatore fantasy novels.
Don't expect to enjoy a sit-down meal at KT's. The restaurant emphasizes take-out. Beyond two outdoor tables, there was nowhere to eat our meal, so we took it home.
My favorite barbecue joints in Cincinnati are not the usual. For example, I don't go "ga-ga" over Montgomery Inn. The stand outs that KT's was up against included City Barbecue (an Ohio chain with locations throughout Columbus and Cincinnati); and Walt's Barbecue, a great, meaty find located on Colerain Avenue.
KT's pulled pork was flavorful, not overly dry but not exactly juicy, either. The small accompanying container of sauce was slightly sweet with a pleasing, peppery spice. I wished I had more of it. Our green beans were unfortunately very salty, so much so that we wondered if there'd been an accident during preparation. Still, they weren't completely inedible, so we persevered.
My girlfriend's brisket had a nice smokiness, complimented by the sauce, but otherwise lacked a real depth of flavor and juiciness. The tiny container of baked beans were too sweet for her tastes.
The highlight of our meal was the mac & cheese which, while not of the creamy variety we both like, packed enough punch with its cheesy-pepperiness to save an otherwise mediocre barbecue experience.
Still, we hope KT's succeeds, improves with time, and never lets go of its sultry mascot, BarBe.
KT\'s Barbecue
Price: Cheap (under $11 per person)
Service: Fair
Rating: 2.0 out of 4

Cincinnati Bites