Posted Thursday, July 4, 2013
The first time I'd ever had gelato was in Venice, Italy shortly after stepping off the plane, brushing past actor Jeremy Irons in the airport and yet again as we'd all boarded our waiting water taxis. Jeremy was no doubt off to the Venice International Film Festival, while we were headed to our hotel after a surreal, 10-minute-long, "holy shit, we're really in Venice" joyride along the Grand Canal.
Several Italian trips later, we can safely say we've had our fair share of gelato. Denser then ice cream due to its general lack of aeration and (usually) less fat, the icy delight typically harbors more intense flavors than ice cream, particularly the fruitier varieties.
Buona Terra is a little gelateria and creperia opened in Mt. Lookout Square two months ago. It sports a chilly glass case of two dozen gelati, as well as four savory and three sweet crepes. A rotating "specialty crepe" is also offered on their chalkboard menu. Gelato prices range from $3-$5, while crepes are $6-$8. This seemed a bit steep, but not unusual for its location.
Nestled next to Pera Mediterranean, Buona Terra is only feet from a UDF, which makes the fledgling business vulnerable to the same kind of competition the now defunct Fave in Hyde Park Square had likely succumbed to at the hands of a nearby Graeter's.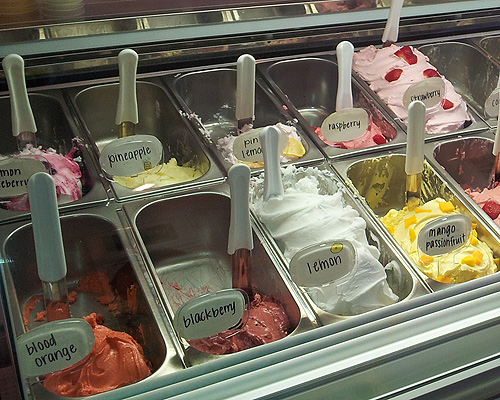 Like Fave, Buona Terra employs a modern, sterile decor that we absolutely never once saw anywhere in Venice, Pisa, Florence, Rome, Sorrento or the half dozen gelaterias we'd tried throughout Sicily. Instead, these were homey, rustic institutions with a sort of Old World charm. It would have been nice if Buona Terra had attempted to make itself look like one of those places. Still, the gelateria does make good use of local photography hanging along the north wall, and we admired the green tile work.
The blood orange gelato was at the top of my list of items to try, as the Arancia Rossa is a very popular fruit in Italy, served with the same liberal abandon as Florida oranges are here. By the look of Buona Terra's nearly empty bin, it's clear I'm not alone in my interest. My blood orange gelato was delicious, with a piercing, refreshing orange flavor.
We also tried three of the four savory crepes: The Italian, with prosciutto, spinach and mozzarella; The Spartan, packed with smoked turkey, Gorgonzola cheese and drizzled with a garlic aioli; and The Greco, combining spinach, goat cheese, tomatoes and a balsamic reduction. The crepes are served hot with just the right level of crispiness along the edges. All were varying degrees of tasty, each making a very satisfying lunch or light dinner.
Buona Terra is a welcome addition to Mt. Lookout Square that we hope will evolve into a local tradition for area residents seeking a more intimate alternative to larger ice cream outlets.
Buona Terra
Price: Cheap (under $11 per person)
Service: Good
Rating: 3.0 out of 4

Cincinnati Bites