Posted Friday, September 20, 2013
One of my biggest regrets in life is never having learned to speak Spanish muy bien. I took siete años of it over my high school and college years, but without any real-world interaction, I can only manage to count to un millón and utter some basic phrases. There's one mock bartering interaction from a high school textbook I still remember well.
"Cuanto questa el sombrero?" I ask the shopkeeper.
"El sombrero? Viente pesos, señor," he replies.
"No, no. Dieciséis pesos, no más," I counter like a smug gringo's asshole.
"Bueno," the poor, defeated shopkeeper frowns, "...pero es un regalo!"
But the real gift is that Cincinnati's Latin-American population continues to expand --you need only look at the rising number of Mexican, Venezuelan, Peruvian and Cuban restaurants opening up lately for an accurate barometric reading.
Coinciding with this phenomenon is an accretion of gringo-owned taquerias seemingly catering to the young and the trendy, offering firm, pretty people a chance to pay premium prices for what should be cheap street food.
Mazunte Taqueria straddles the line between old school taqueria and hipster taco joint, grounded in authenticity while borrowing from concepts embraced by the likes of Barrio, Tacocracy and Bakersfield OTR. Aside from some of the employees, you likely won't find a lot of Latino regulars here.
Still, Mazunte's menu is an impressive one. For example, before my first visit, I'd never heard of a "memelita," much less tasted one. Have you? No, you haven't. Stop lying.
The restaurant owner was once an English teacher who'd taught in Oaxaca, Mexico. He no doubt learned their language as he taught his own, enveloped by the culture, the people and the food.
Aside from the obligatory, teeny-tiny trendy tacos that are the new hip thing nowadays, Mazunte's got the aforementioned memelitas, which are made from a ragged, thicker corn tortilla topped with all kinds of delicious meats and cheeses and sauces. They also feature bowls of kick-ass pozole, brimming with roasted chicken and hominy and peppers and served with crispy tostadas.
On our visit, the place was buzzing with people and it was a bit intimidating. A woman stood in a corner mini-bar near the front entrance, doling out little bowls of chips, guacamole and salsa. At the end of the larger, central bar was an overhanging menu and a cash register, a la Tacocracy. The menu listed no prices --you had to pick up a paper version offered near the front door and at the register to see how much everything costs. Expect to pay somewhere between $18-$25 for two people.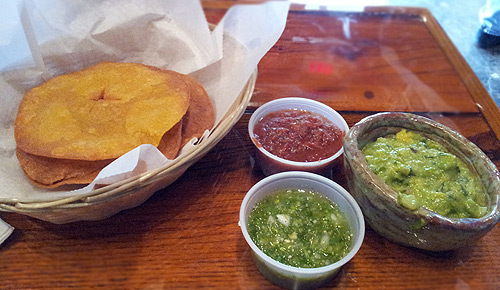 The girlfriend ordered the chicken memelitas, topped with a black bean puree, cheese and two peppy verde and roja salsas, served with a side of white rice. I selected the pork tamales steamed in a banana leaf and filled with the spicy, chocolaty mole sauce. An order of guacamole rounded out our meal.
We were handed a small ticket that we were to take to the woman at the salsa bar in the corner, who then provided us a basket of whole, fried tortillas, a small plastic cup of red and green salsa, and a clay bowl of guacamole.
The unique tortillas were served whole with tiny "X" slits in the center. They were slightly oily and, depending on which one you picked up, were either crispy or chewy in spots, but also uniformly salty and addictive and fun to break apart and dip in our selection of salsas and fresh, electric-green guac.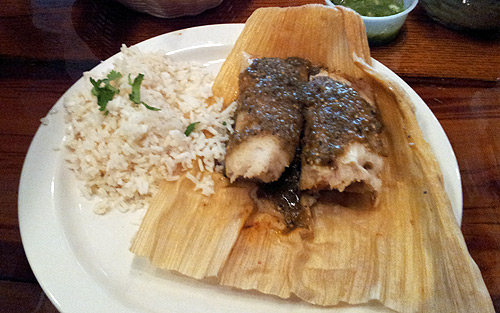 My girlfriend's memelitas were thicker and more substantial than tacos, with a hearty, medium-spiced pepperiness countering the mild cheese. I was initially disappointed with her plain-looking, white rice, until I tried a few forkfuls and realized its simplicity was a deception. The rice was surprisingly hard to stop eating, with its dusting of cilantro and assertive hints of garlic and chicken accumulating with each mouthful.
The owner stopped over and apologized as he handed me a plate of chicken tamales with verde salsa served in a corn husk, saying that they'd run out of the pork variety and the mole I'd ordered. I shrugged it off and thanked him anyway --the tamales I ended up with were still quite delicious, with a thick corn masa flavor giving way to roasted chicken and acidic bites of tomatillo.
Mazunte may be yet another hipster taqueria in a town saturated with them, but it's still a welcome addition to Cincinnati's growing list of Latin-American offerings, with just enough pleasant surprises to lend it some distinction.
Mazunte Taqueria
Price: Moderately Expensive ($11 - $16 per person)
Service: Good
Rating: 3.0 out of 4

Cincinnati Bites