Posted Monday, February 26, 2018
Enroute to a our China vacation, we carried with us lot of misconceptions about the country. But soon after landing, our guide set us straight: "Lower your expectations." While the country is poised to overtake the United States as the next great superpower, it remains --as of this writing-- a country in transition. For every large, seemingly modern city like Beijing or Shanghai, with all their (often jaw-dropping) Western-style creature comforts, there are several more cities and pockets of large towns you could easily picture belonging to a third-world country.
Among our biggest misconceptions was our idea of what true Chinese food was all about. Most food fanatics know that what we experience in American Chinese restaurants is nothing like what's found in the mother country. Crab rangoon, egg rolls, General Tso's Chicken, sweet and sour pork, chow mein and fortune cookies --none of that exists in China. You've been eating a lie. Some restaurants in Cincinnati, like Kung Food Chu's AmerAsia in Covington, Ky, recognize that fact and, at times, even celebrate and revel in it. But even while they're feeding you some of the biggest culinary hoaxes of all time, they do manage to sneak in light smatterings of authenticity.
Kung Food Chu's AmerAsia is a curious cross between a divey hipster craft beer bar and a Chinese restaurant. Throughout the small space are a lot of Kung Fu movie memorabilia, shrines to Bruce Lee and cartoonish caricatures. The menu's style and approach is theatrically over-the-top, with the chef himself dressed up like a Kung Fu master in playfully menacing poses. We've heard about the place over the years, but it's only recently that we finally stopped by to give it a try.
While the menu is indeed playful, it's generally lacking in usefulness. There are tongue-in-cheek names for common American Chinese food classics, like "Fly Rice" (fried rice) and "Brocco-Lee," but no descriptions. If you wanted to know details about what primary ingredients are in a particular entree, you're out of luck. Unless, of course, you wanted to spend a half hour drilling down the entire menu with your server. Sure, many items are obvious to even the passing Chinese food diner, but would you have any idea what's in the "Buddha Delight" or "Matt Chu's Special?"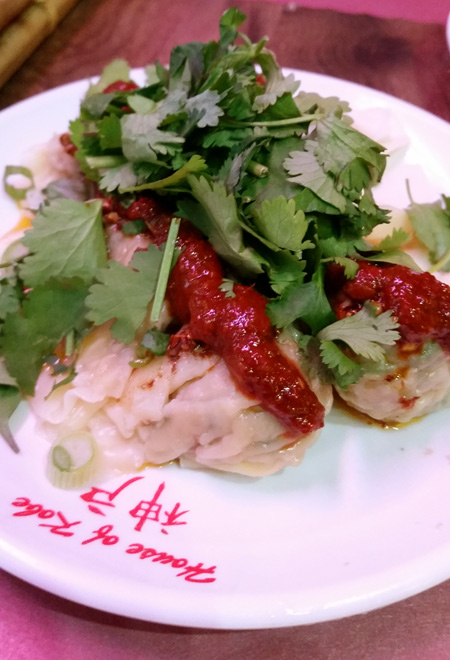 Dragon Breath Wontons
We started with an order of the Dragon Breath Wontons ($5.50). We had no idea what to expect, beyond the not-so-subtle hint that it was going to be spicy (thanks to a fiery red font and a blazing red Karate "kick to the head" icon). It turned out to be not too intimidating; sure, the six hand-made, mystery meat-filled dumplings were drizzled with a thick chili bean paste and hot chili oil, but the heat overall was moderate and slow-building, no doubt aided by the cooling mound of fresh cilantro.
My girlfriend ordered the Me How Fun entree with chicken ($9.95). From what we could gather, the Me How Fun came with wide, flat noodles, bean sprouts, carrots, green onions and chicken in a smoky sauce.
I chose the mysterious-sounding "Zonxon Noodles (pork) ($8.75)." I had no idea what it was beyond the photos I'd seen on Instagram and the fact that the words, "noodles" and "pork" are in the entree name. From what I'd gleaned from the photos, it consisted of long wheat noodles, ground pork mixed in a chili-like sauce with mushrooms, carrots and bean sprouts topped with crushed peanuts and julienned strips of cucumber.
Entree spice levels are on a 1-10 scale, with a steep jump in spiciness around the "five" mark, at which point they begin to incorporate habanero peppers. With that in mind, we stuck with level four.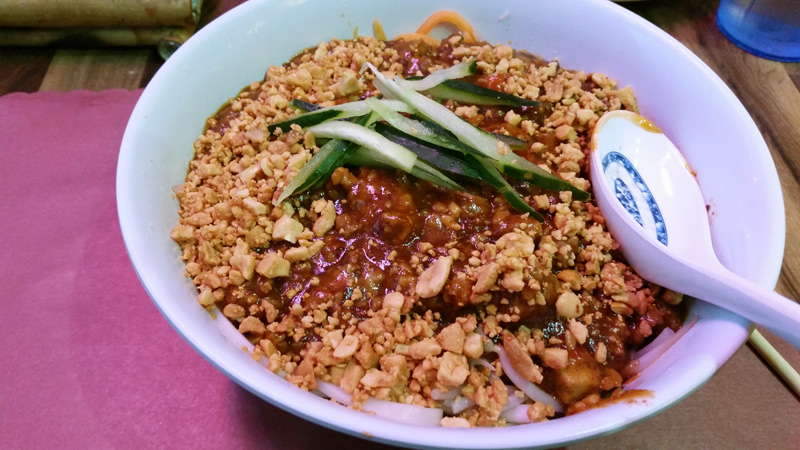 Zonxon Noodles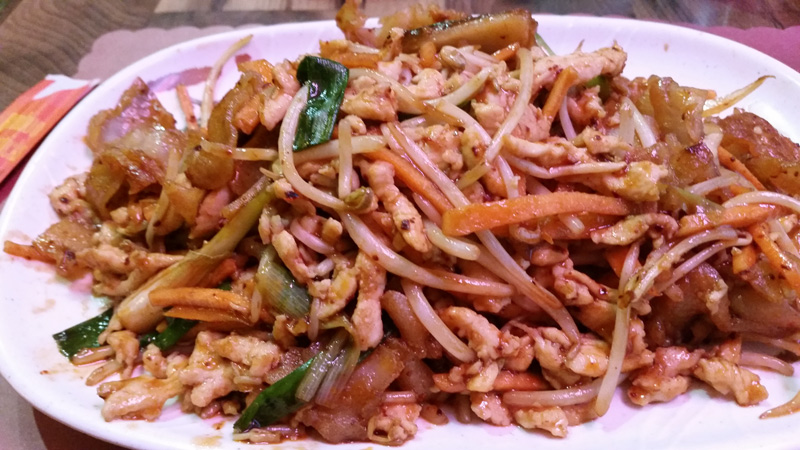 Me How Fun
When my Zonxon noodles arrived, I immediately recognized the dish as something similar to my favorite noodle dish at Yat Ka Mein: Dan Dan noodles. Yat Ka Mein doesn't take the traditional Chinese route in their preparation: it's ground chicken in a thick chili sauce mixed with vegetables. The Zonxon noodles exhibited very much the same consistency, making for a very hearty, satisfying meal.
My girlfriend overall enjoyed her Me How Fun, but was disappointed that it was heavy on the sauce while light on the noodles. Too bad, because the delicious noodles were easily the highlight, with just a bit of an al dente chewiness. The veggies and chicken she found to be cut too small.
Kung Food Chu's AmerAsia isn't seeking to be authentic Chinese, but it does offer an affordable, unique slant on popular Americanized Chinese classics, coupled with a very impressive craft beer selection.
Kung Food Chu\'s AmerAsia
Price: Moderately Expensive ($11 - $16 per person)
Service: Good
Rating: 3.0 out of 4

Cincinnati Bites