Posted Tuesday, November 15, 2016
Press on Monmouth is a new waffle and panini-style sandwich spot in Newport. It's a block from Mad Mike's and catty-corner from Mokka.
The layout is almost exactly the same as its very short-lived predecessor, Factory Buvette & Bar, a coffee and sandwich shop that, as far as I can remember, was only open about five months before being shuttered with a "temporarily closed" sign that had remained on the door for upwards of a year.
Press's menu is somewhat more expansive, with focus primarily on five pressed sandwiches served hot or cold; breakfast sandwiches, biscuits and frittatas; and a several waffle variants topped with sweet or savory ingredients. Soups, salads and flatbread sandwiches are also available. Beverages include brewed coffee and espresso, tea, draft beer, wine and tap water with additional bottled drinks.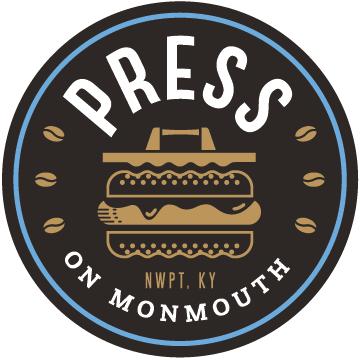 Press's fetching logo
Unlike its predecessor, Press on Monmouth has adopted a "communal" style seating arrangement along with its individual stools lined along the windows. I know the marketing claim for communal seating is that it "invites an inclusive, social atmosphere," which is the same disproved bunk shoved down our throats by employers promoting those noisy "open office" workplace environments. It's not inclusive; it's loud, cramped, distracting and uncomfortable to be that close to total strangers. If I want to reach out to people I don't know, I'll go to a bar, thank you very much.
We stopped in for lunch on a weekend afternoon. Stepping into the side entrance, patrons will see a small island between them and the cashier. Ordering isn't very intuitive. There are menus resting on the island and patrons are supposed to first walk to it, study the menu and then approach the cashier. It's a clunky process: a much more traditional approach ---a menu board hanging over the cashier-- would be more efficient.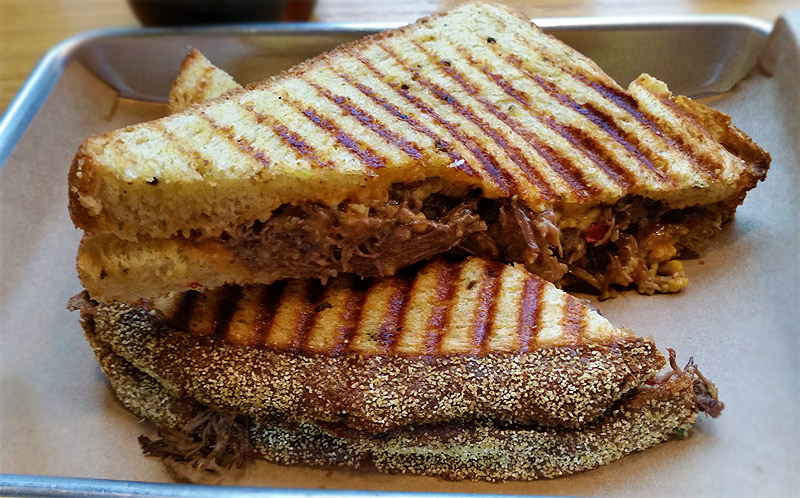 "Dirty South" w/short rib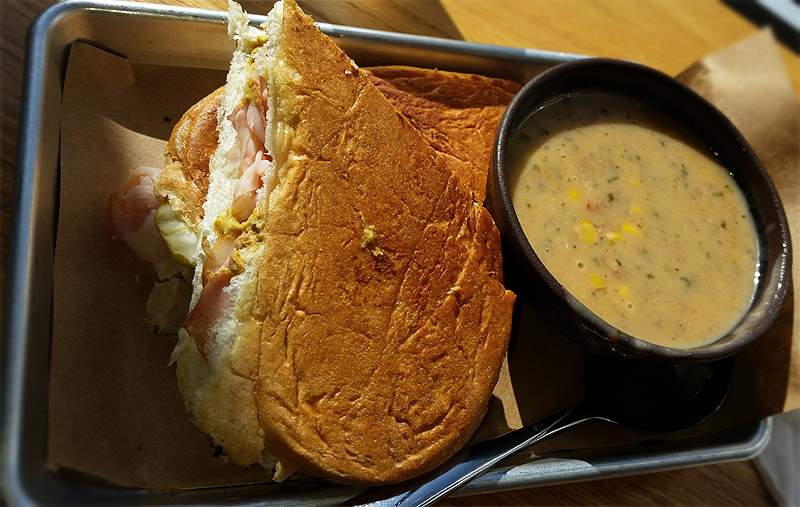 Cubano w/corn & sausage soup
My girlfriend ordered the pressed portabella sandwich, with red peppers, pickled onion, provolone and hummus on honey wheat bread($7). I initially opted for the umami frittata but was told they quickly run out of those by lunchtime. Unfazed, I selected the Cubano: a classic Cuban sandwich of pork, ham, pickle, Swiss and mustard on pressed Cuban bread ($9). Sandwiches come with a choice of chips or a soup side item, so we selected some kettle-style chips and a cup of their house made corn and sausage chowder.
We sat at the stools by the window, where in a few moments we received our trays. The sandwiches were pleasantly compressed, toasty, crispy and satisfying. I enjoyed the sweetness of the corn flavors shining through the otherwise meaty chowder, and my Cuban made an appropriate vehicle for dipping. My girlfriend's mushroom sandwich was surprisingly hearty; its small size belied how filling it was, as she ended up able to finish only half of it.
Pressed on Monmouth is a solid breakfast and sandwich choice, and while it aspires to be Newport's premier hipster hangout, its atmosphere will prove inviting to nearly everyone.
Press on Monmouth
Price: Moderately Expensive ($11 - $16 per person)
Service: Good
Rating: 3.0 out of 4

Cincinnati Bites