Posted Sunday, February 26, 2017
Any restaurant whose menu went out of its way to dis Nickelback is ok in my book. So if you arrived at Northside's Tickle Pickle to order a sandwich named after that shitty band, you'll be deservedly disappointed. But don't despair, dear citizen of dubious musical taste, because if you want an education on truly notable rock bands, this Northside sandwich spot has you covered.
Tickle Pickle fits well with the Northside dining vibe. The hole-in-the-wall exudes that popular distressed, divey, hippy vibe we've all come to expect from the neighborhood, similar to Yellow Springs. If you were deemed "different" in high school, dressed "weird" or regularly got beat up only to go on to have a decidedly higher net worth and confidence level than the rest of your abusive, judgmental peers, Northside is your home away from home.
The menu is a lighthearted homage to some of the more popular rock bands of the 70s, 80s and 90s. Each burger, sandwich, milkshake or side is named after a particular band from the era. There's the "Buns 'n Roses," a vegan black bean burger; the "Meatallica," a beef burger topped with bacon and fried egg; and "The Eagles," a grilled chicken sandwich with pepper jack cheese. Most appropriately, Tickle's Pickle's flagship burger is named for both a burger in its most pure, raw form and arguably the premier super group of the era: Bread Zeppelin. It's a beef burger with American cheese, lettuce, tomato, onion, pickles, mayo and ketchup. Classic.
We stopped in one weekend afternoon after navigating and parking along Hamilton Avenue. The interior sports a small dining room bustling with diners next to the prominent ordering counter, with a small amount of additional seating in a rear alcove. A large chalkboard along the south wall lists nearly a dozen burgers, many of which are vegan, gluten-free and vegetarian-friendly upon request. Side items include mac and cheese, pasta and potato salads, smashed white and sweet potatoes, chips and fruit. Noticeably absent from their list were French fries, which seems a no-brainer for a burger joint, but perhaps there are kitchen or philosophical limitations that preclude a fryer. There is mention online that Tickle Pickle features organic, grass-fed burgers and organic milkshakes, but that info didn't seem to be advertised on site.
My girlfriend chose the intimidating "Rob Zomwich," a beef burger topped with cheddar, spicy ketchup, jalapeno peppers, banana peppers, grilled onions and peppers and hot sauce served on a pretzel bun, along with a side of mac and cheese. Each burger also comes with a small side of Tickle Pickle's "spicy" slaw, which I thought was an odd default.
Having been a Led-Head drummer whose teenage years were filled with nights praying to a black-light illuminated John Bonham shrine, I found it my sworn duty, in the name of all that is Holy and Physical Graffiti, to order the Bread Zeppelin. Page, Plant, Jones, Amen.
We were presented with a number and anxiously awaited an opening for one of the hard-won tables, but our wait was not as long as anticipated. As we sat down, we noted the collage style photo arrangements on the tables, which strangely reminded me of those old newspaper collages that Wendy's tables once sported.
On the north wall was a Pink Floyd-inspired mural that read, "North Side" against white brick a la "The Wall." In the back was a painted bust of Sarah Cole, the founder of Tickle Pickle, who'd tragically been struck and killed last year by a speeding car while crossing the street to Sidewinder Cafe to get coffee for her staff. In her memory, her employees and investors quickly chose to keep her dream alive, and Tickle Pickle is as popular as ever.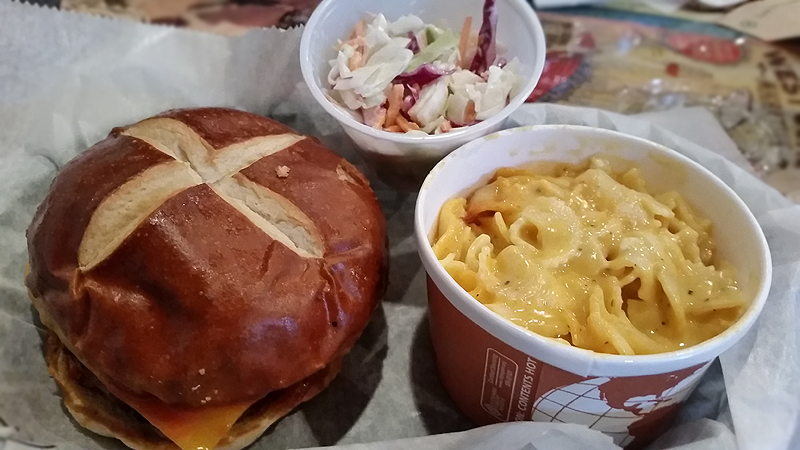 The Eagles chicken sandwich w/slaw, mac and cheese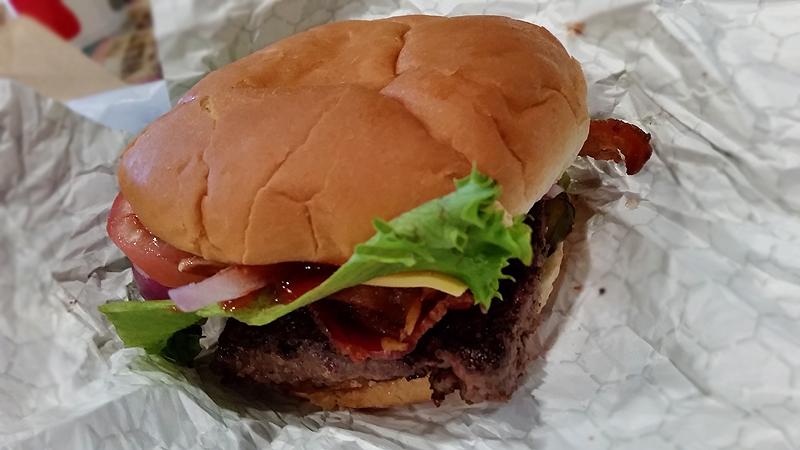 Bread Zeppelin w/bacon
The food soon arrived with the burgers lovingly wrapped in foil. A small container of slaw accompanied each plate along with the pleasingly prominent container of mac and cheese, whose flavor and consistency were perfect in every way: creamy, peppery and deliciously cheesy.
My burger was fresh and hearty: a square patty that also seemed to pay tribute to a Wendy's burger, with a nice grilled char that paired well with the crisp lettuce, tomato and added slices of bacon. The strange side of "spicy" slaw was unnecessary and essentially flavorless: it seemed neither dressed nor spicy in any way, but it might be appropriate as a topping for one of the sandwiches to lend added crunch.
My girlfriend's Zomwich, which she'd feared would be too spicy, was instead packed with a zesty heat that was thankfully not overpowering. Particularly notable was the lightly salted pretzel bun and hit of jalapeno.
Tickle Pickle is a quirky, enjoyable lunch experience worth a trek to Northside.
Tickle Pickle
Price: Moderately Expensive ($11 - $16 per person)
Service: Good
Rating: 3.0 out of 4

Cincinnati Bites