Posted Monday, May 29, 2017
Pleasant Ridge is one of those places trying for years to become the next big food scene. Alas, it seems every time a new restaurant opens there, another one closes. It's frustrating. There will likely always be the grounded, beloved mainstays like Pleasant Ridge Chili and Gas Light Cafe, but longevity is a crap-shoot for any other restaurant willing to take a chance there. Emanu, our favorite Ethiopian restaurant, closed this month after nearly 10 years. But five doors down, Grand Central Delicatessen popped up near the neighborhood's central intersection of Ridge and Montgomery Roads.
Grand Central sports a compellingly quirky vibe, right down to the bow tied and neatly-coiffed wait staff. It pays homage to New York City's art deco design and architecture, while also evoking images of Cincinnati's own art deco and speakeasy-filled past. Its most unique feature, other than a cool, period-piece bar, is a semi-enclosed patio outside the entrance. This dining area is still technically inside the building, but open and shaded, which will no doubt prove a godsend over the hot summer months. Deeper inside the restaurant is a deli area with a selection of Boar's Head meats, cheeses and prepared salads behind a refrigerated glass case, with staff busily slicing and preparing customer orders. Deeper still is the bar and main dining area.
On an unusually steamy early afternoon, we stopped by and sat in the back of the restaurant. I noticed that the bar lacked alcohol, so they're either going with an authentic Prohibition feel or their liquor license got delayed. Grand Central's menu primarily focuses on hearty sandwiches, salads, soups, chips and charcuterie plates with a surprisingly good assortment of vegetarian/vegan sandwich and side options. They also offer a brunch menu and often partner with O-Pie-O for savory pies and desserts.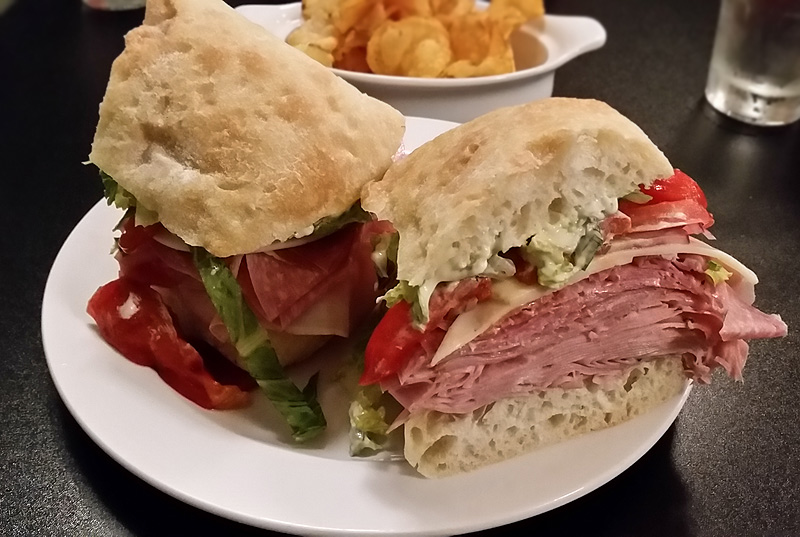 The Ridge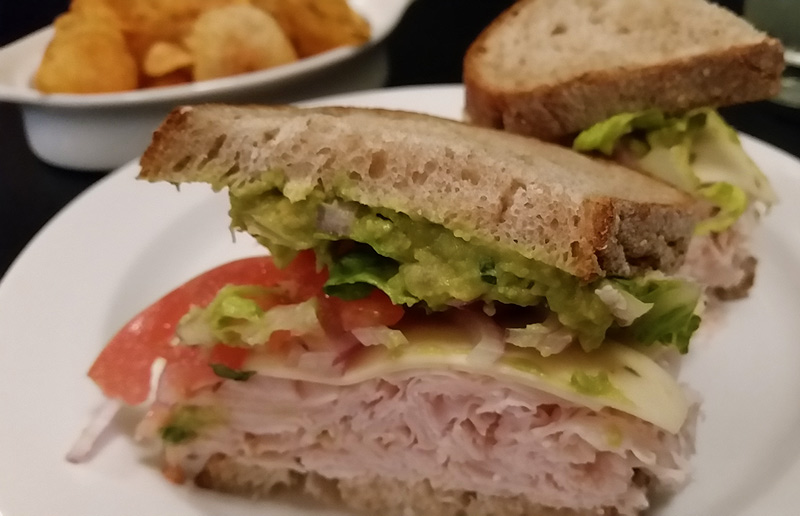 The Live Wire
I choose Grand Central's most expensive, signature sandwich, "The Ridge," a monstrous stack of Genoa salami, prosciutto, mortadella, cappicola, provolone, roasted red peppers, lettuce, tomato, onions and basil mayo on Ciabatta bread ($13.99). My girlfriend opted for "The Live Wire," with turkey, jalapeno jack, guacamole, lettuce, tomato and onion on slices of whole wheat batard ($9.99). We shared an order of "buffalo bleu" flavored Dirty Chips.
Given the price, I expected my sandwich to be big, but was in no way prepared to witness how overwhelmingly towering it truly was. The Ridge is Grand Central's answer to a Dagwood, and its answer comes as a condescending taunt.
As one would expect from the omnipresent Boar's Head brand, the meats were all quite delicious, coupled with the smoky roasted peppers, thinly sliced onion and herby basil mayo. Alas, it was nearly impossible to eat this sandwich without making a total mess. The Sixteen Bricks Ciabatta bread was simply not up to the task of keeping the structural integrity of the sandwich in check, easily breaking apart in my hands as I tried to take a bite. It was so much food that I only managed to eat half the sandwich. A day later, I noted my leftover Ciabatta faired better refrigerated --no breakage.
My girlfriend's "Live Wire" sandwich, smaller as it was, maintained its form. She appreciated the house-made guacamole and mildly spicy tones from the jalapeno jack. The chips were fine -- a basic kettle-type brand.
Grand Central Delicatessen is a worthy Pleasant Ridge addition as a sandwichy respite, brunch spot and aspiring watering hole.
Grand Central Delicatessen
Price: Moderately Expensive ($11 - $16 per person)
Service: Good
Rating: 3.0 out of 4

Cincinnati Bites