Posted Tuesday, January 16, 2018
From about the mid-1990s to the early 2000s, Mt. Lookout Square was home to Cinema Grill, an interesting restaurant/movie theater hybrid that allowed guests to sit at tables and order food as they watched a movie on a large screen. It was a quirky novelty that eventually grew tiresome and died off. Or so we thought.
Now restaurateur Robbie Sosna, a Cincinnati native who's shuffled through his fair share of restaurant and food-related businesses over the years, has resurrected and modernized the format in his new Blue Ash creation, Envision Cinemas Bar & Grill.
Sosna started his first restaurant in Los Angeles, but eventually moved back to Cincinnati to open a Freshii franchise on Walnut St. downtown, which went belly-up a few years ago. He also tried his hands at a short-lived local food delivery service. Perhaps "four's a charm" will ring true in his latest business venture.
Envision is made up of two wholly separate components: there's a stand-alone restaurant adjoining its movie theater. Moviegoers can order off the restaurant's menu by pressing a button on their reclining, tray table-equipped theater chairs, prompting waiters to arrive, similar to how one would summon a nurse in a hospital or nursing home.
As logic would dictate, Envision's menu serves mostly easily-portable finger food like pizza, chicken tenders, burgers and sandwiches, as well as tacos, sushi and other assorted fried items. I was impressed that they showcased a designated gluten free menu, with a few items offered without an upcharge.
We stopped by one evening to assess the restaurant portion, walking past a Tesla charging station in their parking lot for the people ostensibly made rich off Bitcoin. We noted the vastness of their open dining room and extra-long booth seats. There's a prominent, full bar in the back with a sizeable beer and cocktail list.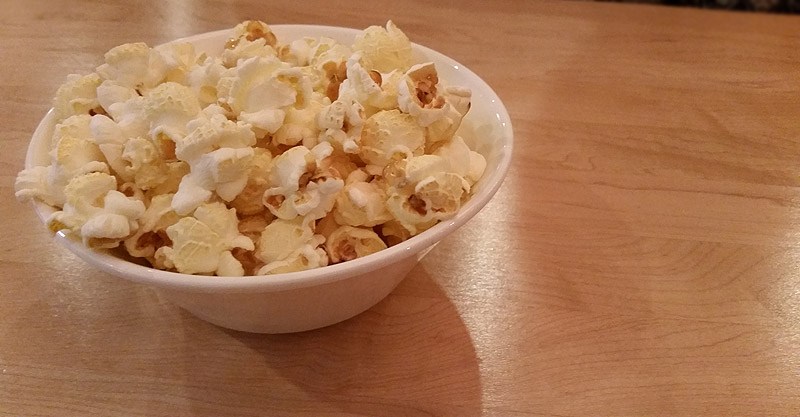 Complimentary popcorn
As we looked through the menu, a complimentary bowl of popcorn arrived at our table, an unexpectedly nice touch. Alas, it ended up being cold and a little stale, which made me wonder where it came from.
Envision offers four types of tacos and, not knowing how big they were, I ordered all four: the fish, crispy chicken, pork and grilled steak ($4 each). They're served on flour tortillas, but I requested corn instead and they happily obliged. My girlfriend chose the turkey burger ($11.99), topped with guacamole, tomato, lettuce, and a side of chipotle aioli on a kaiser bun, served with french fries.
The burger and fries soon arrived, but I ended up waiting a long time for my tacos. My girlfriend was about halfway through her meal before my food finally showed up. This was a bit irksome considering that they weren't particularly busy and we noted a great deal of people operating the kitchen.
My girlfriend's turkey burger and large basket of french fries won high marks for fun presentation, but after she'd taken a few bites of her burger, it soon became clear she was disappointed. I took a bite to assess what was wrong. It wasn't as dry as I usually find turkey burgers to be, which was great. But then I noted a strong cumin flavor. It seemed fine on the first bite, but after several more, that flavor became quite overpowering. The fries were lukewarm and not particularly crispy, but I enjoyed the seasoning.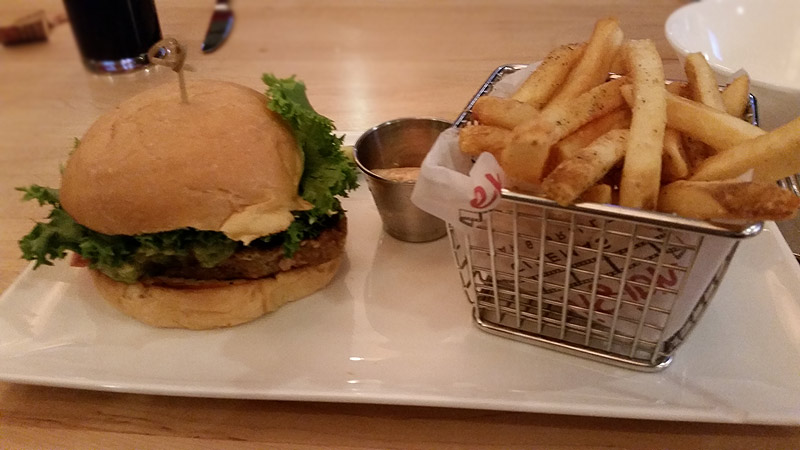 Turkey burger and fries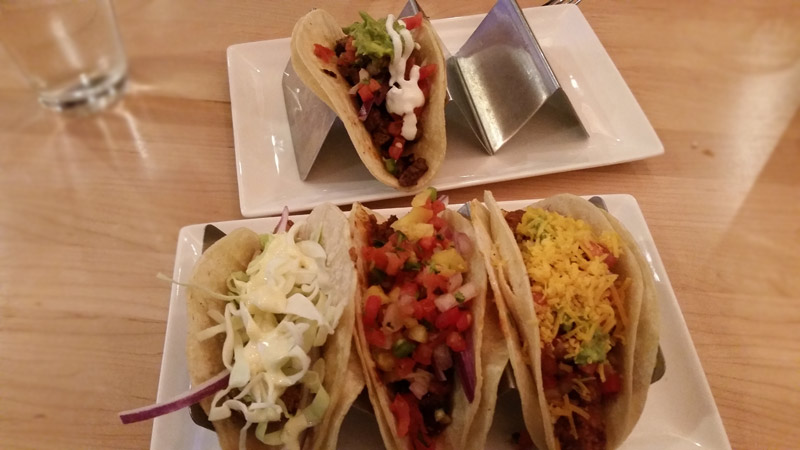 Tacos
The large tacos were overloaded and recycled other menu items as their chief proteins. For example, they employed cut up chicken tenders to create the crispy chicken taco, topped with pico de gallo, avocado aioli and cheddar cheese. The BBQ pork taco, topped with pineapple salsa and onion, featured large hunks of pork, and it was often all pork in one bite. But overall, it was the taco that worked best thanks to the salsa's pleasant acidic interplay. The crispy chicken taco was surprisingly my second favorite, followed by the grilled steak and the fish. The guac on the steak tasted muddy and processed instead of fresh. The fish taco smelled and tasted off to me, and the sauce was too mayonnaisey. I stopped after only a couple bites.
Envision Cinemas Bar & Grill reintroduces and refreshes a restaurant/movie concept using all the latest technology to give it a much needed boost. Their menu is as compelling as it is accommodating, but falls a bit short on execution and flavor.
Envision Cinemas Bar & Grill
Price: Moderately Expensive ($11 - $16 per person)
Service: Fair
Rating: 2.5 out of 4

Cincinnati Bites