Posted Saturday, September 23, 2017
I've been a fan of Indian food for nearly half my life now. My girlfriend and I have visited many an Indian restaurant in the U.S. and the UK, so many that, until recently, it seemed unlikely we'd ever be surprised by a new one. But here's the thing: most non-Indian diners like us have no idea their favorite Indian restaurant is very likely representing only one region of the country: the north. Step into a southern Indian restaurant and, in terms of what you think you know about Indian cuisine, all bets are off.
Our original dinner goal one weekend afternoon was to visit The Root Beer Stand in Sharonville before it'd closed for the season. I had been itching for a place that reminded me of the long-gone Frostop Root Beer stands of my hometown, which served draft root beer in frozen, glass mugs served on a tray affixed to a half-open car window. I was sadly disappointed to learn that Sharonville's root beer stand stopped car service decades ago, which instantly killed the appeal for me. So, we quickly needed a back-up plan for dinner.
Enter Udupi Cafe, an unassuming Indian hole-in-the wall located in a small strip mall on Lebanon Road. With only a couple cars in the driveway, we were dubious at first, but once inside and greeted by the friendly staff, we knew we'd stumbled upon a place we'd revisit time and time again.
As we sat in our booth to peruse the menu, we soon grew overwhelmed by the generally unfamiliar menu items. Sure, I've enjoyed the giant crepe-like concoctions known as "dosas" before, but never had I been so mystified at food terms I'd heretofore never seen: Idli? Vada? Uttappam? Sambar? What was this? Where's the Vindaloo? Where's the Rogan Josh? No, you silly, naive American. You've just entered...The Southern Zone.
Udupi Cafe's menu is almost exclusively focused on southern Indian cuisine. So what's the difference between north Indian and south Indian food? A lot, actually. First, southern Indian food is almost exclusively vegetarian. Indeed, Udupi Cafe is vegetarian only. Southern Indian cuisine also focuses a lot on different permutations of a fermented rice batter made into crispy crepes and other concoctions like the aforementioned dosas. There's an emphasis overall on rice and lentil-based items. Uttappam, for example, is a thick pancake-like dish that looks like a mini-pizza made from rice and beans with tomatoes, chilies, onion and other ingredients cooked right into the batter. Southern curries are also typically spicier and thinner than their northern counterparts.
Not knowing exactly what we were in for, we dove into ordering. My girlfriend selected the masala dosa, a very large crepe filled with seasoned potatoes and onions, as well as a bowl of a hot and sour rasam soup. I decided to get the full experience by opting for one of three all-inclusive dinner specials. I chose the Royal Udupi Dinner: a choice of soup, idli or vasa (lentil cakes or fried savory doughnuts), a choice of either a dosa or uttappam, followed by either a special Indian tea or coffee. For my combo, I selected the rasam soup, idli, cheese masala dosa and tea.
As we awaited our entrees, a veritable sea of fellow diners soon began pouring into the cafe, filling nearly every available seat. This was both encouraging and, for me, a little unsettling. I wasn't sure how my fellow diners would perceive us because, as it turned out, we were the only non-Indian patrons in the dining room. Fortunately, the world doesn't revolve around the two of us, and none of the other diners paid us any mind. We were all unified in our collective need for yummy food and satiating a rumbling evening hunger.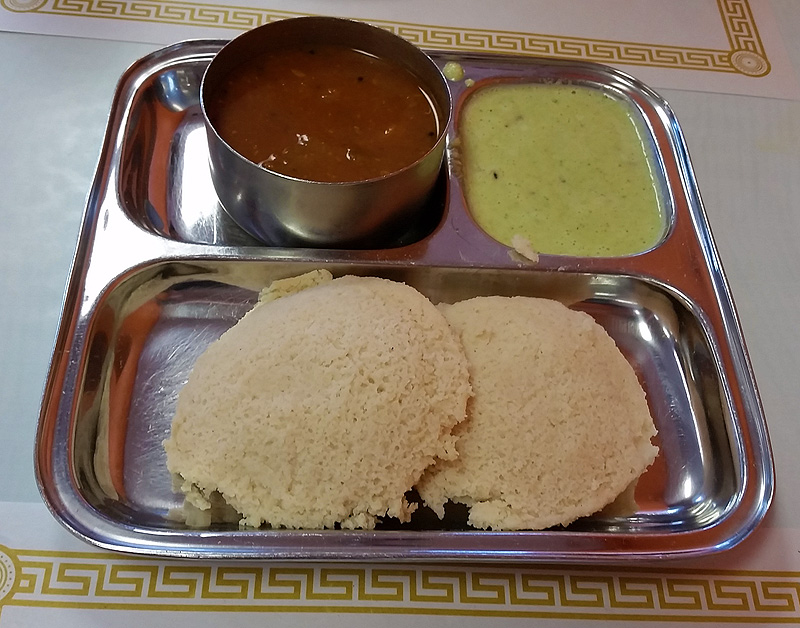 Idli with sambar and chutney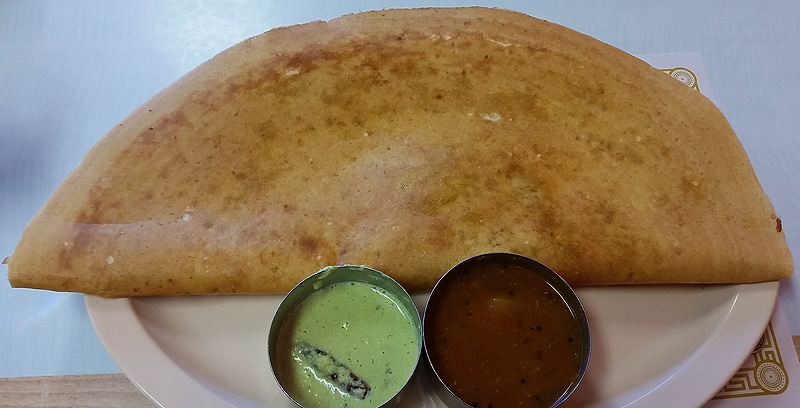 Cheese Masala Dosa
Our bowls of Rasam soup were the first items to arrive: a traditional sour and spicy soup made with tamarind juice, tomato, chili pepper, cumin and other seasonings. The spicy kick was notable, and I think this would be an especially satisfying starter for the winter months.
Next to arrive were the idli: two small lentil-based pancakes served with a side of sambar, a thin, spicy stew similar to rasam, and a container of bright-green, spicy chutney. The idea, I assumed, was to break off pieces of the steamy pancakes and dip them into either of the two sauces. The pleasing, soft, spongy texture of the idli and the spiciness of the chutney and sambar made this a fun interactive experience for the two of us.
Our two dosas soon arrived: comically large folded crepes that engulfed and draped over our plates, each also served with the same sambar and chutney sauces. We've had these before at another vegetarian-only Indian restaurant in town, but I'd forgotten exactly how to eat them. The knee-jerk reaction would be to try to fold them and bring the whole damn thing to one's mouth like a ridiculous burrito, but that's not correct. I lucked out by correctly guessing that you should instead tear off pieces of the crepe with one hand and leisurely dip them in the available sauces.
The richly flavored and curry-spiced potatoes and grilled onions filling the dosas were simply divine. The added cheese element in my dosa made it much heavier and wildly more filling, and I wasn't sure I'd be able to finish it. Despite my taxed stomach, I managed to inhale 95% of it.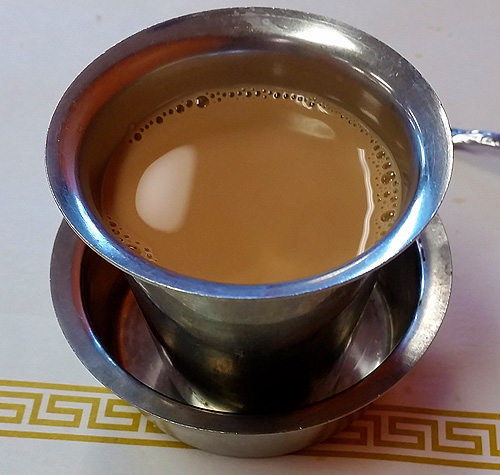 Tea
I was finally presented with a small, hot, milky Indian tea served in a uniquely stainless steel receptacle atop a metal saucer. It was hot to the touch, so I assumed I had to drink it by bringing the whole saucer near my mouth and gingerly lifting the glass to mouth. It was a satisfying finish to a remarkably filling meal.
Udupi Cafe will surprise and delight the many Indian food fans out there looking for a little less meat and a little more high adventure.
Udupi Cafe
Price: Moderately Expensive ($11 - $16 per person)
Service: Good
Rating: 3.0 out of 4

Cincinnati Bites