Posted Sunday, August 15, 2010
Blue Ash Chili is yet another Cincinnati-style chili parlor known for its double-decker sandwiches, coneys, breakfast items and, of course, its three, four, five and six-ways. Wait a minute: a six-way, you ask? Well, it's spaghetti, chili, shredded cheese, diced onions, beans and jalapeno caps. Got it?
Ask enough people indigenous to these parts and you'll end up with a dozen different opinions on where to find the best Cincinnati chili. Many of the answers will speak of the person's origins. Did they grow up on the West side? They're probably a Price Hill Chili or Camp Washington fan. East Side? Pleasant Ridge Chili or Blue Ash Chili come to mind. Northern Kentucky? Dixie Chili is probably their fave. Despite all this, the majority of folks will still offer up two very familiar names: Skyline and Gold Star, the two companies that started off small but eventually became large area fast food chains.
I'm not originally from these parts, but the first Cincinnati chili I ever tried was Skyline, so my loyalties are there. I remember exactly when and where the moment was: Riverfront Stadium, green seats, right-field line, 1987. Like the newbie child I was, I sipped spoonful after spoonful from a small bowl. No spaghetti, no cheese, no beans. Of course, I was eating it all wrong. I didn't dislike it, but thought the chili's sweet, cinnamony finish was a bit strange.
Fast forward eight years, when I became a brand-new Cincinnati resident, eating Skyline five-ways like I'd been chowing them down all my life.
Blue Ash Chili has updated their menus and website, heavily promoting their appearance on the Food Network's "Diner's, Drive-Ins and Dives" (aka "Triple-D"). The Triple-D logo is emblazoned there, along with a mugshot of Guy Fieri. There's even a new menu option called, "Chili, Guy's Way" (read: the "all wrong" way previously mentioned above).
I don't know about their newer Mason branch, but the original Blue Ash location is nearly always very busy on a Saturday, so it was hard for us to tell what influence the "Triple-D" TV show had imparted on the business.
We usually sit at the small booths directly behind the cook's pass-through window and are thus intimately familiar with the fast-paced choreography that goes on between the cooks and the waitresses. These folks push out a lot of food, fast.
"How are we doing on my chili?" A waitress cries out while poking her head into the pass-through. "You've got my eggs up, so can I just get two pieces of toast and send one of the orders out?"
For lunch I usually get either the gravy cheese fries or a five-way; for breakfast I typically order either pancakes or an omelette.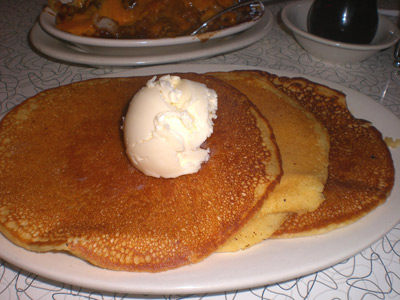 The pancakes can be spotty: most of the time they're pretty good, with a nice grilled char and fluffiness in the middle. But we've been underwhelmed on a couple visits, where the pancakes were clearly undercooked and dense. While it pains me to mention a chain, Perkins still makes some of the better-tasting pancakes around town and that's usually the standard by which we judge others.
The gravy cheese fries are a thing to behold. When the plate arrives, you very nearly have a heart attack simply looking at all its artery-clogging potential. Molten cheddar cheese form rivulets that ooze down the small mound of pillowy, crinkle-cut fries, coming to rest in a pool of hot, brown gravy.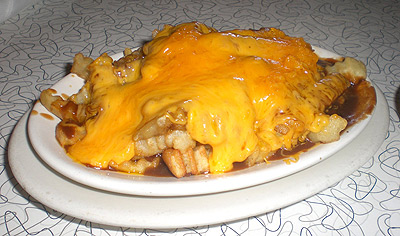 Blue Ash Chili's five-way is very similar to Skyline's. The sauce is just the slightest tad thinner, but the flavor is very familiar. If you're a Skyline fan, you should have no problem devouring the Blue Ash variety.
There's a simple, 50's diner-like feel to the place, and there's something to be said about that down-home, Mom-and-Pop ambiance. Blue Ash Chili is another of Cincinnati's treasured, greasy landmarks.
Blue Ash Chili
Price: Cheap (under $11 per person)
Service: Good
Rating: 3.0 out of 4

Cincinnati Bites