Posted Sunday, August 29, 2010
Ferrari's Little Italy and Bakery is an Italian restaurant located in the heart of "downtown" Madeira, accessible via a small, meandering driveway called Goff Terrance, just off Miami Avenue. Their website states it's owned by "the Bassano family," which begs the question: who the hell is Ferrari?
Tonight marked our second visit to this location and third visit to Ferrari's overall; years ago, Ferrari's once had a branch in Montgomery's Harper's Point shopping center, but that's long since closed.
My first impression of the place came as I entered the parking lot. Luxury vehicles outnumbered low-to-mid-priced cars by a ratio of 10 to 1. By virtue of Ferrari's close proximity to Indian Hill, rich people have claimed this restaurant for their own. You've come to the right place if you want to observe them in their natural habitat, as both old and new money slurp spaghetti with equal vigor here.
While I don't care for trendy hot spots, upscale eateries or establishments generally catering to the well-to-do, Ferrari's doesn't entirely give off that vibe inside. Upon entering, you are greeted by a small bakery of fresh breads and desserts, the homey feel of which puts patrons more at ease. And while the restaurant itself is fairly large, it doesn't seem that way, since the floor plan is divided into several separate, cozier dining rooms whose spaces are made all the more intimate using strategically-placed columns.
The lasting memory we'd been left with after our first visit to Ferrari's Madeira location was the high price point. That hasn't changed. Ferrari's offers two sizes for their entrees and salads: "piccola" (small) and grande (duh). To their credit, the small sizes are still pretty huge. That they have expensive entrees doesn't bother me as much as the fact that nearly everything on the menu is expensive. Unless you want to eat only pizza or spaghetti with marinara sauce, you'd be hard pressed to dine here on a reasonable budget. You can expect to pay between $35 - $50 for two piccola-sized entrees, excluding drinks, appetizers and tip.
Due to the prices, Ferrari's isn't ever on our radar of dinner options. Fortunately, we availed ourselves of a $25 coupon from Restaurant.com that only cost us $2. Suck on that one, shitty economy!
On an early Saturday evening, we were able to get a table without a reservation, though they do encourage making one. Our friendly waitress provided us with water and a basket of various fresh breads from their bakery, along with a small plate of olive oil with a chunky, tomato-based dipping sauce mixed in. Some of the bread was that focaccia-style pizza hybrid that's all the rage nowadays, with small hunks of tomato, cheese and herbs baked right in. And it was delicious.
After gorging on the bread basket, we continued our Tour of Italian Carbohydrates with an order of Linguini Aglio Olio for the girlfriend and Penne Formagio for myself. We each chose the "piccola" size, which still cost $19.50 and $18.95, respectively.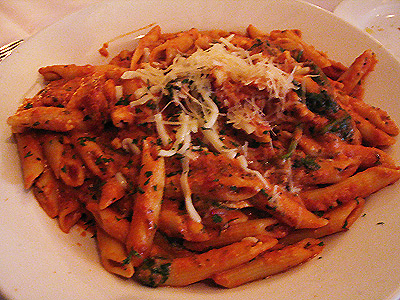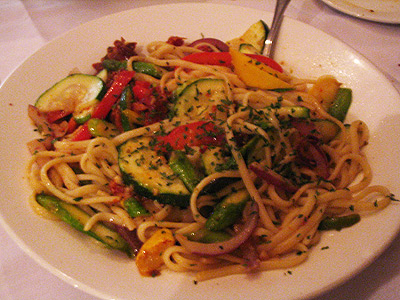 The entrees arrived in large, deep bowls and I found it hard to believe these were the small sizes. The Penne Formagio lives up to its name: penne pasta overloaded with ricotta, feta, parmesan and mozzarella cheese with marinara, spinach and pine nuts. It was a very heavy-tasting dish and the liberal dose of ricotta made it taste a lot like a deconstructed, meat-free lasagna.
The girlfriend's Linguine Aglio Olio was lighter and more refreshing, with large slices of zucchini, sun-dried tomatoes, peppers and asparagus. The added heat from the red pepper flakes offset the heavy-handed infusion of garlic, which lingered in her pores well after the meal.
We boxed up our respective leftovers and headed back to the bakery for a couple cannoli. Large and overstuffed with ricotta and chocolate chips, these weren't exactly the same caliber of a true Sicilian cannoli, perhaps a little too Americanized, but they were good in their own right.
Aside from the expensive menu, there's little to dislike about Ferrari's. But whenever we visit, we're always left with the feeling that we should have enjoyed the food more than we did. It lacks for us a "wow" factor we often find in smaller, inexpensive hole-in-the-walls. Still, Ferrari's is solid Italian.
Ferrari\'s Little Italy and Bakery
Price: Expensive ($17 - $30 per person)
Service: Good
Rating: 3.0 out of 4

Cincinnati Bites