Posted Saturday, September 25, 2010
Kelly's Public House is a pub and grill located on the ground floor of the Radisson Hotel in Covington, Ky. It's the same hotel that hosts the top-level, rotating restaurant called Three Sixty.
Our boss had acquired one of those Restaurant.com coupons in which you get $25 off a meal costing $35 or more. With only three of us eating lunch today, it would be a challenge reaching the minimum requirements, but we were up for it.
With tongue slightly in cheek, Kelly's menu boasts "The Best Burger in the World" but immediately back-peddles with the disclaimer, "or at least in Northern Kentucky." Considering other burger joints like Bard's Burgers and Herb & Thelmas, we speculated whether even that would be a stretch.
Irrespective of the $35 minimum goal, my co-worker and I stuck with water for our drinks while the boss ordered a soda. They've taken quite a bit of effort to give Kelly's interior a homey, cozy feel: dim lighting; dark wood trim; a heavily-lacquered, inviting bar in the back; an antique fireplace; and tables and chairs that look like they came straight from grandma's dinette set.
The menu is laden with familiar pub food classics: burgers, Buffalo wings, club, chicken and fish sandwiches, pizza and salads. More notable items included the crab cake sandwich and the "Beef on 'Weck," a roast beef sandwich dipped in au jus. They also offer a lunch buffet.
The two water drinkers each ordered the heavily advertised $7.95 "Famous Kelly Burger," a half pound of ground chuck "cooked to your desired temperature," topped with lettuce, tomato and grilled onions (no ketchup, no mustard). For a dollar more, you can also make it a Bacon and Cheddar burger, a Mushroom & Swiss burger or a Black and Blue burger (a blackened beef patty topped with blue cheese). I chose the Mushroom & Swiss while my co-worker chose the Bacon and Cheddar. The boss ordered the Saratoga Turkey Club, with turkey, bacon, lettuce and tomato served on toasted wheat bread.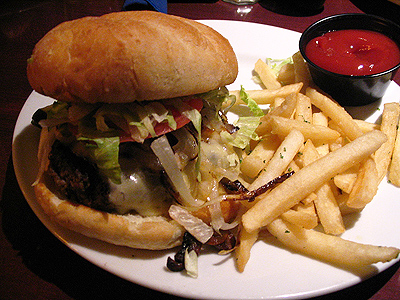 The burgers arrived with buns opened and contents exposed. Hot, thinly-cut fries accompanied all the sandwiches. The bun was large and fluffy, akin to the kind I've seen at both Gordo's Pub & Grill and Sammy's Gourmet Burgers. I thought the burger was cooked a perfect medium, juicy in large part thanks to the mushroom sauce. The patty was thick and its flavor held up well to the surrounding accoutrements. My co-worker, fresh off his first visit to Terry's Turf Club only a couple days previous, thought his patty was a little on the dry side, but enjoyed the bacon and cheddar combination.
The boss was entirely underwhelmed by the flavor of his turkey club sandwich. As he began eating one of the cut wedges, he kept thumbing to catch hold of the bottom piece of bread, only to look down and realize it was missing. "It's probably on the floor somewhere back in the kitchen," he chuckled. I'd intended to mention his "rye" sense of humor, but the moment had already passed. Besides, bad food humor rarely translates into raises.
Our lunches didn't quite push us over the $35 hump, so we ordered a single slice of apple pie, which I nearly single-handedly devoured (my co-worker assisted with the crust).
We talked a bit about Radisson's history, especially the rotating restaurant on the top floor. It's definitely seen better days, and our boss waxed nostalgic about a time when there were once enthusiastic lines to get into the place.
Kelly's Public House is a pleasing, cozy pub that's worth more than an obligatory visit from Radisson hotel guests. It may not host the "Best Burger in the World," but it's pretty good in its own right.
Kelly\'s Public House
Price: Cheap (under $11 per person)
Service: Good
Rating: 3.0 out of 4

Cincinnati Bites