Posted Tuesday, February 22, 2011
Note: the following review is for a restaurant that has since closed.
When the cold winds of winter smack my miserable face, give me a sandwich and a hearty soup to dip it in (the sandwich, not the face). Soup du Jour, located in West Chester off the Union Center Blvd. exit, offers that and more.
The interior is ample and inviting, with warm, soupy wall colors and a nice mixture of booths, tables and a few big, cushy chairs. Food Network programming airs on a large LCD screen before an intermittently captive audience.
We examined a row of menu chalkboards before joining a small line of people waiting to give their order. The man at the front of the line asked the cashier --the owner, Chef Mike-- what size drink he gets with his combo. A brief cloud of irritation washed over the Chef's face as he pointed to a sign, inviting the patron to read it more closely. By the time the inevitable Seinfeld "Soup Nazi" flashback had rattled in my brain, Mike quickly recovered, all smiles again.
Hanging near the cash register is a printout of Soup du Jour's "Frequently Asked Questions," like "Are you the Owner?" which follows with the reply, "Yes, I'm the owner." Another questions asks, "Where's Mulhauser Road?" and the answer is, "Right there." The FAQ is meant to be tongue-in-cheek, but I could see how thinner-skinned people might be slightly put off or intimidated by it. I appreciated the humor, but just to be safe, I'd carefully rehearsed my order by the time it was my turn.
The menu offers an ever-changing variety of daily soup specials, several of which had already been crossed out by the time we'd arrived. Their signature Crab Bisque was available, which I was eager to try. Sandwich options included classics like the grilled cheese, the "Philli" Cheese Steak Stuffed Panini and the Sausage and Pepper Sandwich, followed by more signature fare, like the Beef Brisket sandwich and the Roasted Portabella Mushroom sandwich. Nine different salads were also on tap; plus an array of breakfast items served before 10:30 am. Finally, a small but impressive line of desserts are on display at the counter; it took great willpower to avoid the brownie.
While one can order 3-ounce "flights" of soup for $1.40 each, the most popularly-ordered options were the 8 and 12-ounce bowls, which were commonly rolled into soup + sandwich/salad combo specials.
I chose an 8-ounce Crab Bisque with a Roasted Portabella Mushroom Sandwich combo and a side of beer bread. The bisque costs an extra dollar, so my order, with 20-ounce drink, came to $11.75. My girlfriend ordered the "pick any 3" combo, with an 8-ounce Fuji Apple and Butternut Squash soup; half a Grilled Vegetable sandwich; a half portion of the House Salad; and a side of corn bread.
After helping ourselves to drinks and a seat, a work client spotted me and stopped by our table to say hello, graciously introducing his family. They were just finishing up their first visit and particularly raved about the House Salad.
The food soon arrived in sturdy black plastic containers. I appreciated the sharply-edged cut of our sandwiches, which made them excellent soup-dunking vehicles. The Ciabatta bread was a great choice, sturdy enough to withstand the dipping yet porous enough to absorb the soup.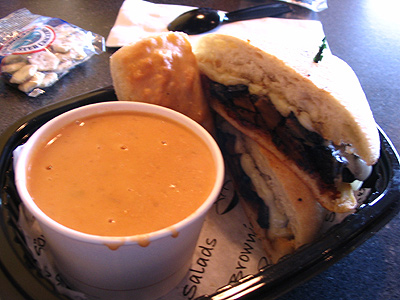 My bisque was infused with great crab flavor and the broth's tangy, sherry bite paired well with the milder hunk of beer bread. The sandwich had an aggressive balsamic/mushroom taste, but I thought the sundried tomato pesto was particularly overpowering.
The girlfriend's Grilled Vegetable sandwich was the best of the two: the combination of grilled zucchini, red and yellow peppers, squash, onions and mozzarella with a walnut pesto offered a rich complexity. We also enjoyed the sweet apple tinge of the Fuji Apple and Butternut Squash soup. Her side of cornbread was moist and slightly sweet with bits of corn baked in.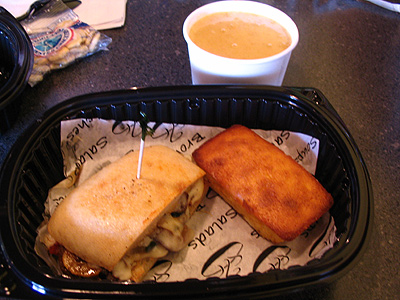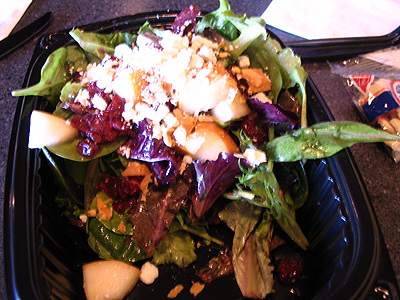 All of the House Salad's components were familiar save one: crumbled cashew brittle, which lent a subtle, sweet contrast to the more familiar ingredients: crumbled Gorgonzola cheese, chunks of pear, cranberries and field greens drizzled with raspberry vinaigrette.
Chef Mike has done a good job making one feel welcome, offering unique, filling soups and sandwiches with a clear passion for food. No soup for you? Why sure there is. Plenty.
Soup du Jour
Price: Moderately Expensive ($11 - $16 per person)
Service: Good
Rating: 3.0 out of 4

Cincinnati Bites