Posted Sunday, July 3, 2011
Note: the following review is for a restaurant that has since closed.
It's been hard avoiding the "Let's Lunch!" ad campaign for Walnut Street Grill, Jeff Ruby's comfort food-themed restaurant replacing Bootsy's. The ad showcases a half foot-high, nicely-dressed cheeseburger nestled against a toppled bag of fresh-cut french fries.
His new theme is an interesting one given the rise of downtown food trucks; the lasting success of Tucker's, Sports Page and Hathaways; and the highly-acclaimed, comfort-laden Mayberry. Couple that with Jeff Ruby's notoriously wallet-squeezing menus, and it's clear he's got his work cut out for him. Still, Walnut Street Grill's prices could be much worse and, despite the economy, downtown Cincinnati seems to enjoy a curious glut of affluent businesspeople who don't twitch at $15 lunches like I do.
The restaurant replaces Bootsy's, the Latin American-themed eatery Jeff Ruby had partnered with Bootsy Collins to create. Gone now are all Bootsy's flashiness and over-the-top color schemes, lively characteristics I'll miss (to say nothing of the food, which was also pretty good).
We arrived for lunch one recent, sunny weekday. I'd read about updates made to avoid the confusion some customers had encountered with the building's layout. At Bootsy's, patrons had to go up a flight of stairs to be seated; there was nothing at ground level. Walnut Street Grill now utilizes some space on the first floor for seating, yet most tables still remain upstairs and the ghost of Bootsy's is still readily apparent.
Seated quickly, my boss and I examined a menu filled with comfort food classics, many with interesting spins: deviled eggs topped with candied Applewood bacon; Philly Cheese Steak Egg Rolls; a "hoagie" made of Prime rib steak; "Mom's" meatloaf (baked in ketchup!); tricked-up salads; and a gaggle of burgers starting at $10. As if to punctuate this wasn't the typical, stuffy Ruby's experience, our drinks were served in Mason jars. Whip out the banjos, Cousin Jeb! It's time for a hoedown!
My eyes gravitated toward the Bacon & Egg Cheeseburger, a $12.95 monstrosity cooked to order and topped with a fried egg, Nueske's Applewood-smoked bacon and American cheese, all resting on a foundation of lettuce, tomato, onion, pickle and a mayo-like "WSG Sauce." Burgers come with a side of Kettle chips and a pickle slice but, for an extra $1.95, I decided to upgrade to a side of tater tots, which can't be more comforting to a kid at heart.
The boss got a "build your own" burger with Pepper Jack Cheese, lettuce, tomato and onion, sticking with the default Kettle chips and an iced tea.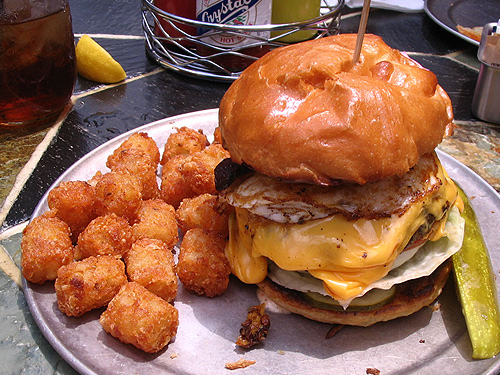 I was impressed with the presentation when the food arrived. They certainly were handsome burgers --very picturesque. Food stylist-enhanced photos usually never match reality, but our burgers looked very close to the one in the "Let's Lunch" advertisement.
The fried egg and meat were perfectly cooked; as I bit into the burger, the yolk broke free and formed rivulets of deliciously rich, yellow goo throughout the sandwich. Of course, this meant it was also very messy. There was simply too much going on, with too many liquids to contend with. In what Anthony Bourdain would call a "tectonic shift" in sandwich topping slippage, the burger was impossible to bite into without it nearly falling apart. But the boss and I agreed they were good burgers.
The tater tots were a little too crunchy and over-cooked for my tastes. A tater tot isn't exactly highbrow cuisine and it's a safe bet most Americans have tried them. When I think of a good tater tot, I want it to be slightly brown and crunchy on the outside with an almost fluffy, potatoey center. Alas, these seemed all crunch, through and through.
Our collective lunch tally was fairly pricy. That's no surprise coming from a Jeff Ruby restaurant. After all, he's got his Ferrari fund to worry about (sorry, Mr. Ruby, I couldn't resist --please don't have me whacked). The taste overall was fine, but despite how good they were, there are better burgers downtown for far less (Stuffed on Vine comes to mind).
One point of contention was that the waiter took my food away after I'd asked for a box. I realize this practice is more common in classier restaurants, but if Ruby wants to fully embrace the casual-comfort angle, he might as well let patrons box up their own food. Call it an irrational pet peeve, but I simply don't like it when restaurants insist on doing it for me somewhere out of sight. More often than not, what I get back is not entirely what had been on my plate, and this time was no different.
When I arrived home and opened the box, I found the top bun of my leftover burger missing, the pickle spear gone and only one tater tot when several had remained. What happened? Had the waiter dropped the rest on the floor and salvaged what wasn't contaminated? Had he decided I didn't need both buns? I can only speculate.
Walnut Street Grill
Price: Moderately Expensive ($11 - $16 per person)
Service: Fair
Rating: 3.0 out of 4

Cincinnati Bites