Posted Monday, October 16, 2017
The Spinning Fork has been a part of the Fairfield food scene for at least the last twenty years. They started off with a smaller location further up the street on Route 4 before settling at their custom-built, stand-alone location a couple miles away. It's hard to miss the literal spinning fork sign posted atop the building.
We stopped by for dinner coming home from a long highway trip up north. I'd remembered this Italian restaurant from my early days living in Fairfield, and hadn't visited in more than 15 years. The original location, though smaller, had a more intimate, personable feel, while the newer, larger location seems to have aspirations of being an Olive Garden-killer. That's great, but if they want to succeed, they'll need to make sure they don't cut corners and maintain that wholesome, local feel.
With that in mind, the folks at The Spinning Fork say their sauces, pizzas, soups and several salad dressings are made in-house. Their menu offers popular traditional Italian entrees, including spaghetti, gnocchi, veal, cannelloni, manicotti, ravioli, cacciatore and linguini and clam sauce. Cannoli, taramisu and cheesecake highlight the dessert menu, and a full wine list is available.
Service was extremely fast for a Saturday night in which they were about three-quarters full of guests. We were quickly seated; our water glasses were kept full; and our server routinely provided updates on our meals, even though it all came out rather quickly.
My girlfriend ordered the Spaghetti with Italian sausage plate ($9.95), while I opted for the eggplant Parmesan ($11.95), served with a side of spaghetti and marinara sauce. Both entrees came with a choice of either soup or a side salad, along with two garlicky bread sticks.
The Italian wedding soup and side salad I and my girlfriend had chosen soon arrived. The soup was fine --appropriately salty and rich in chicken flavor, though this version featured tiny meat cubes instead of traditional meatballs, reminiscent of how meat looks in canned versions.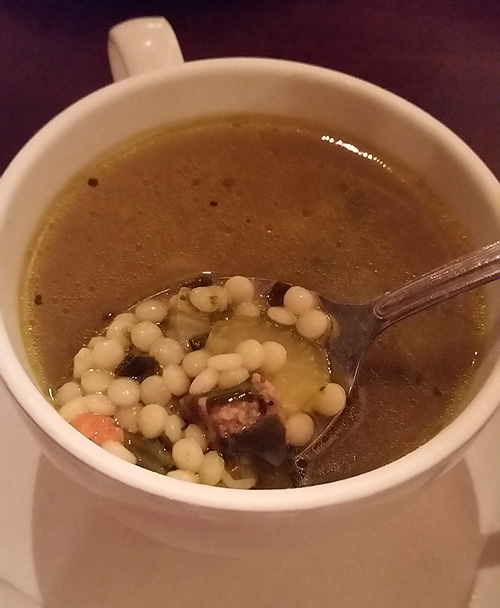 Italian wedding soup
My girlfriend surprisingly enjoyed and appreciated the crisp lettuce in her side salad, which I thought looked one-note, given that it was basically just a bowl of iceberg lettuce topped with shredded cheese --no tomato, no bits of carrot or peppers or olives, even though tomatoes are still in season.
The entrees arrived soon thereafter, piping hot with generous portions. But when we dug into our "spaghetti," we realized it was actually angel hair pasta. We found that revelation mildly irksome. Angel hair, aka capellini, is NOT spaghetti, and my girlfriend was particularly looking forward to the larger and more pleasing texture of spaghetti. Spinning Fork likely uses angel hair to expedite orders, but that fact seems a shallow excuse. If you're going to use capellini, advertise it as such!
I didn't think the tomato sauce was particularly bright or fresh-tasting like it is at similar local Italian restaurants, but it wasn't bad. I suspect they may prepare the sauce too far ahead of time, which muddies the flavor, but I can only speculate.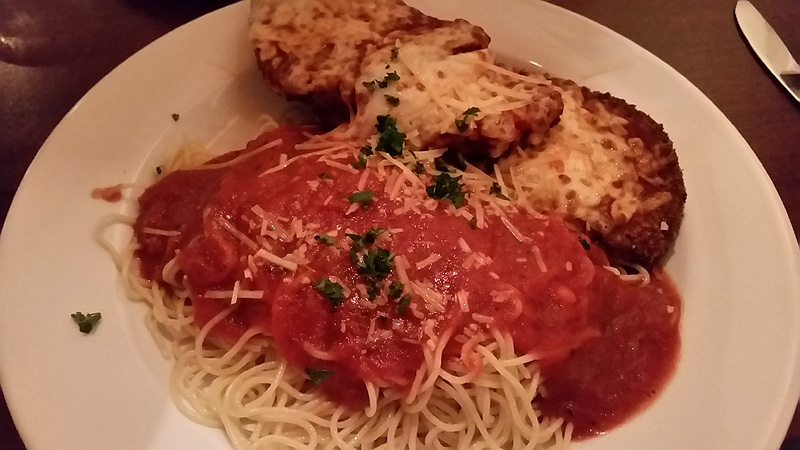 Eggplant Parmesan with Spaghetti
My favorite dish at most Italian restaurants is the eggplant Parmesan, and I really enjoyed The Spinning Fork's version. It was nicely breaded, crispy and topped with just the right ratio of tomato sauce and toasty, melted mozzarella cheese.
I avoided my breadstick because I was never particularly a breadsticks fan to begin with. Even slathered in garlic and butter, I find breadsticks a waste of good stomach space (Sorry, Olive Garden).
My girlfriend's spaghetti was good, despite the angel hair, and the two halves of seared Italian sausage links tasted toasty, spicy, meaty and satisfying.
The Spinning Fork isn't a high-caliber Italian restaurant, but it doesn't seek to be one, either. Instead, it aims to sink its teeth into that coveted Olive Garden demographic and it does a solid job doing so. If you'd rather indulge in no-fuss, no nonsense Italian over the higher end and trendier establishments, The Spinning Fork has you covered.
The Spinning Fork
Price: Moderately Expensive ($11 - $16 per person)
Service: Good
Rating: 3.0 out of 4

Cincinnati Bites