Posted Saturday, February 25, 2012
Note: the following review is for a restaurant that has since closed.
Set squarely in the heart of the small, working-class community of Deer Park, Barresi's hints at its humble past. Italian immigrants opened it nearly 50 years ago with just a handful of tables and no menu, serving up dishes brought over from Genoa and Calabria, Italy. Six years ago, the Barresi family sold their restaurant to its last head chef, who also inherited the recipes.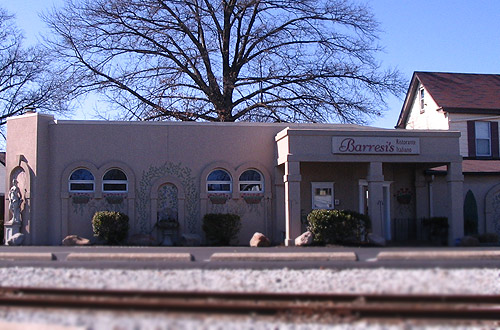 Barresi's operates out of a converted house with a stuccoed addition featuring a Mediterranean-inspired facade, complete with tiny, arched niches holding white statue reproductions of Renaissance classics. The original house floor plan remains largely intact, especially upstairs, with its smaller individual rooms separating diners for a homey feel.
Over the years, Barresi's seems increasingly out of place as it now mostly caters to a wealthier clientele. It's like a little island of luxury floating on a clean, proletariat pond. For years, it's been priced well out of the surrounding neighborhood's comfort zone, which is unfortunate. After all, who better to embrace Barresi's than its locals?
The new owner has acknowledged the high price point and recent recession by offering a rotating, monthly "family 4-pack" carry-out special. The special is under $40 and includes an entree, house salad and Zeppole bread for four people. They also offer pizza for carry-out.
We've eaten at Barresi's twice, each time on a special occasion, like this past Valentine's Day. With many entrees hovering around the $35-$40 mark, it's as impractical as it is impossible for a middle-class schlep like myself to hit this place up regularly. Still, Barresi's is the kind of restaurant where you can have a really good meal, play dress-up and imagine, just for a little while, what it must be like to be made of money.
We started off with a basket of Barresi's complimentary Zeppole, small, 1-to-2-inch squares of pillowy, fried dough. The hot, salty treats were like eating bite-sized, savory beignets, unquestionably addictive. It would have been nice to have a little fruity olive oil for dipping, but the accompanying butter worked fine.
Given the special holiday, Barresi's menu was more abbreviated this time around: there were no pasta dishes listed, though many entrees came with a side of pasta and choice of sauce.
I got the Valentine's Day special: a lamb shank Osso Buco with a mushroom and artichoke risotto. I also chose their special seafood bisque as an appetizer. My girlfriend ordered the Chicken and Crab Gorgonzola off the regular menu: a mushroom and artichoke Gorgonzola sauce over cutlets of boneless chicken breast, finished with lump crab meat. It came with a side of penne pasta and marinara sauce.
The cup of reddish-almond colored bisque was an inviting respite from my Zeppole popping; smooth, thick and creamy with generous lumps of crab meat and a richly complex seafood flavor.
Our next course of side salads appeared pretty standard, with crisp, fresh greens, tomato slices, shaved carrot and cucumbers. We both chose the house-made balsamic vinaigrette.
The entrees arrived reasonably quickly, especially given how busy Barresi's was on Valentine's Day. The lamb Osso Buco was impressively presented: a gargantuan shank jutted from the plate like a meaty sundial, casting a shadow over the bed of steaming risotto underneath, encircled by a moat of large portobello mushroom and artichoke slices.
Many people describe meat as "falling off the bone," but my lamb couldn't have done so more literally as I gently nudged it along with my fork. The tender meat and light outer layer of fatty skin virtually melted in my mouth. The mushroom and artichoke risotto's flavors were deeply rich and earthy (the saliva glands on either side of my mouth are flowing right now just thinking back on it). It complimented the lamb perfectly.
My girlfriend's Chicken and Crab Gorgonzola was rich and boldly-flavored. She's not a seafood fan and appreciated that the crab imparted not the slightest hint of fishiness; it's texture and buttery richness paired nicely with the thick cheese sauce and strikingly fresh artichoke flavor. We also particularly enjoyed the marinara sauce on her pasta, which had a surprisingly vibrant tomato flavor and a pleasant, spicy kick.
For dessert, my girlfriend opted for the cannoli, a giant, crispy fried cylinder filled with ricotta and riddled with chocolate chips and bits of pistachios. I opted for the flourless chocolate cake topped with vanilla ice cream. The dense, warm cake was deliciously gooey and brownie-like, a nice contrast to the cool, velvety ice cream.
While Barresi's price point is hard to stomach for most of us on a budget, it's a great place for special occasions and their monthly take-out special is (comparatively) a steal. The restaurant undeniably features some of the best Italian food Cincinnati has to offer.
Barresi\'s
Price: Very Expensive (over $30 per person)
Service: Good
Rating: 3.0 out of 4

Cincinnati Bites