Posted Saturday, January 5, 2013
In the course of only a few short years, Cincinnati has gone from taco-starved to tacos out the ears. Multiple choices now abound, including taco trucks, authentic and not-so-authentic taquerias, highbrow tacos and lowbrow, hole-in-the-wall tacos. Authentic mainstays like La Mexicana and Taqueria Mercado now compete with the likes of Taco Azul, Tacos Locos, Tacocracy, Django Western Taco and one of the most recent entries in the realm of tacolisciousness, Bakersfield OTR.
Located in Over-the-Rhine's Gateway Quarter, Bakersfield is one of several newer taquerias adopting a decidedly upscale approach, with smaller-than-average tacos priced higher than the full-sized counterparts you'd find elsewhere. Of course, this is not necessarily a bad thing, especially if you have the money to spend, like to be seen in a trendy atmosphere, and are willing to endure the long waits and crowds of people clamoring to get their foot in the door.
Miraculously, we managed to land a couple stools along Bakersfield's bar one recent weekend afternoon, basking in the glow of LCD screens, a Westernesque ambiance manufactured via DVD replays of Clint Eastwood's, "A Fistful of Dollars." Their menu is blissfully abbreviated, whittling down their take to just a handful of Mexican classics: seven varieties of tacos, two tortas, two salads, a corn-poblano chowder, chips, salsa, guac, and cheese or bean dip.
We tried five tacos: the fish, huitlachoche (aka "corn smut" or the less pornographic "corn truffles"), cochinita pibil, rajas and the short rib. All were varying degrees of delicious.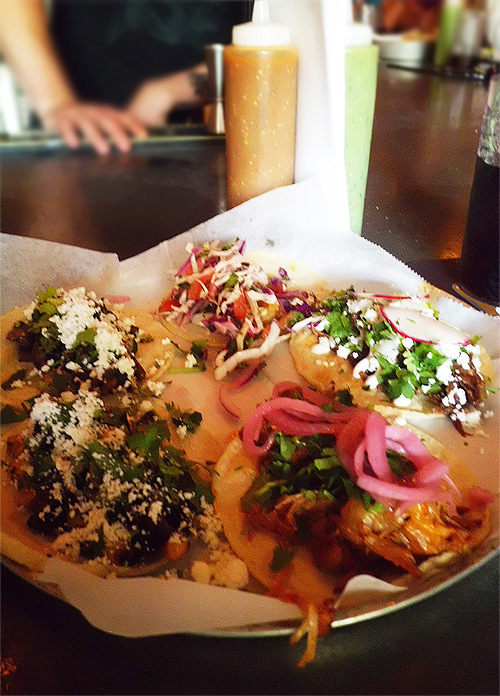 The tacos arrived on a large platter with a visual appeal that's hard to beat. There were prodigiously generous crumbles of cotija cheese and queso fresco; handsome slices of radish; colorful interplays of cilantro and tomato; and heaping mounds of pork, mushrooms, short ribs and corn truffles atop their respective diminutive, hand-made tortillas.
The fish taco seemed to be missing something, clearly the mildest in flavor among the five taco varieties we tried. It was in dire need of acid, like you'd get from a couple squeezes of fresh lime. That's when we realized our server had forgotten the lime wedges. Not a big deal, but it probably would have elevated and sharpened the flavor. Given its mild profile, I was surprised when I overheard the fish taco is Bakersfield's biggest seller.
My hands-down favorite was the cochinita pibil: it's rich achiote-braised pork and habanero salsa kick easily won me over. My girlfriend's favorite was the huitlacoche. Corn truffles are essentially a fungus that grows on corn, so we both appreciated the taco's very organic, natural marriage of the two ingredients, elevated by the cotija cheese, onion and fresh cilantro.
The handmade tortillas, while good, were roughly 3/4 the size of a normal street taco. Given the fact that Bakersfield charges between three and four dollars apiece, the tacos are considerably pricier than the larger, $2.50 varieties found at other taquerias.
One could argue that you're paying for high-end quality, but that would be a smack in the face to places like Taqueria Mercado and La Mexicana, as neither are exactly slackers in the authentic ingredients department. Both offer delicious, full-size tacos under $3.
Which brings me to my #1 beef with the Gateway Quarter: the trendy, hipster-friendly nature of the area seems to be the excuse restaurants use to charge Manhattan-level prices. I simply don't get why everything new has to be upscale. The freshly gentrified district now caters almost exclusively to a young, diversity-starved demographic of people with seemingly inexhaustible discretionary income. Why?
Consider places like The Banks and the new Metropole area and any of the new apartments and condos offered downtown. Nearly all of them seem to target wealthy people. I struggle with the logic of focusing so much effort on the one or two percent of the population who can afford to patronize these businesses and live in these condos. There are, after all, a finite number making up the elite class, and they can't all live and work downtown. At some point (read: when the trend dies down), local developers and restaurateurs will need to realize that they're missing out on attracting the vast majority of us out there with collective buying power.
Bakersfield OTR
Price: Moderately Expensive ($11 - $16 per person)
Service: Good
Rating: 3.0 out of 4

Cincinnati Bites