Posted Tuesday, February 2, 2016
Note: the following review is for a restaurant that has since closed.
V's Cafe on 7th is a new restaurant tucked inside the Aronoff Center serving breakfast and lunch. It's owned by the same family who run the successful Vonderhaar's Catering business. Shortly after the "coming soon" sign had first gone up a few months ago, I'd begun eagerly monitoring their construction progress, making note of their hard-to-read logo with its small, script font. It takes concentration to make out the words, "Cafe on 7th," so much so that I wonder if passersby realize it's a restaurant at all.
The inside is bright, open and inviting. Posters from some of the Aronoff's hosted plays line one wall. An abundance of tables dot the dining room and bar-style seating is available along the windows. The room still smelled fresh and new when I first stepped through the doors.
The menu is impressive in its expansive detail of fresh, quality ingredients: artisan greens, Amish Swiss cheese, heirloom tomatoes and applewood-smoked pork are among the notables. Sandwiches, salads and "chef-crafted" soups are the main attractions here. Lunch sandwiches come with a choice of kettle chips, a cup of soup, pasta salad or a pair of deviled eggs, along with a pickle spear and a 24-ounce fountain drink. Breakfast sandwiches come with fruit salad or yogurt and either a 16-ounce coffee or a 12-ounce fountain drink.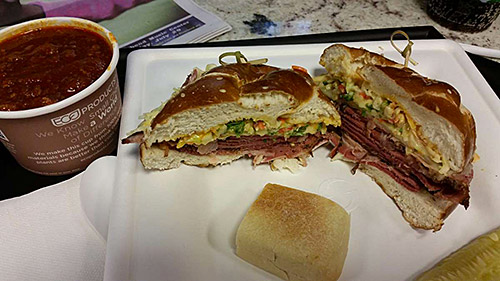 The "Shamrock" sandwich and chili
For my first visit, I tried the Shamrock ($9): heaping slices of pastrami topped with Amish Swiss and a light and pleasingly acidic Dijon slaw on a fresh pretzel roll. I also selected a cup of their in-house chili. The chili was thick with slightly spicy cinnamon notes. A small bread roll also accompanied the chili, suitable for dipping.
On a subsequent visit, I chose The Natural ($9), a turkey sandwich with buffalo marble jack cheese, julienned carrots and a cranberry habanero spread served on a multi-grain ciabatta bun. This time my accompanying soup was the red pepper pesto with chicken. I enjoyed the heartiness of the sandwich, but could have used a bit more spice from the habanero. The hit of cranberry was a welcome touch.
The soup, which seemed to have been thickened using cornstarch to appeal to gluten-free clients, had a shiny, sticky viscosity to it that I found unappetizing. The chicken and red pepper flavors were good, but I think a flour-based roux would have made it more appealing.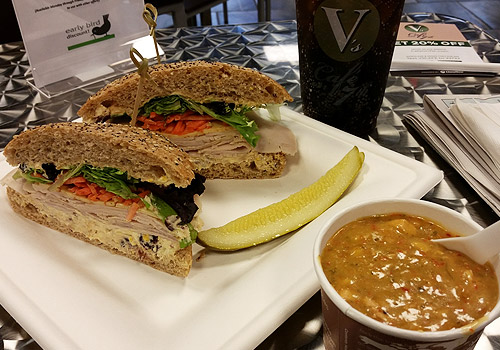 "The Natural" with red pepper pesto soup
Service was a bit spotty during both visits, although everyone is extremely polite. Patrons order at the counter and the food is brought to the table. On one occasion, my sandwich arrived without my soup, napkins, silverware and drink.
There are a dizzying number of special offers to drum up business, including an "early bird" special in which people dining between 10:45 am and 11:30 am get 10% off; a 20% off special for those ordering online; and a free cookie to those who get an emailed receipt.
V's Cafe on 7th is off to a solid start. I hope they succeed where others in that general location have failed (RIP, Mythos). Given Vonderhaar's exceptional catering reputation, they're poised to become a hot downtown lunch spot.
V\'s Cafe on 7th
Price: Cheap (under $11 per person)
Service: Good
Rating: 3.0 out of 4

Cincinnati Bites