Posted Saturday, November 13, 2010
Note: the following review is for a restaurant that has since closed.
Sonoma American & Mediterranean Grill is a new restaurant on Madison Road in Oakley Square, next to Dewey's Pizza. It was formerly occupied by Kona Bistro.
Still under development, the Oakley Square renovation project has left the once beautiful Geier Esplanade Park looking like nature had dropped a muddy crater in the center of Madison Rd. Gouged, empty sockets of earth mark where once stood lines of 50-year-old trees. A large dump truck and tractor stand guard like grimy sentinels. Sonoma offers perfect views of all of it.
We drove into a small, packed parking lot 99% filled with Dewey's customers. It was impossible to know how full the lot was until we'd already ventured into it, and the Square's controversial renovation made it challenging to get back out onto Markbreit because the traffic there was so backed up.
We finally parked along Romana, a one-way street accessed a block up via Eileen. To us, it seemed Oakley Square's renovation was so ill-conceived that it actually seems worse to drive here than it ever did. I wonder what businesses like Habit's Cafe, Oakley Pub & Grill, Dewey's, 20th Century and Sonoma think of these "improvements."
Dewey's may have been packed that night, but there were only two tables occupied at Sonoma when we arrived for dinner. The place doesn't come off nearly as flashy or trendy as Kona did --a plus in our book. Colors are very muted here, lots of browns and grays lazily catch the eye, disrupted by the obligatory LCD TV hanging in one corner. A squad of what seemed like 10 servers had accumulated at the far end of the bar, waiting for the prospect of a dinner rush to engage them.
Sonoma's two-sided menu offers a variety of mostly Mediterranean fare, which made me wonder why they bother calling it an "American & Mediterranean Grill." Apparently that's been a common point of contention since its opening a couple months ago. In response, the owners have chosen to remove such items as the Fettuccine Alfredo, steak and ribs, but there still remains a small number of other American items, like hamburgers, loaded french fries and the chicken breast or fish sandwiches, none of which seem to fit.
As we munched on complimentary warm pita bread, dipping pieces in a plate of olive oil, toasted sesame seeds and spices, we decided on an appetizer of Baba Ghanoush, an eggplant puree drizzled with olive oil and served with its own basket of pita bread.
The appetizer portion was quite generous; our relatively meager supply of pita bread didn't allow us to put a dent in it. The Baba Ghanoush was quite tasty, the smoky eggplant, tahini and garlic shining through. Unfortunately, our waitress had disappeared, so we couldn't ask for more pita bread to finish it until she'd finally arrived with our entrees.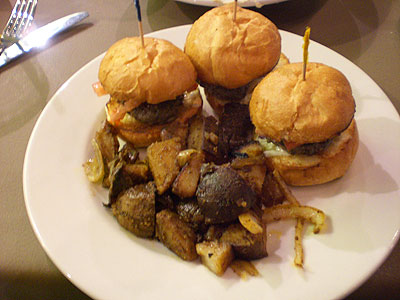 I chose the Kefta Mini burgers, three grilled patties made of beef and lamb, topped with onions and a garlic aioli and served on tiny grilled buns. My girlfriend opted for the Roasted Veggie Pita, filled with feta cheese, roasted eggplant, zucchini, onions and peppers. Each entree came with a side item: we selected the Cumin Roasted Potatoes & Onions and the Rice Pilaf, respectively.
The mini-burgers were pleasing in appearance and texture, the contrast of the soft, fluffy outside of the bun complimenting the crispy, grilled inside. The meat had good flavor, but the patties were a little dry and were disproportionately smaller than the bun. My last two bites of each mini were all bread. The meat had also been topped with a strange cinnamony concoction that nearly overpowered everything. My side of cumin-roasted potatoes and onions were delicious, the chef showing just the right level of restraint with the strong cumin.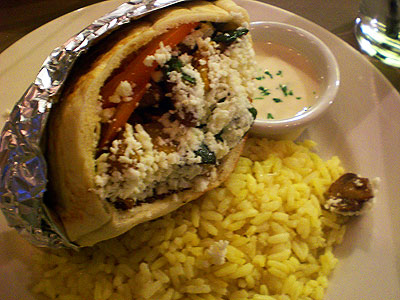 The girlfriend's roasted veggie pita was good, though she thought the roasted vegetable flavor could have used more depth. Her rice pilaf was overcooked, mushy and not very palatable.
Both of our entrees were served with a small side of a thin, sour yogurt sauce, which we both avoided because it tasted as though it had gone a bit south.
We liked Sonoma's approach of trying to give an American twist to some of the Mediterranean food options (like the Kefta mini-burgers), but several fully-American menu items seemed out of place. Service was good overall, and by the time we'd left, the dining room had filled to just over half-capacity.
Sonoma has the potential to be one of Cincinnati's better Mediterranean restaurants. We hope that, with a little tweaking, it'll improve along with the healing Oakley Square.
Sonoma American & Mediterranean Grill
Price: Moderately Expensive ($11 - $16 per person)
Service: Good
Rating: 2.5 out of 4

Cincinnati Bites