Posted Monday, October 4, 2010
Note: the following review is for a restaurant that has since closed.
Rascals' NY Deli is a new Blue Ash restaurant occupying the space vacated by TCBY, sandwiched between Jersey Mike's and Samurai Sam's Cafe Mediterranean.
From what we can tell, they've been inundated with business: we'd tried to visit once before but it was too crowded; and even on our return stop a week later, we waited about 15 minutes for a seat. All told, we were there a total of 40 minutes before getting to eat anything. Quite an impressive wait for a deli.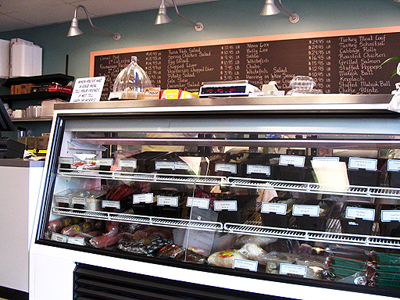 Rascals' is owned by a family from Manhattan offering a menu that's as intimidating as it is overwhelming. Three flaps, front and back, are all filled with just about every variety of Jewish deli-related item ever made, plus a few I've never heard of. Everything from the obligatory Matzoh ball soup to bagels with lox and cream cheese are here, as well as potato knishes, latkes, blintzes, Kasha Varnishkes, pierogies, (take a breath) a full breakfast menu, hot sandwiches and deli sandwiches, double-deckers, and complete dinners featuring schnitzel, stuffed peppers, cabbage rolls and more. There was nothing on the menu that I didn't want to try.
When we were finally led to our seat, we were served our glasses of water and waited another 10 minutes to place our order. We decided to split a double-decker sandwich and order a couple of their hot appetizer offerings. Prices are a bit on the expensive side, especially if you consider their closest, more established competitor, Decent Deli, located a couple miles north.
We chose the Brisket and Turkey double-decker sandwich, a slow-cooked brisket with "off-the-bone" turkey breast, lettuce, onion and tomato. The sandwich comes with two potato latkes and a side of pickles. We also ordered the Sweet & Sour Turkey Meatballs and the boiled Pierogies.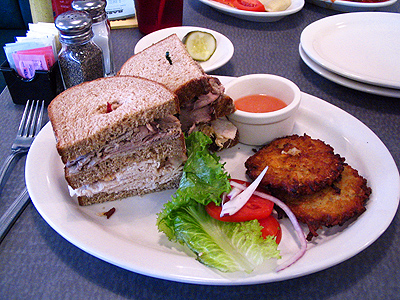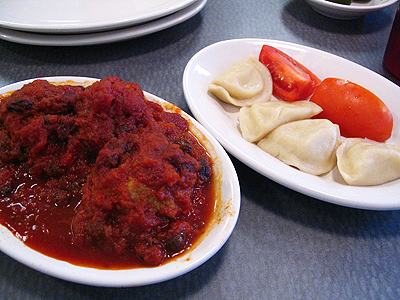 Of all the items offered, I was most intrigued by the sweet and sour turkey meatballs. We weren't sure what to expect, but on some subconscious level, our assumption was that they'd be something akin to an Asian sweet-n-sour, with a thin, viscous sauce. Not at all. In fact, in most ways that mattered, this appetizer was the highlight of our lunch.
The turkey meatball sauce was so pleasantly surprising that we wished we'd ordered six of them instead of three. The meat was very moist and the sauce was like a chunky marinara with raisins and other spices to give it a mildly sweet and slightly sour flavor. It was so good that I would love to order it again in the form of a sub sandwich. Rascals' doesn't yet offer such a thing on their ridiculously huge menu, but they should.
The double-decker sandwich was indeed large, yet not as stuffed with meat as I'd expected or seen in other, less expensive double-deckers. It was still impressive. Unfortunately, the bread was just a little too hard and dry: we had to slather it with liberal doses of mustard to get it down. The accompanying potato latkes were excellent: crispy, not too greasy and well seasoned, with a vibrantly pink, cinnamony dipping sauce. The pickles were refreshing, neither overly spicy nor vinegary.
The pierogies were entirely underwhelming: four puny, ravioli-sized dumplings of flavorless potato. The side was supposed to come with sour cream, cottage cheese and tomato wedges, but only the wedges arrived. We didn't realize they'd forgotten the rest until after we'd left and re-examined the menu.
Rascal's NY Deli has a lot of potential and there are certainly plenty of things we still want to try. Having been open less than a month, they're obviously still tweaking all aspects of their restaurant to assess what works and what doesn't.
A recommendation to the owner: scale down the menu. We've all seen enough "Ramsey's Kitchen Nightmares" episodes to know that being all things to all people does nothing but hurt business. Perhaps in time, Rascal's will widdle it down to something more manageable. As a patron, it's hard to mull through it all and as cooks, it must be difficult keeping up with all the variety.
Rascals\' NY Deli
Price: Cheap (under $11 per person)
Service: Fair
Rating: 3.0 out of 4

Cincinnati Bites