Posted Thursday, February 4, 2010
A quest for Dim Sum, the tapas-like experience served at brunch in many Chinese restaurants, brought us to Jan's Chinese at 10000 Montgomery Road. Dim Sum is served Saturdays and Sundays there from 10:30 am to 3 pm. The restaurant is owned by Executive Chef H. J. Jan, whose many cooking medals and awards line the interior walls.
We arrived to a dining room filled to capacity, waiting a few minutes to admire Jan's medals before being escorted to our seats. After advising the waitress that we'd come for the Dim Sum, she produced a ticket that would rest on our table and keep track of our ordered items.
Dim Sum can be an exciting culinary adventure, as a series of servers push carts around the room, each filled with small dishes of various Chinese delectables. Summon a server to your table and watch as she opens lid after lid of small, round metal or wood containers, calling off what the contents are, waiting for you to say, "yes, give me that" or "no, thanks."
My first Dim Sum experience came at the age of nine in New York City's Chinatown. For a young tyke familiar only with McDonald's cheeseburgers and the occasional "Big Family Night Out" at our neighborhood Ponderosa, the concept of friendly Chinese waiters pushing carts of food to our table filled me with wonder. I hated nearly all of it, of course, and yet they happily provided me with a bowl of macaroni & cheese to satisfy my virgin palate.
I've been to a number of Dim Sum spots around town since then and learned to love it. As of this writing, there are at least five area restaurants that serve it, including Grand Oriental, King Wok, Uncle Yip's, Cathay Kitchen and, of course, Jan's.
After ordering a pot of tea, we watched as a cart made the rounds, arriving finally at our table. The server was friendly and helpful at explaining the dishes and in a state of burgeoning morning hunger, it was difficult to keep from ordering everything she had. Still, we managed to keep our first round down to just six items.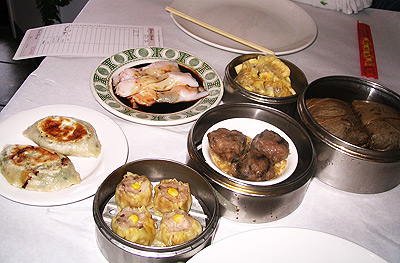 The small dishes varied widely, from the savory, yet slightly sweet Lo mai gai (sticky rice filled with chicken, sausage and wrapped in dried leaves), to the Chicken Shumai dumplings and the strong chive flavor of the Fun Guo.
Some dishes were more a hit than others; neither of us particularly cared for the steamed beef meatballs (though it didn't stop us from gobbling them up), while we both loved the shrimp-stuffed jalapenos and the turnip (aka daikon radish) cakes.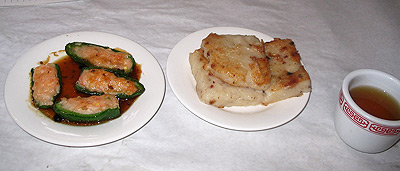 We estimated that there was about a 3:1 ratio of Chinese diners to non-Chinese. This observation is often regarded as a means to gauge the authenticity of a Chinese restaurant.
A Caucasian woman I know, let's call her "Whitey," is married to a Chinese man. Early in their relationship, "Whitey" would sit with her husband's family at dinner as they spoke Cantonese to one another. One word her husband's family regularly used to refer to her is the english equivalent of "White Devil." After learning the translation years later, "Whitey's" able to recognize when they're talking about her, raising her hand triumphantly to exclaim, "Oh! That's me!"
I mention this because a couple food critics have commented that they'd felt discriminated against at Jan's Chinese. They thought the Dim Sum carts were arriving more often at the tables of Chinese patrons than the Caucasians. I can understand the perception and must admit it was difficult to get a food cart to come back around to us for a second pass. However, I suspect it was our fault for not being more aggressive at waving a server down. Perhaps there's even some sort of Dim Sum etiquette to which we're not privy. More likely, it just takes practice and a modicum of cultural understanding.
In any event, Jan's Chinese offers a pretty decent lineup of Dim Sum delights at a fair price. We "White Devils" will definitely be back.
Jan's Chinese
Price: Cheap (under $11 per person)
Service: Good
Rating: 3.0 out of 4

Cincinnati Bites