Posted Saturday, September 14, 2013
These days, breakfast for me means a 6-ounce cup of coffee with half-and-half, accompanied by a small bowl of high-fiber, "colon-blow" oatmeal. Not very sexy, but oh, what delicious gas.
So, when the rare opportunity comes along to visit a restaurant serving something other than boring oats and empty cereal grains, I'm happy to give my aching colon a brief respite.
Half Day Cafe is a small corner restaurant located in Wyoming, Ohio, a charming, upscale town north of Hartwell featuring ample, gorgeous homes riddled with character. It's open until 2 p.m. six days a week, serving breakfast all day and lunch beginning at 11 a.m.
The breakfast menu is divided into three major sections: eggs, pancakes and French toast dishes. Quiche, soups, salads, sandwiches and, interestingly, carnitas with mole sauce, fill the lunch menu.
We stepped inside to find a warm, cozy space with hardwood floors and pleasing, muted shades of green and yellow. Tables were all decorated with a small vase of fresh flowers. We sat down and immediately had our respective requests for coffee and cappuccino fulfilled.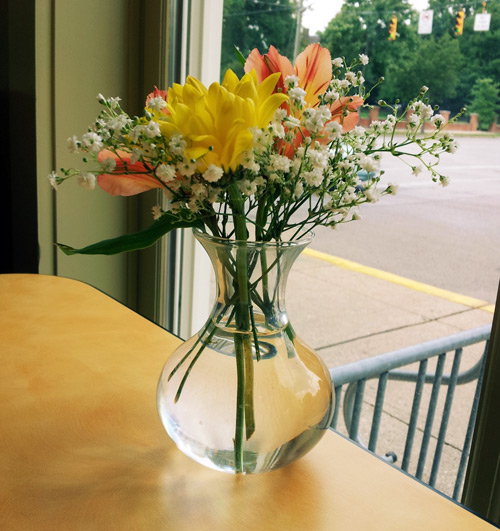 As we began perusing the menu, I noted an odor I hadn't smelled since my last downtown walk. I glanced over at the geriatric group across from us, wondering if they might be the source of the mephitic foulness. Leaning toward my girlfriend, I whispered, "Do you smell urine?" She nodded gravely.
I continued to look around our area, perplexed. Did a cat piss under the booth? Did my cat piss on me? Finally, I realized that the fresh-cut flowers on the table might be the source. I slowly picked up the vase and took a tentative sniff. Bingo!
We moved the offending flowers to the far end until they were nearly teetering off the table. The smell soon vanished. As I scanned the room, I noted that nearly everyone else had done the exact same thing.
Happy that the mystery had been solved, we let the caffeine reinvigorate our appetites and returned to the menu. My girlfriend ordered a side of bacon with her 9 Grain Wheat french toast: two slices of battered, homemade wheat bread topped with fruit, a dollop of yogurt and granola. I was torn between the sweet potato and mango butter rum pancakes, ultimately abandoning both after being seduced by the words, "Huevos Divorciados" and its promises of corn tortillas, eggs, black beans, lime crema, salsa and rosemary potatoes.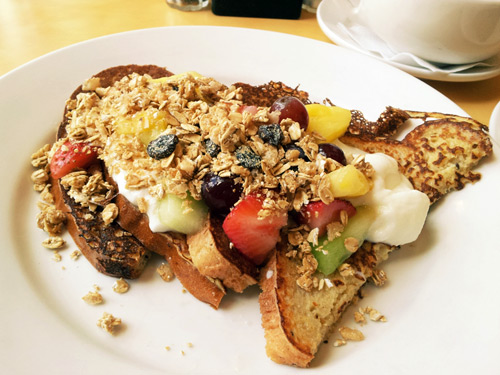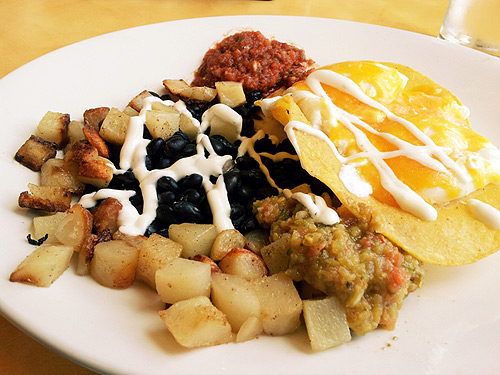 The plates soon arrived sporting photogenic presentations of color and variety and balance. My Huevos were two poached eggs resting on a semi-crispy tortilla, which separated two small mounds of fresh rojo and verde salsas, both chunky, zesty and mildly spiced, with just enough kick. The tortilla was difficult to cut into, which made for an awkward egg-to-mouth delivery, but I persevered. We were thankful the rosemary in the potatoes was infused with a light hand.
My girlfriend's french toast sported a variety of textures, its granola, strawberries, yogurt, grapes and melon marrying well with the crispy, caramelized bread and wisps of maple syrup. The bacon was of the thicker, applewood-smoked variety and, while good, was a little too chewy for our tastes. We'll take the old-school thin, crispy bacon over the thick-cut version any day.
Half Day Cafe offers plenty of wholesome breakfast variety and we hope to return to try their delectable array of specialty pancakes. Just keep the vase at a distance and you'll start your day on the right track.
Half Day Cafe
Price: Moderately Expensive ($11 - $16 per person)
Service: Good
Rating: 3.0 out of 4

Cincinnati Bites