Posted Wednesday, September 15, 2010
Note: the following review is for a restaurant that has since closed.
Great Scott Diner, located in Amelia, Ohio, is about a 30-minute drive from downtown Cincinnati. With chrome to spare, the large restaurant super-sizes the Steak-N-Shake, 50's diner concept, peppering its interior with wall-to-wall, checkered tile floors, Elvis posters and vintage, old-time gas pump globes all aglow.
We'd stumbled on the place by accident: our original objective was to locate one of the last remaining Rax Roast Beef restaurants in Ohio, allegedly located in Georgetown. Turns out what remains there is a Long John Silvers that just so happens to serve a very limited line of Rax Roast Beef-branded sandwiches, placed in bags still brandishing the old 80's Rax logo. This weekend, it seemed, was all about the nostalgia.
When we first walked through Great Scott Diner's doors, I noted that two outdoor wastebaskets are too near the entrance, allowing the accumulating flies to enter the restaurant and get trapped in the small room between the first and second set of doors. Amid the buzzing insects, a painted likeness of Marilyn Monroe and Elvis Presley greeted us inside, seated together in a red convertible.
It was a slow weekend afternoon at Great Scott: a whole section of the restaurant had been roped off, unused. Several small groups filled the remaining open section of the dining room. A number of tables had not yet been cleared off, making it more challenging to find an available seat. We finally discovered a clean booth and sat down.
Despite the initial service lag, a friendly, young waitress arrived fairly quickly to take our drink orders while a busser caught up on cleaning all the neighboring tables. I ordered a chocolate milkshake to accompany our water.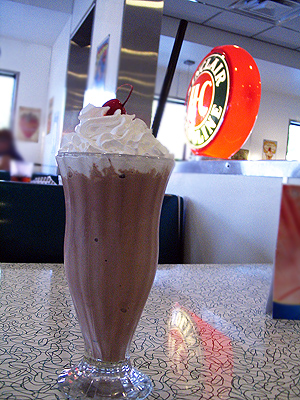 The milkshake soon arrived and appeared to be everything I'd imagined it would be. A vintage, stemmed glass was filled to the brim with thick, chocolatey, calorific wonder, topped off with whipped cream and a cherry. My girlfriend quickly dispatched the cherry as I took a long draw from the glass. A red and white-striped flexi-straw would have perfectly capped off this obligatory moment of icey diner bliss, but we had to settle for a straight one.
After taking turns polishing off the milkshake, we scanned the extensive menu to see how best to further clog our arteries. Great Scott Diner serves classic burgers, hot dogs, sandwiches and both breakfast and dinner entrees. Some of the more notable items include the gigantic Dagwood sandwich, the Amelia Hot Brown and a hamburger they call "The Big Nasty," which sounded a lot like a Frisch's Big Boy.
I chose the country fried steak dinner, which the menu indicated came with mashed potatoes and gravy and a mildly health-redeeming side of green beans. My girlfriend chose the "White Omelette," with tomatoes, onions, spinach and mushrooms, but was later told they were out of mushrooms. Her entree came with a side of wheat toast and home fries and she added a side of cheese grits.
When our food arrived, I immediately noticed that my dinner was prepared with a side of crinkle-cut french fries instead of the advertised mashed potatoes and gravy. I mentioned it to the waitress, who replied that the menu had since changed (I guess between the time I'd seen it on the menu and the time it arrived?). She offered to take it back, but we'd already waited about 15 minutes for our meals and I had nothing against french fries.
My girlfriend's mushroom-less egg-white omelette looked unnaturally and disturbingly white to me, but she didn't seem to mind. She never touched the toast, but enjoyed the flavor of the omelette and the crispy home fried potatoes. The cheese grits lived up to their name and we both loved their flavor.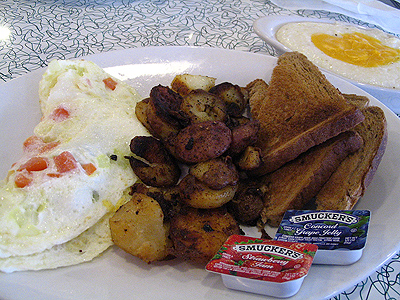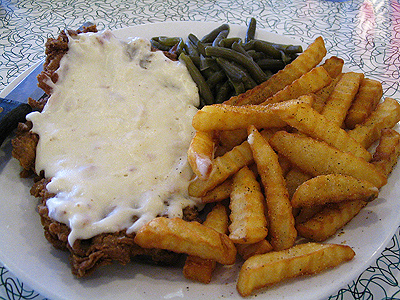 My country fried steak was ok, a little light on the meat but heavy on the breading --and there was a lot of it. I thought the white gravy had a little bit of a raw flour flavor and lacked the peppery creaminess of country fried steak gravies I've enjoyed elsewhere. The french fries and green beans were well seasoned.
Portion size seemed to be the emphasis more than taste at Great Scott Diner: neither of us could finish our meals, nor was there much incentive to really try. We didn't dislike our food, but there was nothing particularly outstanding about our entrees, either.
We encountered a bit of confusion on whether to pay at the table or at the cash register up front. After waiting a while, we decided to take our ticket up to the register, where we waited another 10 minutes to get our change.
Aside from the delicious milkshake and the fetching 50's ambiance, Great Scott Diner offered us passable food and an unusually long wait. There still appeared to be plenty of compelling menu items worth trying, nearly all of which were under $10. But unless you live in Amelia, it's probably not worth the drive.
Great Scott Diner
Price: Cheap (under $11 per person)
Service: Fair
Rating: 2.5 out of 4

Cincinnati Bites