Posted Friday, February 19, 2010
We rarely eat at restaurants where a dinner for two costs more than $30. The sheer economics of it are always a factor, but what it really comes down to is our preference for ambiance. Neither of us feels comfortable dining at places with fine linen tablecloths, prix fixe menus, sommeliers and an unusually high proportion of luxury vehicles in the parking lot. No offense to those who frequent such restaurants: it just ain't our bag. Ya dig?
Of course, there are a few exceptions: restaurants mostly relegated to special occasions and holidays like the past one, Valentine's Day. Chung Kiwha Korean BBQ & Sushi is just such a place. And while it doesn't sport fine linens, sommeliers or an upscale atmosphere, it does cost as much as the restaurants that do.
Chung Kiwha, located in Florence, Kentucky, is an all-you-can eat Korean buffet. We typically don't do buffets, either, but again, this is an exception. Food consists mostly of meats and seafood that are cooked on a round charcoal grill built into each diner's table. Personal overhead exhaust fans do their best to dissipate the smoke, but you're absolutely guaranteed to come home smelling of smoky grilled meat. And that's part of the experience.
At $27.95 per person (which includes drinks other than alcohol and tea), the price keeps us from being regulars. Typically, we visit Chung Kiwha about once every year or two. But if you love grilled meat, arrive hungry and pace yourself, you'll manage to leave with a full belly and a silly grin on your face, believing you got your money's worth.
There's no really interesting decor to get in the way of things; they keep the place dark, as though to hide the film slowly accumulating on the walls and ceiling after more than 12 years of nearly ceaseless smoke. A large, muted, big screen TV glows in one corner, displaying an odd assortment of Asian game shows.
The buffet spread is quite simple. You can start off with your choice of two different kinds of soups, pile up a large bowl of sticky rice or pick from five or six tubs of side items, known as Banchan. The sides include Kimchee, seasoned cellophane noodles, mushrooms, pineapple, daikon radishes and tiny, silvery dried fish. Sushi is typically on hand at the buffet station (except Sundays), but if not, ask your server for some. Afterward, choose from ten trays of raw items to be grilled at your table: onions, red and green peppers, mushrooms, mussels, squid, scallops, tiger shrimp, marinated beef (bulgogi), short ribs, pork, chicken and beef tongue. Most of the meats are pre-seasoned and spiced, cut thinly to assure fast cooking. Pile up a couple platefuls and prepare to grill.
A server will arrive at your table with a fresh bucket of hot charcoal, placing it into a compartment under your grill. A pair of metal tongs are supplied for transferring meats onto the hot surface. Some multitasking is involved, as you'll be busy eating while keeping an eye on items still cooking.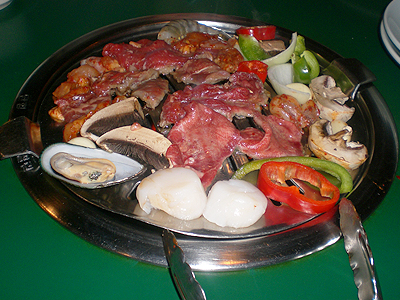 The simple act of grilling meat is pleasantly satiating, fulfilling base, primal urges. The charcoal smoke and the seasonings bring out intensely satisfying flavors. If you're a carnivore, you'll feel as though you've transcended to a higher plane of existence. If you're a vegetarian, you'll dance along the hot precipice of hell.
The beef tongue, scallops and chicken were easily my favorites. Most people won't try the tongue, which is a shame, because its name wrongfully evokes all kinds of nastiness. It's sliced so thinly here that, once grilled, tastes an awful lot like a Steak-umm.
Chung Kiwha is a meaty adventure that, while pricey, offers a unique, smoke-filled dining experience. Enjoy it, but be sure to take a shower afterward.
Chung Kiwha Korean BBQ & Sushi
Price: Expensive ($17 - $30 per person)
Service: Good
Rating: 3.0 out of 4

Cincinnati Bites