Posted Sunday, March 19, 2017
The Cincinnati area is home to quite an impressive array of very good taquerias: La Mexicana, Mazunte, Taqueria Mercado and Taqueria Maya immediately leap to mind. Now vying for top marks comes Chilango Fresh Mexican, a small, modern-day hole-in-the-wall tucked in the corner of a Loveland strip mall.
Chilango looks and feels like it could be a chain, but isn't. It's most definitely local and one-of-a-kind. Owner Mark Bennett has at least some cursory knowledge of Mexican culture: it seems unlikely he'd randomly pull a slang word like "chilango" out of his sombrero. It's a term often used derisively to describe certain upper-class residents of Mexico City. In that same vein, the tacos on the menu are not something you'd find in a cheap dive: these are Bakersfield OTR-level tacos (but larger), featuring ingredients like pork belly, house-made chorizo, beer-braised beef, Angus steak, citrus-braised pork and shredded rotisserie chicken.
Tacos come three per order and are served on corn tortillas. A trio costs anywhere from $8 to $10.75. You can choose all of the same type or potentially pay a little extra for a combo variety at $9.50. I'm not sure why anyone would choose three of the same taco --seems to me you'd always want a variety-- but maybe I'm in the minority here. Empanadas, flautas and sides of refried beans, fresh guacamole, mexican rice and a self-serve salsa bar are also available. Two enchilada plates are listed on their board, but not on their website menu.
As we first stepped inside, we noted how similar Chilango's layout is to any neighborhood Penn Station: upon entering, patrons are greeted with a tall chalkboard menu facing their left near an L-shaped bar. The rest of the room is allocated as a shotgun-style dining area.
My girlfriend ordered a taco combo consisting of the Chicken Tinga, shredded chicken in a tomatoey chipotle sauce topped with avocado-tomatillo salsa, pico de gallo, queso fresco and crema; the Poblano Rajas con Crema: roasted poblano peppers with onions, queso, crema and cilantro; and the flank steak topped with charred onion, cotija cheese and verde salsa.
I opted for the Cochinita Pibil taco with shredded pork, cabbage slaw, pickled red onion and a spicy house salsa; the Chorizo con Papa with house-made chorizo, potato, queso and verde salsa; and one Poblano Rajas con Crema taco. We also ordered a side of refried beans to share.
There was a slight, ten-minute wait for the tacos, but no more than you'd expect from any of the other popular taquerias in town. The food arrived on two platters with a generous bowl of refried beans. My girlfriend explored the self-serve salsa bar and retrieved an extra container of avocado-tomatillo salsa.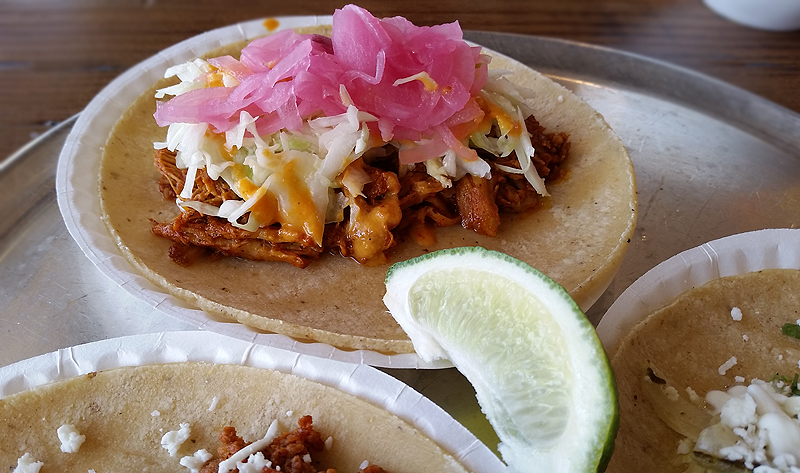 Cochinita Pibil taco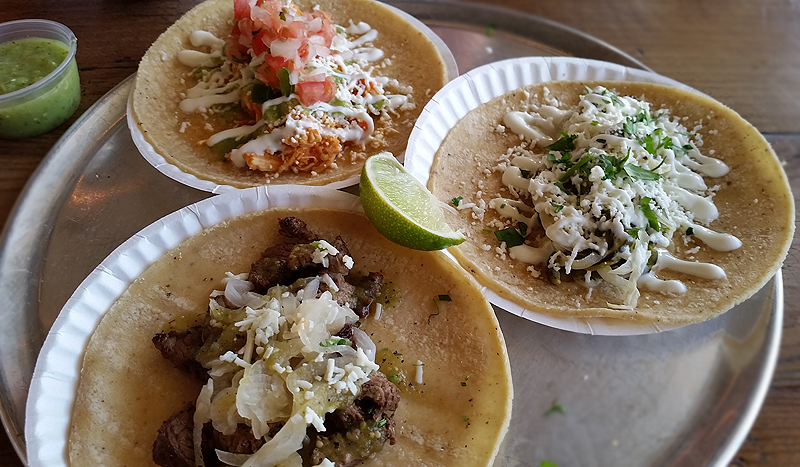 Flank steak, chicken and poblano tacos
Each taco was made up of a single, sturdy corn tortilla and yet, for all their thickness, they did start to slightly break apart toward the end after the juicy toppings had begun to soak through. Still, we managed to eat all our tacos without much of an issue.
We were both pleasantly surprised at the bright, intense flavors bursting from several of the taco varieties. My favorite was easily the Cochinita Pibil: it showcased a citrusy, spicy burst of flavor paired with a pleasing textural crunch of pickled onion and cabbage. My girlfriend particularly enjoyed her Chicken Tinga, which we both agreed was likely the best-tasting chicken taco we've had of any of the area taquerias, including Mazunte. The chicken was tender, not at all suffering from the dry flavorlessness we often endure with other chicken tacos. Its tomato-chipotle sauce was uniquely piquant and satisfying.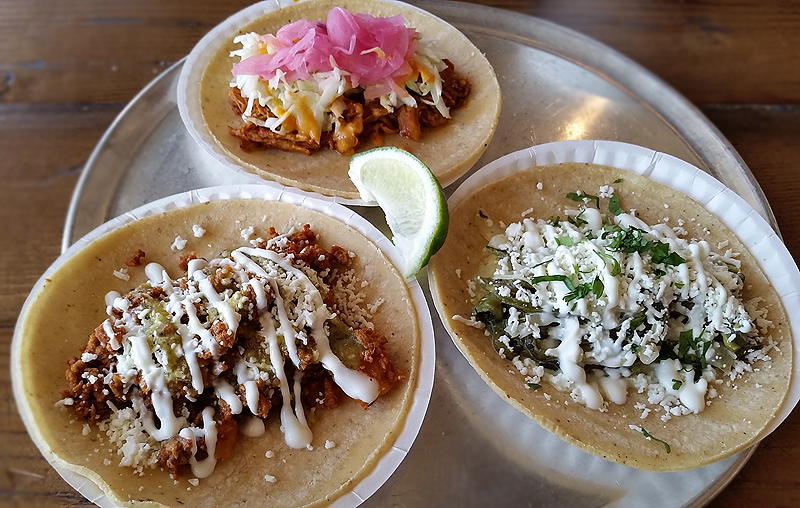 Cochinita, chorizo and poblano tacos
The chorizo/potato taco was hearty, with an assertive, smoky chipotle element to the meat that became a bit overwhelming toward the end --it needed something acidic to cut through that intensity. I enjoyed the cheesiness of the vegetarian poblano taco, but was surprised to learn it was my girlfriend's least favorite. Bites of the flank steak taco were appropriately beefy and filling with a toasty, caramelized onion finish.
Chilango Fresh Mexican was a pleasant surprise, a hidden gem worth the short drive north of the Fields Ertel exit. We'll definitely be back to explore more of their menu.
Chilango Fresh Mexican
Price: Moderately Expensive ($11 - $16 per person)
Service: Good
Rating: 3.0 out of 4

Cincinnati Bites